As one of the nation's top public universities, Townson University in Maryland has created an inclusive learning environment situated near the area's prominent educational, community and cultural resources.
The Tech Decision
From theatre to dance and music, the University's performing arts programs produce over 200 student and professional performances each year.
Needing performance venues which can keep up with the busy production schedule, they called up Pennsylvania-based Illuminated Integration to renovate the 500-seat Howard J. Kaplan Concert Hall with a new lighting system including Chalice 70W recessed downlights from Altman Lighting.
"We were initially brought onto the project as the antiquated lighting system in the concert hall had failed from a controls perspective, and they had decided to convert the entire space to LED as well," says Mike Birardi, Lead Design Creative, Illuminated Integration.
"The targets in doing this were to reduce energy and maintenance costs while improving the overall illumination of the space without losing the architectural design aesthetics. We really tried to give them a solution that could do all those things for better performance with lower maintenance and more energy-efficient usage."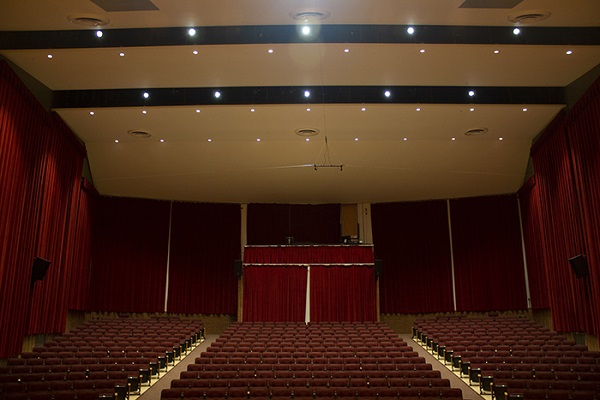 The Townson University Solution
Working with Towson University for the first time, Birardi and the team at Illuminated Integration began researching the most beneficial lighting technologies.
Knowing that the University wanted to maintain the time-honored architecture of the concert hall while increasing the performance of the system behind it, he was confident in the selection of the Chalice LED downlights.
"Form-factor was a big challenge because we had to find a lighting technology that could fit the existing openings in the ceiling for the downlights," says Birardi.
"We also wanted a technology that could be controlled via DMX with a reliable reputation. We have used the Chalice fixtures in the past and in terms of light output versus wattage, they provide a great balance plus a wide variety of optics as well."
The Chalice LED Series is the most diverse range of downlights available with mounting options that include pendant, recessed, aircraft cable, wall and yoke mount; and dimming choices ranging from Mains Dimming to DMX.
Also available with a wide variety of LED color or white light options, plus numerous lens or reflector choices, the Chalice LED Series from Altman Lighting is the most versatile and easy to integrate downlight solution available today.
Related: Are You Protecting Your IT Equipment from Lighting and Surge Damage?
The Impact of Chalice 70W Lighting
Now complete and fully operational, the renovated Howard J. Kaplan Concert Hall is ready to take on the extensive Towson University production schedule.
Understanding the potential behind the Chalice 70W technologies implemented in the new design, Birardi believes the innovative system has raised the creative potential for a variety of dynamic performances.
"Townson University was very happy with the final outcome of the new house lighting design," says Birardi.
"Originally, the light measurements were down into the 10-15 footcandle range, and it was very spotty. Afterwards, we are now in the 25-30 footcandle range with a beautiful, even coverage and no hot spots. This made the overall design look a lot better and it's also made the concert hall a better option for a multitude of different live events."