At Rutgers University, students rely on the school's transportation system to shuffle them to classes at any of its four locations across New Brunswick, NJ. In fact, about 78% of the Rutgers New Brunswick students attend classes on two or more campuses in any given day. This constant campus swapping causes too much traffic, burdens buses, and limits the courses students can schedule to accommodate travel time. To address this problem, Rutgers took an innovative approach.
Inspired by a local university, it decided to deploy technology to empower professors to simultaneously instruct two classes at different locations. By building high-tech telepresence classrooms, it is now able to bring instruction to students.
The Tech Decision
"We decided to move ideas instead of people," says Paul Hammond, Rutgers' Associate Vice Chancellor for Technology and Instruction. "But, these synchronous classes won't eliminate professors or double the class sizes." The intent is to provide students with the convenience of taking a class at another campus without the need to travel.
Rutgers was challenged with implementing a high-definition broadcast solution that delivered the same experience and quality of instruction at both locations. "We wanted to create a sense of 'immersion' so that students attending remotely felt like they're actually in the same room as the instructor," says Hammond.
To meet this need, Rutgers decided to spend about $3M to upgrade two lecture halls, the Wright Auditorium on the Busch Campus and a lecture hall in Loree Hall on the Cook/Douglass Campus. It then picked 10 large lecture courses ranging from 120-275 students and divided them in two, with half of the students assigned to each location. The professors would then alternate between each of their assigned classrooms, so the students on each campus enjoyed the same access.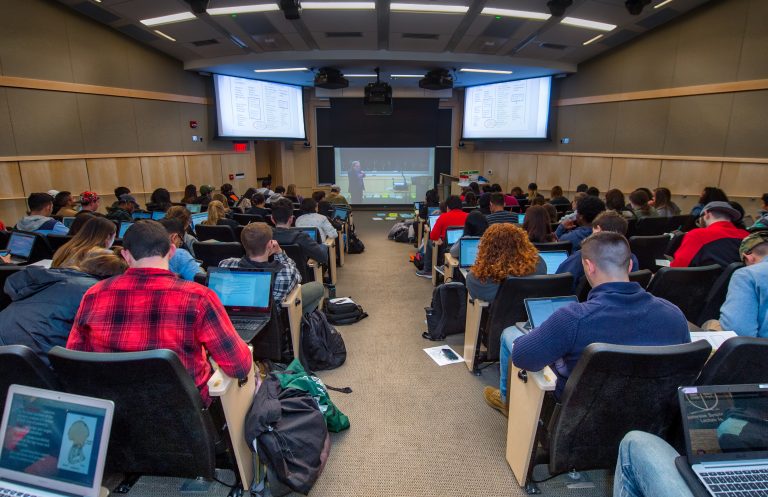 With lots of students scheduled in classes and the spring semester set to begin at the end of January, there was tremendous pressure to meet aggressive deadlines and have the rooms ready to go. Both of the lecture halls had to be completely rebuilt to accommodate the new infrastructure necessary to support the telepresence technology. From pouring a new cement floor with the correct slope to rebuilding ceilings to accommodate 32 microphones, 12 ceiling-mounted speakers, six projection screens and seven laser projectors in each hall, the architecture for creating these amphitheater-style rooms was extremely challenging and required many different trade teams to complete.
Also, typical of a project requiring complete renovation and new construction, problems developed along the way, but IVCi was always ready for the challenge. Our drafting and engineering teams were able to quickly rework drawings and solve any issues that developed.
Rutgers wanted their instructors to be completely comfortable with using the new rooms. Therefore, IVCi had to integrate all of the programming necessary for the new telepresence functions into Rutgers' control system. This way, the professors, who were already comfortable with using their GUI, just had to learn a couple of new options.
The Solution
To create an immersive classroom where both lecture halls felt like a single room, IVCi designed a telepresence solution with three, large projector screens in both the front and back of each hall to provide the following experience:
The professor can see students in the remote room by looking on the left and right screens in the back.
The students at the remote location can see a life-size image of the professor on their middle screen. When in "catch mode" (the mode used when receiving the broadcast), the screen is lowered to the floor level. With seven high-quality laser projectors placed strategically around the room, the professor can move around and still be seen by everyone at the remote location.
Students at both locations are able to see each other by looking at the front left and right screens.
Everyone in both rooms can easily see, hear, and interact with each other.
With the ability to display content on the middle screen and use whiteboards or chalkboards, teaching and learning closely mirrors a traditional classroom. As a result, students can feel confident that attending a synchronous class in no way compromises their educational experience.
Implementing these two telepresence classrooms was complex and needed a large team of experts. The rooms required not just one, but three, Cisco SX80 codecs to support advanced telepresence and had to meet Cisco's strict performance standards. When the project was finished, their ATP Presence team performed "extreme" vetting and the solution met all of their stringent requirements.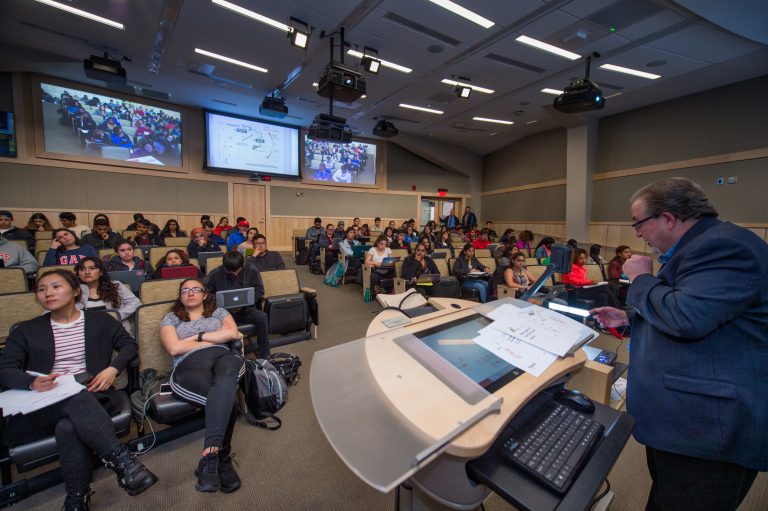 Also, with rigid deadlines dictated by the academic calendar and a large team of experts—including the trade teams, Rutgers' technology team, Aspire Technologies, Cisco professional services, and the IVCi implementation team—this project demanded efficient communication and thorough execution. As an experienced AV integrator, IVCi had the processes in place to handle this complex deployment. To keep the implementation moving and everyone on-task, Peter Brown, IVCi's Project Manager, relied on IVCi Project, a one-of-a-kind project management tool, to get real-time updates, so he could immediately identify and correct issues. Lots of hard work from our dedicated team and our proven methods enabled this project to be completed in time for the spring semester in January.
"I knew I needed to be the first one in and last one out to make sure we completed the project on-time," says Rick Muermann, the project's leading Sales Engineer from IVCi. "Constant communication with Rutgers was vital, so we always knew exactly what they wanted. Also, we made sure the trade teams and Aspire Technologies were always in the loop on everything we were doing."
The Impact
By building high-tech telepresence classrooms, Rutgers found a way to eliminate travel and bring quality instruction to students. As a result, they reduced traffic, their students' reliance on the bus system, and their carbon footprint. The university is getting positive feedback from those attending the synchronous classes and now realizes the enormous potential of immersive solutions. They remove physical boundaries and can enable collaboration to occur with other universities.
"We imagine partnering with our Big Ten peers, and looking at options for genuine course sharing on a large scale," Hammond says. "We imagine opportunities for faculty from different Big Ten universities to team teach large courses across institutions, to have our world-class faculty teach courses to Rutgers students and students at our peer institutions at the same time, or to have faculty from the Big Ten in our Rutgers lecture halls—without leaving their own campus."
If you enjoyed this article and want to receive more valuable industry content like this, click here to sign up for our digital newsletters!