Located in the Red McCombs Red Zone at Darrell K. Royal Memorial Stadium, the new Frank Denius Family University of Texas Athletics Hall of Fame recently celebrated its grand opening.
As the University's first-ever sports Hall of Fame, the $17.1 million project tells the story of Texas Athletics from its first team in 1893 to what has become one of the nation's premier programs.
The Tech Decision
Wanting to uniquely highlight the achievements of their 20 athletic teams, the University worked with the experience creation firm Advent who created an interactive storytelling experience with a design that included a large-format FLEXUltra LED video display from PixelFLEX.
"While speaking with Chris Del Conte, University of Texas Vice President and Director of Athletics, he explained that the University needed a place where people could experience what it truly means to be a Longhorn," says John Downie, Advent Vice President of Experience.
"The design was really all about finding the stories that most embodied the Longhorns' culture.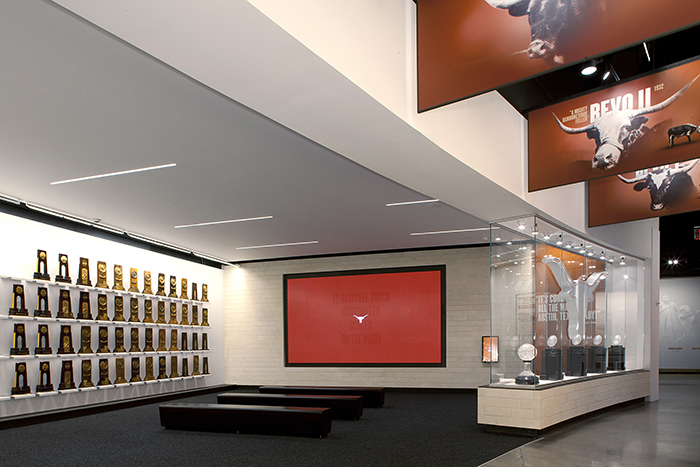 "We always knew we wanted to create a large scale visual focus point for the National Championship moments," says Downie.
"As we worked through the various story elements that would inform the narrative, we realized there was an opportunity to leverage visual assets and create video content to bring the stories to life. As we evolved the design, it became clear that we would be able to utilize one of the walls for a large-scale visual moment, so we called PixelFLEX video wall LED."
The PixelFLEX Video Wall Solution
A dynamic and high definition LED display, FLEXUltra allows for boundless opportunities to experience true HD quality video with the creative freedom to define any space.
Utilizing the impact and scratch resistant COB PixelShield technology, FLEXUltra is designed in a convenient 16:9 ratio and has a 160° horizontal and vertical viewing angle.
With fully font-serviceable panels for quick and easy onsite installation and maintenance, FLEXUltra operates with a 3840Hz refresh rate to eliminate on-camera scan lines and flicker, and is available in 0.9mm, 1.2mm, 1.6mm and 1.9mm pixel pitch options.
"Balancing resolution and pixel pitch with client budget is always a key driver of success for us," says Downie.
"For this design, we wanted a great quality image that didn't blow the available funds, and we also needed a shallow mounting and cabinet option to recess the screen for a more integrated space."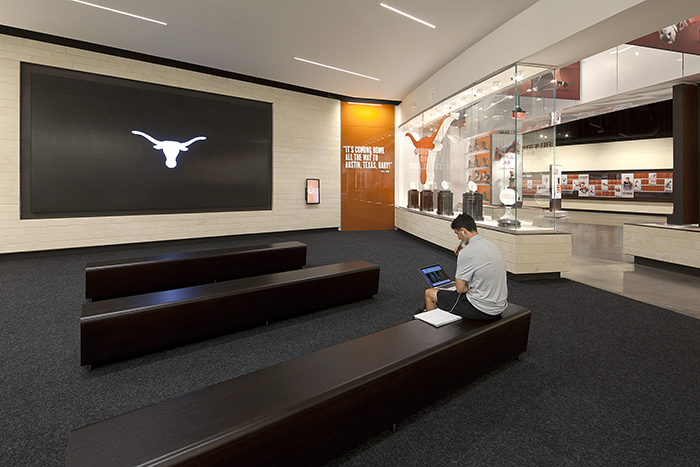 Impact on University of Texas Athletics Hall of Fame
With two weeks to install and commission the LED video system, the Advent team provided the full-motion HD video content as well.
Knowing the power that comes from the use of an eye-catching visual experience, Downie is excited about the creative design possibilities which lie ahead.
Read Next: What Video Walls Can Do for Your Business
"We can now realize seamless large format video displays much more effectively," concluded Downie.
"The simplicity of installation and back-end infrastructure, as well as lower cooling and power requirements, gives us a tremendous opportunity to advocate for high-definition LED video displays where previously it just wouldn't have been possible."