Canopy Health is a physician and hospital-owned medical alliance in the Bay Area, focused on delivering a refreshing, transparent, affordable approach to healthcare from a network of exceptional physicians.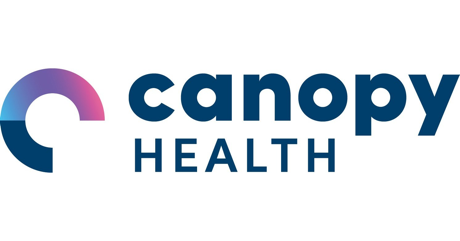 Incorporated in 2015 as an affiliation between UCSF Health and John Muir Health, Canopy Health aims to provide a top-quality continuum of care through partnerships with primary care providers, top-tier academic medical facilities, community hospitals, and medical groups.
The Tech Decision
Encompassing more than 5,000 doctors and 18 hospitals in the Bay Area, Canopy Health sought to create a transformative digital experience for members, employers, brokers, and providers.
One key goal was to create a digital strategy which offered members a refreshingly clear digital experience, empowering them with tools to manage their overall care with ease. As a newly formed organization, Canopy Health required a partner that not only understood digital strategy but could execute by building the cloud infrastructure and supporting the suite of solutions—including websites, member portals, and mobile apps—to create a unified digital experience.
To accomplish this modern, seamless experience, Canopy Health needed to simplify its provider and insurance systems and create consistency across mobile and desktop platforms.
"Canopy Health was looking to be a true differentiator, compared to traditional health plans and provider-portals that aren't inherently consumer-centric," says Aman Bhasin, Digital Information Officer, BayHealth Development. "We wanted to provide members easy-to-use tools that didn't look or feel stale, meeting and exceeding consumer expectations across other industries."
The Anexinet Solution
Canopy Health partnered with Anexinet to capitalize on their Kickstart methodology, which enables the creation of a Digital Strategy Roadmap in just three weeks. The Kickstart was executed as a collaborative process with Canopy Health stakeholders, and provided deep healthcare-provider and payor-industry expertise, and resulted in:
Digital strategy framework and feature-planning for online and mobile experiences.
Infrastructure strategy for web, mobile and cloud.
Visualization of the experience using prototyping.
Relevant technology POCs to validate integration assumptions.
The digital strategy was brought to life in the form of a modern, intuitive member portal and mobile app. Post-launch, the teams continue to collaborate to further enhance the digital experience provided by these solutions.
As part of the integrated functional design and technical architecture process, Anexinet worked with the Canopy Health team and partners to integrate the following technologies:
Content Management System to support Canopy Health's content needs.
Cloud-hosting strategy and a Progress Health Cloud mobile backend (serverless, cloud-based infrastructure).
Enterprise Master Patient Index (EMPI) to maintain accurate patient information.
Salesforce Identity Access Management to simultaneously manage AD and Salesforce users.
PokitDok to verify insurance eligibility.
MuleSoft to provide on-premises, and API-led, cloud connectivity.
Adobe Identity Manager to create and manage user access to applications and services.
AWS hosting.
In order to bolster Canopy's goal of providing easy and transparent access to quality care, it was critical to place this access directly in the hands of members, via mobile devices and computers. Canopy Health Director of Digital Delivery, Cathy Farmer noted the "visual application options Anexinet presented in the mobile framework design phase were extraordinary!"
Designing a HIPAA-compliant application for a large healthcare alliance is no easy task.
But these core-enabling components laid a strong foundation for developing the websites, portals, and mobile apps that would better serve the Canopy Health communities. Despite the level of complexity (typical to healthcare), Anexinet skillfully tackled the integration, including all API validations, use cases, data elements, and vendor integrations necessary to bring the proof-of-concept to life.
"We were very excited to learn about Anexinet's Kickstart programs that take-on the high-level digital strategies. Working with them, we engaged the business stakeholders and other subject matter experts, such as brokers. It was a collaborative experience."
The Impact
The MyCanopyHealth App launched in both the Apple App Store and the Google Play Store for Android, providing digital access for all Canopy Health members. Additionally, the digital experience offered by the mobile application and new portal provides members with the following functionality:
Provider Directory of Doctors, Hospitals, Services and Urgent Care centers in a member's plan. Enables fast, easy navigation of services.
Video Visits – Easy, 24/7 video visits with a licensed provider for common urgent care scenarios.
Virtual ID Card – Anywhere-access to health plan ID card.
Cost Estimator – Provides transparency by enabling members to estimate the cost of visits, tests, services and procedures.
Out of Pocket/Deductible Accumulator – Displays accumulation of benefits so members can better understand the value and utilization of their plan.
Suitable for both web and mobile applications, the new digital architecture greatly expands outreach potential and helps ensure Canopy Health achieves the goal of expanding its network from approximately 40,000 members to 250,000+ members. To further ensure this goal is reached, the team continues to design, develop and improve the Canopy Health digital experience.
Read Next: Machine Learning Applications IT Pros Should Care About
"Anexinet brought agility and a great workflow process to help us with user-interface options and achieve a new application in a very short time," says Bhasin. "They truly brought the experience and expertise to integrate with any type of technology we had."