Jetblack is founded on the concept that being a parent and being able to shop tantrum-free doesn't have to be mutually exclusive. The company is a members-only, text-based personal shopping and concierge service for those living in New York City. It combines the convenience of e-commerce with the customized attention of a personal assistant, allowing members to order items via text message.
The Tech Decision
The text shopping assistant is only one of the ways that Jetblack is using technology to change the future of retail.
Behind the scenes, Jetblack is employing unified communications (UC) solutions of the highest caliber, enabling meetings that are just as fluid and responsive as its text-based services.
At the company's headquarters, 19 conference rooms provide space for internal meetings as well as for customers to give their feedback on Jetblack's user experience, services, and products.
The conference rooms' old web camera and prosumer conference phone, however, weren't delivering high-quality video and audio or a streamlined, simple experience for the heavy daily rotation of users.
The company needed a professional UC system capable of providing clear, natural-sounding audio and video and an intuitive experience for users without needing IT to set up calls or requiring users to plug and unplug multiples cables and peripherals to make video conference meetings happen.
"Jetblack's level of service and communication has to be impeccable, from the very first conference call when members are onboarded to internal meetings," says Henry Yee, IT manager for Jetblack.
"We want the technology solutions we utilize to reflect that attention to detail at every level and cut out the unnecessary clutter and steps from the meeting process that can stand in the way of productivity. That's why we were looking for an all-in-one solution that would be compatible with our Google Chromebox and Zoom platform. We wanted to minimize cables all over the table and prevent the hassle of connecting — or accidentally disconnecting — separate microphones, speakers, and video cameras."
The Yamaha UC CS-700 Solution
On the lookout for a comprehensive AV solution that would deliver superior audio and video, Yee was introduced to Yamaha Unified Communication's CS-700 Video Sound Bar for huddle rooms at the recommendation of the company's IT vendor Wall Street IT.
The Yamaha UC CS-700 is designed to deliver the highest-quality audio, video, and collaboration capabilities in a simple, smart wall-mounted unit that is easy to install and deploy.
Meeting Jetblack's requisite for integrated AV components in one solution, it features an adaptive beamforming microphone array for perfectly captured conversation; four Yamaha speaker elements to provide the highest degree of audio intelligibility; and a wide-angle HD camera for the far-end participants to see everyone in clear detail.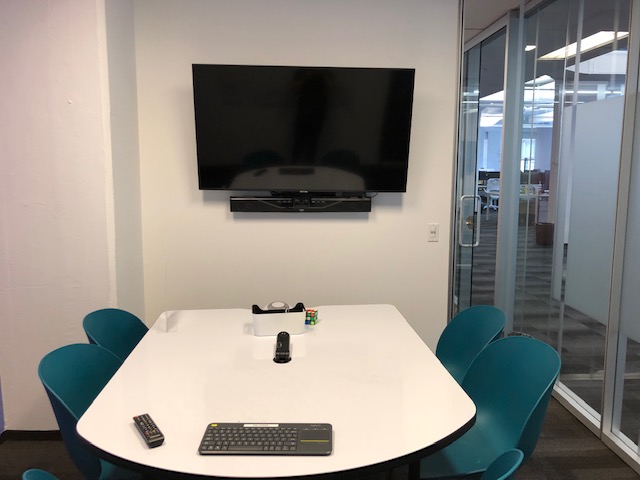 For users, the CS-700 quickly connects to any UC platform using a single USB, eliminating the frustrations and inefficiencies of operating disparate video, audio, and collaboration components.
In addition, the Yamaha UC CS-700 includes an integrated network management system, which allows IT staff to deploy and remotely manage each unit from one location.
For Jetblack, this increases the IT department's service response and efficiency.
The Impact on Jetblack
The Yamaha UC CS-700 deployment was fast and easy, taking less than a week to set up each of the 19 conference rooms.
After six months with the CS-700 solution, employees are still talking about the ease and sound quality. And where ease is concerned, Jetblack is the master.
Read Next: AV-as-a-Service for 110 Conference Rooms
"The CS-700 is mounted under each of the flat screens in the conference rooms. All the cables and Chromebox are hidden behind it," says Yee.
"This prevents people from disconnecting wires and messing with the settings and alleviates a lot of IT headaches. It's a simple, nifty plug-and-play solution that's freed up a lot of desk space that our mics used to take up."