When the owners of Espacio the Jewel Waikiki in Oahu, Hawaii, decided to transform their 73-room hotel building into nine full-floor ultra-luxury suites with private elevators, they knew their target market of celebrities and other high-end clientele would expect an "above and beyond" experience from the moment they arrive.
The Tech Decision
The usual top-shelf amenities all made the list: private jacuzzis, butlers, balconies and a shared rooftop pool. However, Espacio the Jewel Waikiki stands out among local competition because each suite is equipped with the intuitive, fully-automated Control4 smart home system, installed by custom integration firm Engineered Lifestyles.
"With the Control4 control system, we created high-tech smart suites that deliver a completely customized experience with instant automation control," says Engineered Lifestyles President Sean Toland.
"Guests at Espacio the Jewel Waikiki expect a pampered stay. When catering to high-end clientele, end-to-end-experiences have to top the luxurious convenience they have in their own homes. I'm pleased to say that with instant customized automation, we achieved this goal."
The Hotel Automation Solution
With the Control4 control system, guests can use iPads equipped in the room to control the in-room audio system, climate controls, lighting and motorized window shades, in addition to having immediate access to the hotel's Intelity hospitality platform for booking spa appointments, setting dining reservations and scheduling tours.
"The experience really is a step above," says Brent Kitsu, General Manager at Espacio the Jewel Waikiki. "The owners are well-versed in technology and luxury, and have created something Hawaii has never seen.
The Control4 technology talks to Intelity and creates profiles that are assigned to each guest so that the next time they visit, the music, lighting and temperature preference are already set for their stay."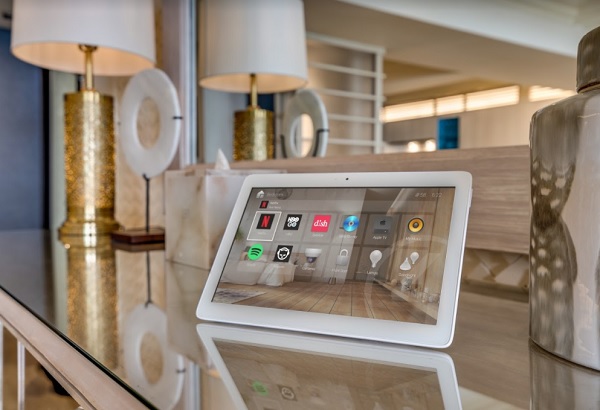 Operators of ultra-luxury accommodations must make every effort to ensure each guest enjoys a flawless experience, with no hint of obstacles to activities or services.
For Espacio the Jewel Waikiki, where typical stays are measured in weeks instead of days, this need to provide esteemed guests with absolute simplicity and technical surety made the reliable, easy-to-use Control4 control system the ideal solution for advanced automation and room control.
"Our luxury service standard means we insist all our guests' needs are met within five minutes maximum," Kitsu says.
"Thanks to the technology and the way the suites are set up, we can typically respond in less than three minutes. We've given our staff mobile devices so they see and respond to these requests instantly, without them having to be passed via the front desk."
To ensure a frustration-free stay, each suite houses three conveniently-located lighting control panels, complemented by dimmers for individual lamps.
For music, guests are given full control over the living room audio experience and the Triad One-powered bathroom audio, which includes access to the Sound Machine commercial music service that allows guests to select or create playlists and browse genre-based collections.
The benefits of automation extend beyond the guest experience, too, providing assistance to staff with automation functions such as a hidden "turndown" scene that automatically sets lights to a pre-set level, turns on the scones over each bed, sets the thermostat to 75 degree and plays soft music in the living room and bedroom.
As further proof of the flexibility and capabilities offered by Control4, the staff will soon integrate a staff-accessible "all off" mode to provide a one-button solution for putting a suite into energy-saving mode when it is unoccupied.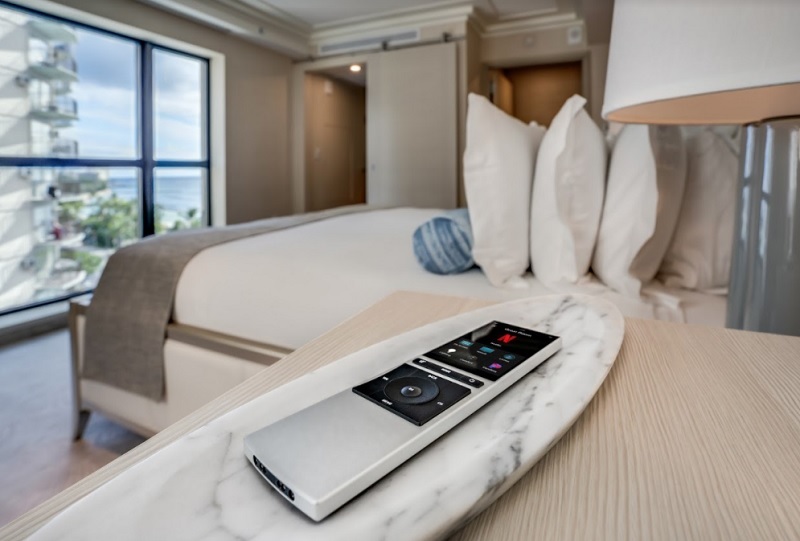 Guests may also appreciate the extreme attention to detail baked into the system, with highly specialized functions such as the "goodnight" mode initiated through the bedside keypad that turns down the lights and also shuts off all LED status lights or lighted keypads connected to the automation system.
The Impact
Toland worked closely with the hotel to ensure every piece of in-room technology is compatible with the automation system, which was made easier thanks to SnapAV's deep product catalog.
For instance, Toland integrated remote control capabilities through SnapAV's OvrC platform and Wattbox power conditioners that allows him and his team to immediately diagnose and solve potential issues such as frozen routers or TVs, even though they are 2,500 miles away.
This is also used to initiate necessary system updates overnight, when it is least likely to impact guests.
"There are even building maintenance benefits of this level of automation," Toland says, "and in Hawaii, we've found that it's often necessary to run the air conditioning system just to prevent suites from becoming too humid, which can result in mold and mildew. Humidity sensors make it simple.
"It helps with energy conservation as well, as each bathroom utilizes a motion sensor that automatically turns the bathroom light off after a preset period of inactivity."
Each suite houses its own automation equipment, with a Control4 EA5 master controller in the great room and two CA1 controllers in each of the two back bedrooms to supplement wireless capabilities and reliability.
Related: FBI: Be Wary of Using Hotel Wi-Fi for Remote Work

In a hospitality market as competitive and globally-recognized as Waikiki, a luxury hotel with customized automated functions and easy-to-use guest controls differentiates the property as a responsive, modern accommodation that has taken every possible measure to ensure 100 percent satisfaction.
"A great deal of work goes into designing and installing a successful and reliable hotel solution," Toland says, "And having access to the many product offerings from SnapAV and Control4, from Strong TV Mounts and Binary cables to Wirepath media enclosures makes a potentially daunting process into something much more manageable."
If you enjoyed this article and want to receive more valuable industry content like this, click here to sign up for our digital newsletters!