While worship services at First Baptist Greenville are traditional, the church realized they needed to find creative ways to use technology to improve engagement with the increasingly tech-savvy congregation.
The Tech Decision
They needed a solution that would deliver dynamic and timely information throughout the facility.
This would include announcements/news, church events such as service times and mid-week opportunities, community events, new member photos and member milestones such as birthdays, anniversaries, and childbirth.
FBG also needed a solution that would serve a growing and busy environment while adding visual appeal.
This meant that the solution would need to easily display dynamic content and have features that simplify management. These include intuitive smart playlists, comprehensive scheduling, multi-user management, and reporting.
The solution also needed to be easily accessible, flexible and scalable. Most important, they needed a solution that would fit the available budget.
The Solution
First Baptist Greenville installed a digital signage network of 11 screens, powered by the Mvix digital signage platform.
The Mvix solution included commercial-grade screens, a digital signage player for each screen and content-management software. The solution offered a robust platform for FBG's creative team to manage the displays and upload content directly from the main office.
The content-rich software gave FBG access to over a dozen dynamic content apps that auto update. This meant they had ready-made content to speak to any member of their audience e.g. visitors, staff, students. The apps include event listings, weather, inspiration quotes, traffic, directories, emergency / CAP alerts, HTML5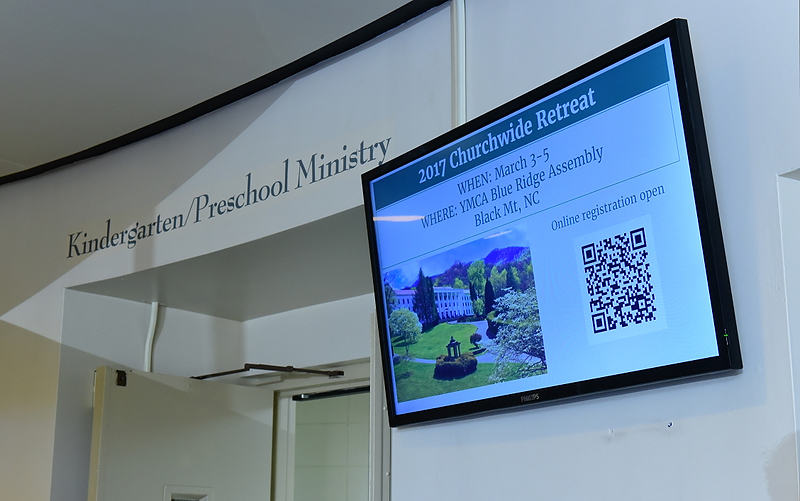 The software also provided advanced scheduling so the announcements could be customized and targeted for different days of the week or different audiences.
Because the Mvix platform is cloud-based, the creative and IT teams can monitor the digital signage network from anywhere.
Installing a digital signage network of 11 displays enabled them to easily communicate these messages while adding visual appeal to the church campus. The screens are strategically located in lobbies, hallways and in the gym and rec center. With advanced scheduling and remote management, the church can customize and target content for different days of the week and different audiences. Within weeks of project completion, First Baptist Greenville has noted increased participation in church and youth events, as well as reduced printing costs. The screens have also added visual appeal and modernized the church.
The Impact
First Baptist Greenville has recorded improved participation in church events and reduced printing costs.
Digital signage became a more cost-effective way to share information as there was no more printing of notices or flyers.
The screens have also modernized the church and added visual appeal. The content is simple yet attractive and has been designed to match the decor of the screen location and to reinforce the church brand.
Church messages and announcements are also more sticky. There has been improved retention of the messages and announcements posted.
"Digital signage has allowed us to build a visual network within the church campus which has improved the way we communicate," says Bootie Cothran, the Media & Technology Manager. "There are so many ways we can use the signs to connect better with our congregation. In fact, as the holiday season draws near, digital signage will be one of the key tools we'll use to enhance and reinforce our Christmas festivities."