The Discovery Centre is a children's museum in Halifax that has been a pillar of scientific discovery in Nova Scotia, stimulating 1.4 million minds for over 27 years by reinforcing curiosity, knowledge, and innovation. As an award-winning leader in experiential science education, the Discovery Centre has evolved from a travelling science show to the largest science center in Atlantic Canada and one of the region's most loved family institutions.
In February 2017, the Discovery Centre opened its doors to a new 40,000 square-foot, state-of-the-art science museum on the Halifax waterfront, within an existing historic building that served as a former electrical power station. Highlighted by five marquee galleries – Water, Health, Flight, Energy and Creative Kids – and unique spaces including an atrium, Travelling Exhibits Gallery, Innovation Lab and Immersive Dome Theatre, the New Discovery Centre redefines how people learn, and inspires them to make learning a life long journey.
The Tech Decision
Backman Vidcom, a locally owned Nova Scotia company founded in 1976, is the established market leader for commercial audiovisual design and technology integration services in Atlantic Canada.
In February 2014, the new owners of Backman Vidcom began looking for project opportunities. Although the new Discovery Centre was still in the early planning and concept phase, the project was identified and at the top of their wish-list. "To us, the Discovery Centre is a place where families and people of all ages can connect. We wanted to be involved with the new Centre because of what it represented to us personally. We watched our own children develop an interest, curiosity, enjoyment, and understanding of science and technology at the old Discovery Centre. We knew that the new facility would be just as an important resource for our community and wanted to be a part of its new beginning."
So in September of 2014 –new Backman Vidcom owner Tom Murray reached out to Dov Bercovici, president of the Discovery Centre to express Backman Vidcom's interest. The two met over coffee and Mr. Bercovici went into detail about his vision for the new Centre. At the time, the new facility was still in the planning, designing and raising capital stage. It would be nearly three years before the new Centre opened its doors. Mr. Bercovici recognized the importance of having a local company involved, but stated that Backman Vidcom would need to earn the integration work based on the company's merits. He agreed to introduce our company to the other project stakeholders, including the primary architect (Aldrich Pears), the fabrication contractor (Kubik), and digital media contractor (NGX Interactive). After several meetings, presentations and multiple trips to Toronto over a two year period, the company was awarded the AV integration contract in September 2016.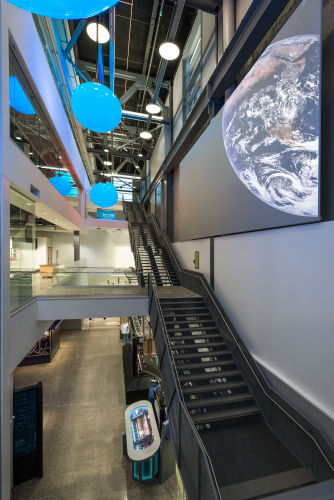 Backman Vidcom worked closely with project partners and stakeholders to ensure that the technology integration associated with the five galleries achieved the Centre's objective to be an agent of change. In addition to featuring basic science exhibits, the Centre's gallery topics include local perspectives on the science of water, energy, transportation, health and innovation. The atrium features a spectacular multimedia wall that introduces the Centre's big ideas.
Backman Vidcom had a significant role to play ensuring that the technical functionality of these exhibits and galleries were produced to the highest standard. Additionally, the company performed the AV integration required for the centre's event space for programming and meetings – amenities important for the city of Halifax. The new Discovery Centre is accessible to everyone of all ages; a place where visitors can lose themselves in a total immersion of the senses – hands-on, minds engaged and eyes wide open.
The Solution
A key aspect of the AV technology integration at the new Centre was not just the coordination of AV at the individual exhibits and galleries, but the programming of the AV in a way that blended the technology into the museum environment giving it a subtle, yet meaningful impact.
For example, upon entering the new facility, a visitor is immediately immersed by a visually attractive atrium highlighted by giant spheres suspended from the ceiling that constantly change colors, and a very large interactive multi-media video wall that uses projection integration in coordination with four flights of stairs. Each step along the staircase activates a musical note for the children to enjoy. The end result is a representative light and musical show that captivates the senses and becomes an integral part of the visitor experience.
Backman Vidcom worked closely with the exhibit fabrication contractor to develop the media and software for this atrium feature presentation. In this specific case, the firm took on the role of show producer and in consultation with the design authority directed the exhibit fabricator and its integration team in the final installation and programming of sequenced lighting effects, moving objects, projection and other areas where the AV production required integration with built exhibit and AV hardware systems.
The above represents just one area of AV integration showcased at this new facility. Additionally, significant integration was required to complete the five marquee galleries – Water, Health, Flight, Energy and Creative Kids – as well as a unique space called the Innovation Lab, also completed by Backman Vidcom.
The AV treatment for each exhibit required careful consideration. Products and materials chosen had to be of high quality, reliable and durable enough to withstand heavy usage by children and protection from elements like drink spillage and rough handling.
The scope of work included the AV supply, installation, and integration with creative treatments and scripts for interactive multimedia across all exhibits. Backman also designed and programmed the interactive touchscreens, video, RFID and other AV media productions. It worked closely with exhibits fabricator (Kubik-Toronto), digital media contractor (NGX-Interactive Vancouver), and the architect responsible for overall museum build (Aldrich-Pears Vancouver).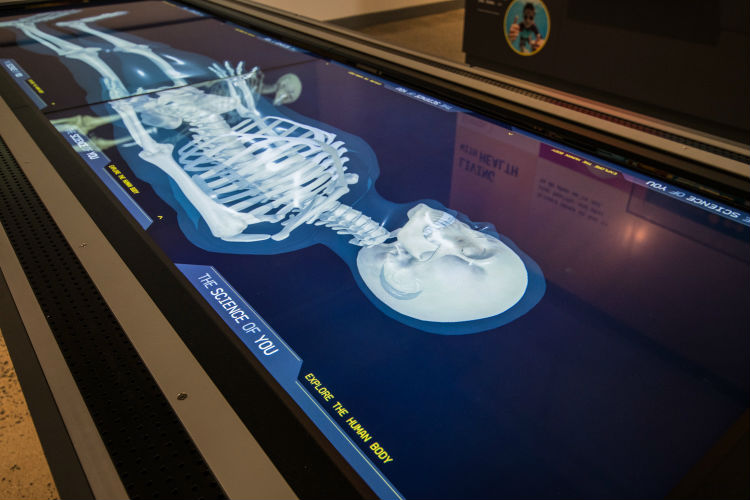 Early on, Backman understood the client's needs and aimed to deliver in accordance with clearly articulated deliverables among all project partners. This ensured expectations were communicated and understood and the work was performed to a high standard, on-time, and within budget.
AV integration for a children's museum has many unique challenges. The client's requirements and defined outcomes including the need to:
allow each exhibit to be controlled using Apple computers (this was the largest hurdle to overcome)
provide high level of interactivity and entertainment for all ages
anticipate loads of ±500 visitors/hour, ±2300 daily
have highly durable AV resistant to excessive use by visitors, with 8-10 years expected operational life
be easily operated and maintained by staff
be highly themed, visually dynamic, and socially relevant for visitors
have high "international level" production quality
Installation began in early December 2016 with programming, commissioning, training and turnover taking place in early February 2017. The quality of work, including documentation, far exceeded the client's expectations, and was acknowledged by the other project partners.
The Impact
Museums are truly incredible places. To create them requires a rare combination of vision, creativity, experience, and know-how. Ours was not a simple museum build. It involved transforming a complex environment with unique challenges. A children's science museum in particular required extra consideration given the unique challenges associated with its daily use. With hundreds of thousands of visitors annually, the AV technology deployed required a high level of quality and durability.
Backman Vidcom understood the importance of this dynamic. As the integration expert, the firm successfully managed the AV equipment installation from start to finish. This was no simple task, as critical expertise was necessary to bridge together the physical fabrication pieces with the digital media content. They could not have done a better job.
Backman Vidcom's knowledge and pursuit of perfection were must-haves for this project. Their attention to detail and ability to value-engineer throughout the project was welcomed. What mattered to Backman, was ultimately getting the end user's experience correct. On a complex build of this nature, it was important to have a partner with their specialized technical knowledge. They could see things that the others couldn't.
Now that the project is complete, what's even more meaningful is the continued support we get from Backman Vidcom. They know it's not enough to simply build something amazing and then walk away. We can't afford to have any downtime at the museum. The fact that they are local and can react to any mission critical problem on a moment's notice, is a real luxury for us. And because they are also Halifax-based, they have a real sense of pride about being associated with this project. It matters to them. And that makes us feel like they're in it together with us."
– Dov Bercovici, President & CEO, Discovery Centre