Cisco Inc. needed to update and increase its existing videoconferencing campus estate on a global basis through the Cisco Collaborative Workspace Program (CCW). They hired EOS IT Management Solutions to assist with the build.
The Tech Decision
Established in 2008, EOS IT Management Solutions Group has grown into an internationally recognised ICT Collaboration, Audio Visual, Telepresence, Resourcing and Logistical partner for more than 25 Global Service providers (GSP's) into every major city, country and continent. EOS has been able to sustain and continue to expand services to match client needs and plans are in place for further expansion.
As a Cisco Advanced Services support partner for several years and having deployed hundreds of rooms for both Cisco and Cisco's partners, EOS have become a preferred partner for such projects. Fadi Hanani, IT Services Manager for Cisco, engaged with EOS based on his experience of previous direct and indirect projects. The preparation and planning of this project was discussed and agreed in the build up to its execution and EOS were selected based on known service levels and ratings as an Advanced Services partner.
EOS and Cisco projected to convert Cisco offices/cubicles to open spaces to increase collaborative efficiency and optimal use of campus real estate. The project sought to deploy more than 1000 endpoints in one year worldwide – largest video deployment in time frame – as well as strategize a global technology roadmap through 2019 for all collaboration tools.
The Solution
EOS completed site surveys of the designated LVCR rooms within Cisco to advise on the most suitable equipment for the available space. We also completed regular walkthroughs once construction had begun to ensure that the rooms were being remediated correctly for each type of system and to keep track of progress.
The design of LVCR rooms was crucial so the space could perform to its optimum levels. Our dedicated design teams worked to create the best in class solution for each "room-type" that ensured the end-user experience was optimized both now and in the future, together with ensuring the solution could be deployed and active for "first day of Business".
Room environments differed due to structural issues at the site. This resulted in our certified engineers having to adapt various deployment approaches from room to room whilst still adhering to project timescales. Example being; mountings for AV equipment in each room being different based on Concrete & Steel structures of the building.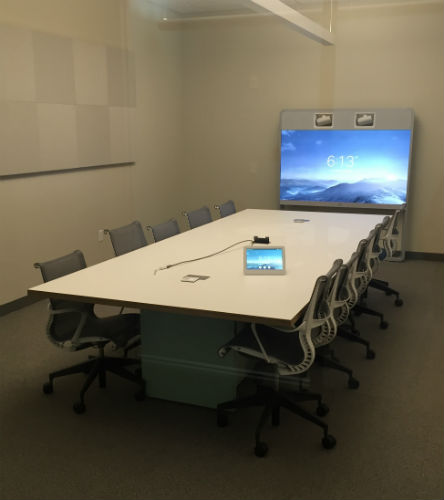 Cisco had set Go Live dates for each building, therefore it was key for EOS to make sure the rooms would be completed quickly and efficiently to meet the deadlines. Regular walkthroughs enabled our team to check on construction progress and to start as soon as the rooms were ready for deployment. The installations were only complete when a full test of the room was carried out with Cisco team. This ensured the experience received was of the utmost quality.
Each CCW provides remodeled/renovated Cisco Buildings with Cisco phones, Personal and Immersive Telepresence endpoint with extension mobility, scheduling plug in, Intelligent Proximity and custom AV technology all provided and installed by EOS. EOS successfully completed Executive CCW implementation of 200+ AV solutions in 7 days in consistency with schedule and budget for top executives and management.
The Impact
Cisco was delighted with the outcome of the entire project from planning to completion. EOS again delivered the project on time, on plan and on budget. The project took place over a full year and with the disruption to normal business and workloads for Cisco being reduced to a minimum in each location. The overall objective and business outcome was met in full.
In total, EOS completed the following builds:
SJC19:
Installation of sixteen (16) DX80, thirty-one (31) MX200, seven (7) MX300, twelve (12) MX800, nine (9) MX800d, and one (1) LVCR in SJC19
Installation of eleven (11) 55″ digital signage, and five (5) 42″ digital signage in SJC19.
Dismantle of thirty-two (32) units in SJC19
SJC05: consisted of 68 rooms and 12 signages
Installation of eight (8) DX80, thirty-eight (38) MX200, seven (7) MX300, nine (9) MX800, four (4) MX800d, and two (2) LVCR in SJC05
Installation of eight (8) 55″ digital signage, and four (4) 42″ digital signage in SJC05
Dismantle of thirty-two (32) units in SJC05
SJCK: consisted of 14 rooms
Dismantle of nine (9) projectors and one (1) CTS3010.
Installation of one (1) MX200, five (5) MX300, five (5) MX800, two (2) MX800d and one (1) IX5000
SJC07: consisted of 62 rooms and 2 signages
Installation of fifteen (15) DX80, thirty-eight (38) MX200, eight (8) MX800, and one (1)MX800 dual at the locations as identified in this SOW
Installation of one (1) 55″ digital signage, and one (1) 42″ digital signage in SJC07
SJC11: consisted of 66 rooms and 14 signages
Installation of thirteen (13) DX80, forty-one (41) MX200, two (2) MX300, eight (8) MX800, one (1) MX800d and one (1) LVCR in SJC11.
Installation of ten (10) 55″ digital signage, and four (4) 42″ digital signage in SJC11.
Dismantle of ten (10) units in SJC11
If you enjoyed this article and want to receive more valuable industry content like this, click here to sign up for our digital newsletters!