Based in Scottsdale, Arizona, Evening Entertainment Group (EEG) owns and operates a number of clubs, bars, restaurants, and event spaces, each packed with AV technology while offering a distinct ambiance.
The Tech Decision
The company's latest venue — Bottled Blonde Dallas — sits in the heart of the art district of Deep Ellum. Opening its doors in October 2017, the pizzeria and beer garden consists of 10,000 square feet of indoor restaurant and bar space as well as more than 2,500 square feet of outdoor dining and lounge space, known as "The Rooftop" and "The Backyard."
EEG's approach to video distribution has evolved over the years. In the beginning, at most of its locations, the company used simple matrix systems connected to a single DirecTV box behind a TV. These systems would only allow staff to switch between one input and one output; they would just switch over to HDMI2 on the TV if patrons wanted to watch video from a second source. Later, EEG began using a single splitter to distribute one input to any number of screens. However, in addition to limiting the combinations of inputs and outputs, these systems would frequently fail. As the company's properties became more sophisticated — and patrons began demanding a greater variety of content on multiple screens — EEG started using selector boxes. Unfortunately, the failure problem continued.
The Solution
With the number of screens at Bottled Blonde Dallas, EEG system integrator, Jason Jones, knew that putting a DirecTV box on each TV wasn't a viable solution. He required a video distribution system that would distribute the feeds coming from the sources and handle more complexity than a simple matrix or HDMI2 splitter. The system would need to be very responsive with fast channel switching, and most importantly, it would need to be reliable.
Bottled Blonde Dallas is outfitted with a massive Ultra HD over IP distributed video system that handles a wide range of inputs and outputs. The system includes 107 displays: inside are 50 HDTVs and two 20-foot projection screens, while "The Rooftop" features 12 TVs, and "The Backyard" boasts 41 TVs and two 6-by-8-foot LED walls with a 120-inch screen on each. Fifteen DirecTV boxes feed content to all those displays, in addition to four computer media inputs, six DJ booth inputs for music videos and background themes, and two video tilers that allow up to four different inputs on one screen in different configurations.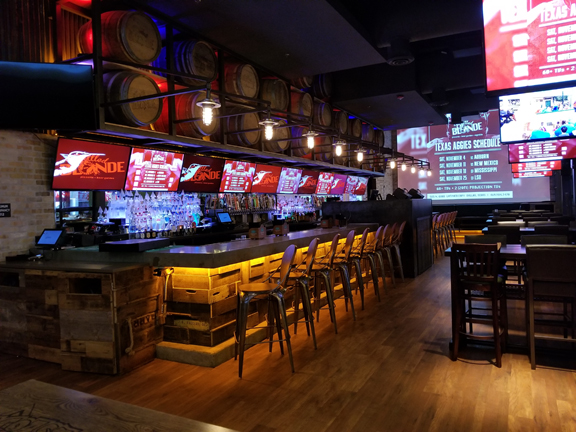 For video distribution, Jones installed Just Add Power's (J+P) 3G+ Ultra HD over IP platform transmitters and receivers. Each display and projector is equipped with a small J+P receiver on the back, while sources are connected to J+P transmitters. Designed with a modular approach to video distribution, the platform allows for the easy addition of displays, sources, and even emerging formats in the future as the pizzeria's needs change. Jones would simply need to add another receiver for each additional screen and a transmitter for each additional video source.
For network routing, four Luxul XMS-7048 switches were used. Each unit features 48 PoE+ ports, two Gigabit RJ-45 ports, and two 10-Gigabit SFP+ stacking ports for seamless scalability of up to 16 stacked switches (800 ports). With PoE+, the switches allow a standard Ethernet cable to deliver both power and high-speed data to 802.3af/at-compliant devices — with a total power of 740 W — to simplify installations. The units offer advanced Layer 2/Layer 3 features and a simple-to-use management interface to optimize network traffic.
Bottled Blonde Dallas employees use a floor-plan-based DTV GameControl iPad app that depicts an area's layout, location of the TVs, sources, and more all on one screen. They simply select a DirecTV box, choose a channel, send the feed to any screen or screens, and choose their configuration. And in a rare feature for source-switching apps, a live preview window lets them confirm the selection before making it official.
The Impact
"We had great success with Just Add Power's solutions at a similar installation at Bottled Blonde Chicago, so it was an easy call to use it again in Dallas," says Jones. "While there are many less expensive matrix systems on the market, Just Add Power's is not only more reliable but is capable of handling more functions. For network switching to support the distribution system, we chose Luxul's XMS-7048 52-port stackable, managed switch based on the recommendation of a colleague, who had high praise for its speed and responsiveness. I've used Luxul solutions for Wi-Fi in previous installations and they performed flawlessly, so I was confident in incorporating the company's products here."
"The combination of Just Add Power, Luxul, and DTVGameControl provides Bottled Blonde Dallas with the ultimate in reliability, functionality, and ease of use," adds Jones. "The Luxul XMS-7048 switches deliver impressive speed when switching sources and are more reliable than other solutions we've used. In addition, with their easy programming and PoE capability to eliminate the need for extra cables, the switches contributed to a speedy and simple installation. In fact, I was able to set up the video distribution system within three weeks. And the staff has been very pleased with the system. For them, the bottom line is that it's fast, it's easy, and it works every time."