A stunning new media installation illuminates Chicago's West Loop. 150 Media Stream is a 3,000 square foot display divided into 89 separated super-thin LED blades variously sized between 3.25 inches to 15 inches in width, and standing vertically anywhere from 6-feet to 22-feet tall. Creative content is provided by distinguished artists as well as students from partnering cultural and educational institutions.
The Tech Decision
McCann Systems was engaged by Riverside Investment & Development (RID) very early on in the building process. The building itself, designed by architects Goettsch Partners, had not yet been completed before McCann was selected to develop the design and ultimately craft 150 Media Stream. After several iterations, Riverside chose the design that would become this avant-garde digital canvas.
While engineering the system's complex infrastructure, McCann also assisted Riverside in rounding out the team to bring this concept to completion. It was important to find a content delivery partner to fit the current system design and be flexible enough for potential future growth. Leviathan was selected as creative partner to manage the content delivery system as well as provide content to play intermittently between artist experiences.
The Solution
150 Media Stream spans across the lobby of 150 North Riverside Plaza, a shimmering 53-story cantilevered glass tower alongside the Chicago River. The design features 89 vertical video elements, dubbed "blades," varying in height and width, each covered in tight-pitch LED. Each blade ranges from 3 inches to 15 inches wide and 6 feet to 22 feet tall. Including the negative space between each blade, the virtual canvas measures roughly 3000 square feet.
Design requirements for the digital art experience were well beyond existing technologies, so McCann Systems engineered, fabricated, and integrated the blades along with the infrastructure to support it. These video components were manufactured exclusively for this art installation and not found anywhere else on the globe.
150 Media Stream was created as a hybrid partnership between leading corporations, cultural and educational institutions, and both emerging and established visual artists. This includes the School of the Art Institute of Chicago, the Chicago History Museum, University of Illinois at Chicago, Electronic Visualization Laboratory, Hyde Park Art Center, the University of Chicago, and various international experts in urban media art.
This revolutionary art initiative features competitively selected collaborative works by exceptional art educators and students through its groundbreaking media arts program, ensuring a truly representative cross-section of Chicago's diverse arts community.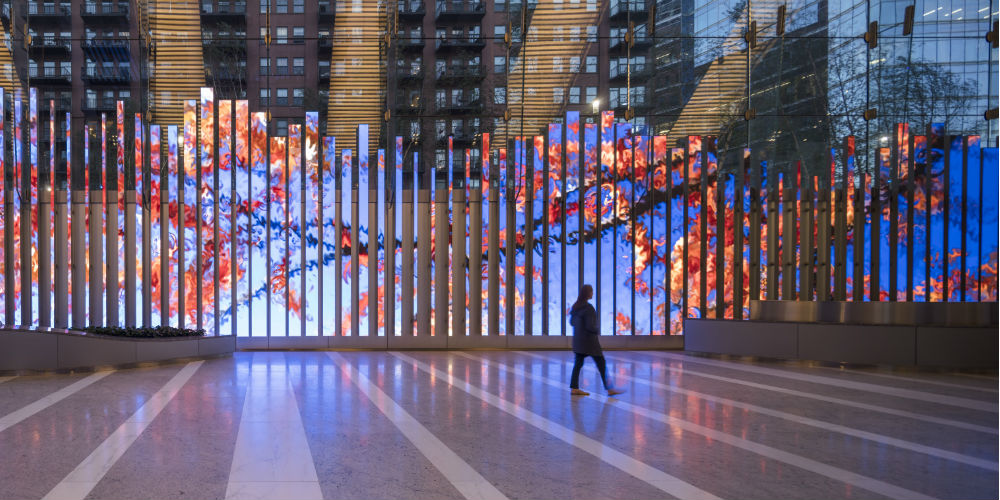 Making 150 Media Stream into a reality came with some challenges along the way.
The first was to come up with a design that would work in this lobby. The 13-foot concrete wall of the lobby base created a concrete horizon line. McCann worked with the end user and the architects before reaching the final design, which breaks up the boundary between the top of the wall and the glass.
The next challenge was sourcing the display equipment and playback components. Technologies required to bring this design to life were beyond current off-the-shelf capabilities. The engineering team at McCann Systems worked to architect a custom, reliable system to feed the equivalent of four 4K video feeds operating at 60 frames per second across 89 LED blades.
This "custom challenge" extends to McCann Systems having to custom fabricate the 89 LED blades rather than buying out of the box 4K monitors. Additionally, the aluminum extrusion dies were engineered and developed in custom sizes to craft the blade cases in accordance with the final design. The printed circuit boards, or PCB, were also designed and manufactured in custom sizes specifically for 150 Media Stream. Each component was designed by McCann Systems engineers, sourced separately for custom manufacturing, and then assembled by McCann Systems.
To test these custom components throughout the research and development process McCann Systems created several demos in their work lab. Small subsections of this 3,000 square foot display and its backend system were fabricated in one of their labs located in Edison, NJ.
Once testing was complete and each newly fabricated blade passed inspection, the system was shipped to site for integration.
The Impact
As a core tenet of the 150 Media Stream's founding mission, the arts program has sponsored select projects from up-and-coming media artists; commissioned works from distinguished laboratories and museums; and served as the focus of intensive graduate-level coursework, featuring competitively curated student submissions and educator/student collaborative works alongside internationally renowned media artists.
"By commissioning a variety of changing projects for a uniquely configured permanent display, 150 Media Stream sets a fresh direction for public art," says Yuge Zhou, 150 Media Stream Curator and Director. "It's an interesting canvas for media artists, but also for such cultural practitioners as designers, filmmakers and others. It is a site where all kinds of media practice can share a stage and coexist."
Ultimately, the 150 Media Stream Arts Program seeks to unite Chicago arts, culture, and higher education. Igniting discussion, inviting deeper perspective, and providing a truly representative, high-visibility platform for a dynamic cross-section of new or undiscovered Chicago visionaries, storytellers, and creators.
Located at 150 North Riverside Plaza in Chicago, the 150 Media Stream is the only structure of its kind dedicated to showcasing Chicago artists, culture and history alongside renowned and emerging artists from around the globe.