With its building slated for redevelopment last year, 13 Coins — a Seattle dining institution — closed the doors on its flagship South Lake Union location after 50 years of serving up breakfast, lunch, and dinner.
For the next chapter in its legacy, the 24-hour restaurant set up shop in a new building on King Street in Pioneer Square, within sight of CenturyLink Field and a short walk to T-Mobile Park.
The new 13 Coins features two levels. Upstairs is the main dining area and bar with an adjoining outdoor patio, while the downstairs "Lower Quarters" features another bar and four private dining areas that can be rented out independently or combined into one large space.
The Tech Decision
For owner Al Moscatel, it was important to preserve the vintage charm of the restaurant's original location, which hadn't changed much since opening in 1967. For dining on the first floor, that meant keeping 13 Coins' signature high-back booths, swiveling captain's chairs, and open kitchen.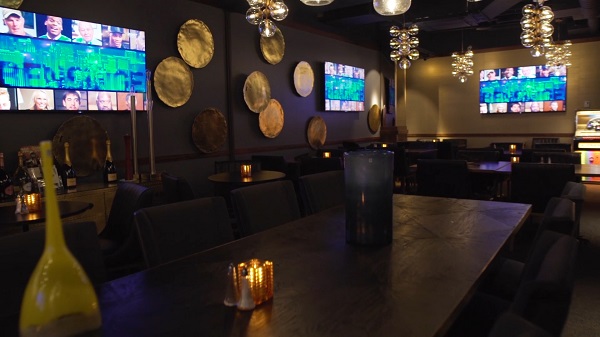 However, with a location in the heart of Seahawks' and Mariners' territory, the restaurant also had to bring something new to the table to cater to sports fans.
Moscatel envisioned a multitude of displays located throughout 13 Coins' bars and private dining areas, playing live sports and other programming. To outfit the space with the latest AV technology, he called on Seattle-based integrator Wipliance.
The Wipliance Solution
Wipliance installed 12 Sony displays in 13 Coins' upstairs bar and patio and another 17 downstairs, in the area known as Lower Quarters.
The crown jewel down on the lower level is an Epson projector with a super short throw lens projector shooting onto a massive, 165-inch motorized drop-down screen from Screen Innovations.
Video sources include 11 Comcast HD cable boxes and one local HDMI source for digital signage and presentations by guests holding private events.
For guests to truly enjoy the multi-screen experience at 13 Coins, a video distribution system was required to cost-effectively and reliably deliver any source to any screen or group of screens. Furthermore, the system had to be as easy as possible for staff to use.
"If you've ever been to a sports bar and watched staff struggle with multiple remotes to change the game on one display, then you know exactly what 13 Coins wanted to avoid," says Lee Travis, owner of Wipliance.
"It wastes valuable time, which effects the guest experience on several levels, especially in busy periods.
"We needed to make it as simple and fast as possible to send any content to any display," says Travis.
"This required a dependable video distribution system, backed by a powerful control solution. Based on its outstanding performance in other similar installations, we relied on Just Add Power's 3G Ultra HD Over IP system."
Just Add Power's (J+P) 3G Ultra HD Over IP system offers ultra-low 16 ms of latency from source to screen and supports 4K Ultra HD resolutions and HDMI 2.0 devices with HDCP 2.2.
The platform enables seamless switching between any resolution HDMI source as well as uncompressed lossless multichannel audio formats including Dolby Atmos support.
Related: Barstool Sports Implements Yamaha UC Conferencing Equipment as Part of Partnership
Video wall functionality is built-in for displays installed in portrait and flipped configurations as well as image push, pull, and pop features. An integrated scaler on the receiver automatically adjusts the picture to fit the screen.
Each of 13 Coins' Comcast HD cable boxes and the local HDMI source are equipped with J+P's VBS-HDIP-707 PoE transmitters, while VBS-HDIP-508 PoE receivers are attached to the displays and projector.
The Ultra HD Over IP platform is engineered to provide complete scalability, so expanding the system with an additional screen or source is as simple as adding another receiver or transmitter.
Simple and intuitive control over the system is provided by Control4. Using two portable touchscreens, staff can send any source to any display or group of displays with the tap of an icon, in addition to controlling audio, Lutron lighting, and an IC Realtime security system.
Management, and Wipliance's technical staff, can also access the system remotely from apps on their mobile devices.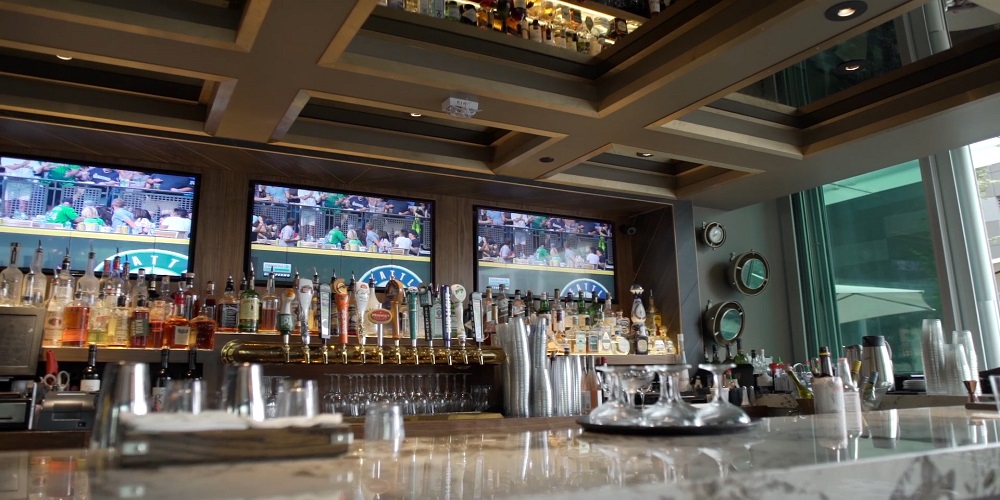 The Impact
"13 Coins has been extremely pleased with the performance of Just Add Power and Control4," added Travis.
"Without the need to hunt down remotes, employees can work much more efficiently— effortlessly changing the source on a display to create a seamless viewing experience, without sacrificing the quality of service to guests. Just Add Power has also proven to be an extremely reliable solution — we haven't had a single service call relating to it — and its scalability allows the restaurant to easily and cost-effectively expand the system to meet its future needs. We're proud to have played a role in the history of 13 Coins and are looking forward to holding our next company event there."
If you enjoyed this article and want to receive more valuable industry content like this, click here to sign up for our digital newsletters!