Security has quickly become a major concern for many businesses. Tech decision makers want to make sure not only that their employees are safe, but that their offices, and important information held within them, are safe as well. For many it's worth the capital for peace of mind.
This has led to a number of security systems being installed in many companies. Access control systems allow for restricted access only to those that should be entering the building, and can even monitor who comes and goes and when it happens. Video surveillance systems keep an extra eye on the property in case of crimes committed or suspicious activity. Fire detection and suppression systems can stop an emergency from becoming a catastrophe. But with all of these installations, management can become a problem.
Physical Security Information Management (PSIM) systems provide a solution to this problem. A PSIM system can tie these various security systems together to provide a single interface for total security control. Understandably, this can become confusing. Luckily, our download explains just how PSIM systems work, and what they are able to manage for your company.
Security has become more than a simple luxury enjoyed by those who visit and work in commercial and institutional settings. In some cases, the need for security comes on the heels of a burglary or robbery while for others the decision to purchase is made proactively due to perceived risk. Other times the purchase of security is mandated by an insurance company after several significant losses, or by law, as in the case of Department of Homeland Security (DHS) with regards to government contractors and installations.
Looking to purchase the perfect access control technology for your organization at the best price? This guide will show you how.
The Technology Manager's Guide: Tips for Buying Access Control Technology
Traditionally, access control, video surveillance, intercoms, telephone systems, intrusion detection, gate control, biometrics, pagers, smartphones, fire detection/suppression, and Mass Notification Systems (MNS) operate independent of one another. By linking these disparate systems together using systems integration, we're able to realize additional benefits as well as cost savings.
A good example is sharing system resources for the regulation of a heating/cooling system. By using the security system's motion detectors situated throughout the building. Temperature setpoints can easily be changed based on occupancy. In the 1970s and 1980s it wasn't at all uncommon to see occupancy motion detectors installed throughout a facility, many times alongside the security system's passive infrared detectors (PIRs). Not only was this a waste in terms of valuable real estate, but it flew in the face of common sense from the standpoint of efficiency.
At some point security panel manufacturers added addressable relay modules to their systems which enabled technicians to connect them in a variety of ways. Thus Building Management System (BMS) engineers were given a ready means of using the same motion detectors that serve the security mission. Through programming, when a PIR in the security system detects the presence of a human target, one of the relays is made to send a signal to the BMS, thus eliminating the need for dedicated motion sensors. This method of hardware integration continues to be used even today in low-tech installations whereas modern applications most often utilize data over a network connection.
"Since the 1990s, we've witnessed a significant increase in the use of integration in the operational unification of all security-related systems in mid- to large-sized facilities," says Ken Oberst, operations manager with eTect Fire Solutions. "Integration in the security space involves the sharing of resources between individual silos of protection as well as environmental systems."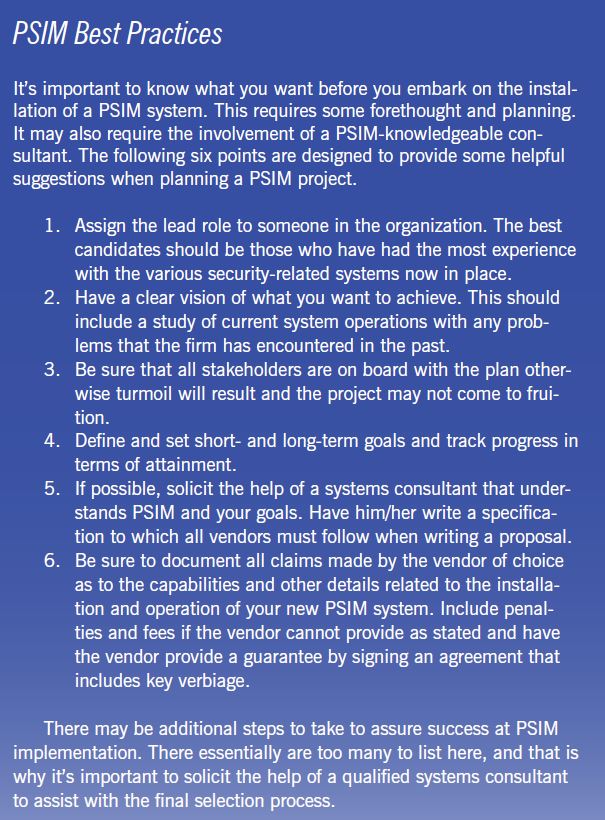 For example, motion detectors and door switches can be used by a video surveillance system to create a recorded bookmark that acts as an incident indicator to a Video Management System (VMS). This identifier is used to locate recorded video from specific events that took place sometime in the recent past. In like manner, the presentation of a valid access control credential to a reader on the outside of a building will, in addition to unlocking the door, turn the alarm system off. It also can be used to turn lights on, activate elevators, actuate HVAC systems, and perform almost any other action you can imagine.
There really is no limit to the combinations or uses associated with the integration of dissimilar subsystems in a building using this technology. However, systems integration is not the end-all in modern security. Now, it's possible to go a step or two further, creating a centralized operating platform that features advance information collection; data analysis; a unified, object-oriented display; unique report generation; and more. This advanced version of yesterdays integrated security system is commonly referred to as Physical Security Information Management (PSIM).
"Using PSIM, we can set up multiple command centers that are used to monitor any number of security and environmental systems. We can monitor different hardware, alarm sensors, access control, and other types of devices from dissimilar systems using a centralized operating platform," says David Chritton, senior system engineer with MicroBiz of San Francisco.
For the technically involved PSIM systems use a variety of connectivity methods. This includes traditional metallic cable between relays and head-end; the use of EIA485, 422, and 232; coaxial cable: RG6, 11, and 59; Category 5e and 6 unshielded twisted pair (UTP), as well as fiber-optic cable.
With that said, overall system management between most security subsystems involve the use of a network infrastructure equipped with high-capacity storage, high-speed computing, and elaborate software with advanced analytics.
Advanced Intelligence and Data Analysis
The two primary benefits realized by PSIM users is an extensive data collection capability as well as an intuitive means of displaying data in an intelligent, simple-tounderstand manner. This is accomplished using a Graphical User Interface (GUI) rather than a keypad or display for every security subsystem in use.
"I use a PSIM to monitor my larger infrastructures, such as chillers, UPS's, generators, pumps, Computer Room Air Conditioner (CRAC) units, power distribution systems, and more," says Shelby Sims, data center operations manager with Rice of Houston, Texas. "In three utility rooms scattered throughout the complex I have a wall with readers, annunciators, a fire alarm control panel, a security panel, chillers, and numerous power utility switch panels. I can go look at each of them or I can see them all at the same time on one large screen that tells me instantaneously which systems are operating normally and which ones are not."
Especially powerful is PSIM's ability to collect tremendous amounts of information through its connection with a multitude of sensors and systems in each building, tying it all together using a single touch-screen GUI. Through real-time access to sensor data, analytic software and high-speed computing makes it possible for PSIM to quickly determine the nature of an ongoing incident, many times faster than security personnel positioned in the middle of the event.
An example where PSIM can discern the big picture is where it involves the act of counting the number of assailants who have entered a building. PSIM can quickly and accurately determine their path, whether shots have been fired, what their rate of penetration is, number of innocent people down, and more. When the system is activated, it also can lock down the entire facility using the access control portion of the system.
Access this FREE guide to learn how to write a surveillance technology RFP, choose surveillance technology partners and implement surveillance technology. Plus, tips for buying surveillance technology!
The Technology Manager's Guide: Tips for Buying Video Surveillance Technology
In order to make these determinations, PSIM may use attached video cameras, acoustical shot detection, door and motion sensors, and more. In addition to displaying this information locally, the same data is made available to central station operators and responding firefighters/ police officers before they arrive on the scene.
"PSIM involves a single, unified means of reporting that often includes multiple individuals and organizations using a number of communication technologies. It also can include a means of storing the data that the system collects so security personnel and management can create a variety of detailed reports that include an audit trail of all events including video clips and access data," says Oberst.
This data is stored in servers and displayed on one or more GUIs as part of a large picture of events unfolding. Through architectural drawings made available to the PSIM system, each sensor, camera, reader, electrically-controlled door lock, intercom, telephone, and any other connected device is duly labeled and represented on the GUI.
Because this information is presented in a logical manner in a graphical environment, operators can click on any icon and receive an abundance of real-time information as well as a suggested course of action. All of this assures faster, more informed decisions, which is why some professionals prefer to call PSIM-based systems "situational management tools."
PSIM Represents Ease of Use and Cost Savings
A single operating platform also simplifies employee training, which can represent considerable time and effort when conventional disparate systems or traditional integration is employed. Instead of learning how to use each and every security system in a complex, employees now need only learn one—the PSIM platform.
PSIM also involves the use of a single data base, as oppose to one data base for each building subsystem. This provides users with the benefit of Single Sign-On (SSO).
"SSO enables client to manage the users through shared resources," says Steve Butler, President, ARGUS PSIM LLC of Portland. "When a new employee is hired, human resources can assign them to a directory group, which contains their privileges as to where they can go and what they can sign on to."
A single data base also reduces time and effort where it involves programming. Instead of programming each, individual security system, which is necessary when using conventional or traditional integrated systems, programming is done through a PSIM interface. SSO also assures ready access not only to a security system, but also card access, video surveillance, intercom, Building Management System (BMS), energy management, lighting components, network-connected video intercoms, and more.