Physical security (access control, surveillance, emergency management, etc.) is one of the most important hot buttons of modern times as is the Internet of Things (IoT). Both are important to everyone, whether it involves your place of business, where you eat, shop, or where you drop at the end of a long, hard day.
On the corporate side, access control is one of the most important security precautions in place today. A well designed, installed, and serviced system will effectively keep unwanted, unsavory people out of your facility while allowing authorized employees, visitors, and vendors. When we add IoT to the equation, the prospects for an even safer, more user-friendly environment is higher than it has ever been before. In this Corporate Tech Decisions article, we'll explore IoT (Internet of Things) and  how it enhances a facility's access control.
Typical Access Control System Before IoT
As you may or may not know, the overall mission of a typical electronic access control system (EACS) is to control who can enter your building(s), through which door they're allowed to enter, on what days, and between what times. These systems typically have card readers and/or keypads on the outside (and sometimes inside) of every entrance through which valid users interact by presenting a pre-authorized access card and/or a valid personal identification number (PIN).
These systems are driven by a host computer–either on or off site–that provides the overall programming necessary to authenticate specific individuals who need or want to enter. In this programming are the names of all authorized users along with pertinent information, such as contact information; internal departmental data; current status; place of residence; a scanned, digitized photo; the identity (ID) number of an assigned access card; their PIN (if applicable); and other data. When additional information is added to the host, it's also sent out to a series of door controllers located at each door.
In Enterprise applications, the host computers can be geographically separated by many miles, the length of an entire state, or even a nation. They're commonly placed at a central location off site, either in a central monitoring station (CMS) or at a cloud-based computer processing center (CCPC). In either case, host data is commonly sent back and forth over the Internet between each facility and the main data processing center just as it is in a typical on-site EACS.
Looking to purchase the perfect access control technology for your organization at the best price? This guide will show you how.
The Technology Manager's Guide: Tips for Buying Access Control Technology
In applications where a complete audit trail of all system/user activities is required, there is an additional egress reader placed inside each entrance, along with the customary outside reader. Together, they provide ingress/egress data so the access control system knows who's in the building and who already left, including time and date. This data can be used for Time-and-Attendance, replacing traditional time cards. Whether your system uses both inside and outside readers or not, the electrified hardware that secures each door must meet all local and state fire code requirements.
Many conventional on-site and cloud-based access systems today also integrate with other security subsystems in a building, such as intrusion and Closed Circuit Television (CCTV). Many times they also connect with heating, ventilation and air conditioning (HVAC), lighting, and others. The access control integration connection is especially helpful when there's one or more security personnel on site whose responsibility it is to monitor the general security preparedness of the structure(s). In an enterprise environment this can mean the inclusion of several nationally to even hundreds of buildings across the globe.
A full comprehensive accounting of all that goes on is maintained through recording both access control and video data. And after an incident has taken place, when an investigation ensues, all this data enables the investigator to follow the progression of events and the path of individuals who may have been involved.
What Happens When We Add IoT to the Mix
Adding IoT to a conventional access control system gives it a level of operation that is both convenient and many times necessary by today's standards. The first IoT point of connection is your everyday smartphone.
Using almost any smartphone, you can manually lock and unlock any door at any time. A good example of where this may prove beneficial is when an employee forgets his access credential and he calls you for help via a traditional cellular voice connection. Not only can you access the door lock using this means, but you also can use a nearby camera to ensure that this employee is not under duress, as could occur when a criminal intercepts them at the door or through abduction elsewhere.
A smartphone or another mobile device allows you to perform the following duties:
Enter new access control users with new credentials.
Delete users who have left your employ or who you have terminated.
Make changes to where, what, and when valid users can enter your building(s).
Update user photos so security and managers have an updated view of who each valid user is.
Update contact data and other information in a user's file.
Use other connected security subsystems, such as intrusion alarms and CCTV cameras.
Lock and unlock doors as needed.
and more…
IoT Wireless Door Locks
Through IoT technology, you can perform locking and unlocking functions associated with ingress and egress without installing metallic cables, with the exception of fire code-related issues. This still requires hard wiring to your local fire alarm and/or sprinkler systems. This represents a huge monetary savings because labor is often the most expensive part of a new access control installation.
IoT also enables authorized personnel to enter without the use of card readers and keypads. "We use barcodes that identify the device that needs to be activated (see photo on page XX). If it's a gate or a door, through our Internet servers [in the cloud], we'll read that barcode and we'll know which gate or door to open," says Mike Simon, managing partner with Connected Technologies of Crystal Lake, IL. "The barcode does nothing more than identify the device that needs to be operated. The ID information in the phone is what identifies the person–it's his credential to the access control system. The user still has to be at the right entrance at the right time to get in, so the smartphone isn't any different than an access card or keypad PIN."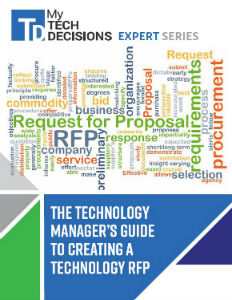 This new guide will show you how to structure your RFP so you get the maximum return on investment for your budget.
The Technology Manager's Guide to Creating a Technology RFP.
Another application for IoT is the wireless electronic locks (see photo on page XX) that utilize the mechanical characteristics of a common lockset along with a keypad and the associated electronics necessary to make access decisions, all in one unit.
Through wireless 802.11 (WiFi) or a similar EIA-based radio frequency (RF) technology, these locks can be controlled by the host computer–whether on or off site as well as someone with a smartphone, tablet, or some other mobile device. The necessary data needed to decide access in each user case is forwarded to these electronic door locks at the door using the same wireless means. Many of these systems utilize a wireless gateway with repeaters that enable use in large, sprawling buildings.
Additional IoT Applications
As mentioned earlier, through a compatible video management system (VMS) that your access control system it's also possible to look in on various areas of a building on a camera by camera basis. This can be on demand or as the result of an incident, such as forced entry or a door left ajar at an exit. Most access control systems are designed to monitor doors using an ordinary door switch, much as an intrusion detection system does. Some access systems, in fact, are also equipped to report forced entries and other issues to a CMS.
There also are cameras equipped with additional features, such as the indication of room temperature and listen-in, that can be used via any mobile device. Listen-in in particular is a valuable feature that allows you as well as CMS operators to determine if the alarm from an intrusion detection system is valid or false. If the operator hears activity in the building at or near the time of alarm, he/she will declare the alarm condition verified to the police dispatch when they call for assistance.
Some jurisdictions, such as Akron, Ohio–the rubber city of the United States–require some form of verification on alarm before they will dispatch a police officer to the scene. With video included, there is no doubt that someone is at the scene and, for this reason, the police department should dispatch officers post haste.
Some cameras, like some of the models made by Mobotix, a German manufacturer, have the ability to allow interaction with those on site using an onboard intercom system. A speaker and microphone built into the camera can be used to verify the authority of an employee who made a mistake on entry. Verification of this and the previous kind also can save your company a ton of money in false alarm fines–all because of IoT technologies.
These systems also can interface with IoT-based temperature sensors in freezers, coolers, and environmentally-controlled spaces, such as inside storage facilities. Humidity levels also can be monitored while these same sensors continue to serve other subsystems in the same structure(s).
Allan B. Colombo, a past Jesse H. Neal merit-award recipient, is a trade journalist in the physical security and life-safety markets. His work in these areas has appeared in numerous magazines since 1986. To contact him, send an email to allan@tpromo.com or visit www.Tpromo.Com.