In AVI Systems news this week, the global AV/UC systems integrator announced a new Velocity Signature Meeting space system to meet Microsoft Teams Room specifications. In addition, the company also unveiled a new brand and visual identity for Magenium, its Microsoft Consulting Practice. The company also expanded its global program management offering, AVI Vision.
AVI Systems Velocity Signature
AVI Systems Velocity Signature systems are designed to meet Microsoft Teams Rooms hybrid optimization specifications. The systems feature 21:9-aspect-ratio high-definition displays, a click-to-join touchpanel control system, and options including Surface Hub and whiteboard cameras to simplify collaboration. Velocity Signature systems are available for small, medium and large meeting rooms, and customers can subscribe to the technology on a monthly basis or purchase the technology.
"Hybrid optimized solutions improve remote participant experiences. These designs are ideal for scenarios where the quality of the collaboration experience is paramount," says Keith Yandell, director of the audiovisual practice at AVI Systems. "We have expanded our popular Velocity meeting room systems to incorporate these hybrid optimized tools. Widescreen displays, for example, are a necessity in these environments. Customers can pay a monthly subscription to get a Velocity Signature System – and easily migrate to these new technologies without huge capital expense."
Optimizing Rapid Microsoft Teams Room Deployments
Creating a more inclusive experience for everyone in a hybrid meeting led to the development of AVI's Velocity Signature System for Teams Rooms.
AVI has partnered with industry leader Legrand to combine optimal furniture (work surfaces in a variety of shapes as well as seating options) with the audiovisual technology needed to support hybrid optimization in a meeting space. Velocity Signature features 81-inch and 105-inch widescreen displays as well as a 130-inch projection system for large meeting rooms. In addition, a 50-inch Surface Hub collaboration display, whiteboard camera, scheduling panels and customer care are available as options.
By combining the technology and meeting room furniture needs into a single order, organizations obtain a fully functional meeting room installed by AVI Systems available for use immediately when installation is complete.
Microsoft created its hybrid optimized room designs and AVI Systems has used its own expertise to bundle technology and furniture that meets the needs of small, medium and large rooms. Today, hybrid optimized rooms should be available in roughly 20% of all meeting spaces, but this number will shift based on workplace culture, says the company.
Hybrid optimized Microsoft Teams Rooms are designed to enhance the user experience for both remote and in-office work teams. These systems typically feature intelligent cameras to improve meeting equity, wider displays, collaboration tools like Surface Hub and uniquely shaped tables to enhance face-to-face experiences.
Standard AVI Velocity systems are also available that support both Microsoft Teams and Zoom environments. These systems feature 55-inch, 65-inch and 75-inch 16:9 displays, Chief Tempo mounting systems and a variety of options.
AVI Systems also announced a new brand identity for its Microsoft Consulting Practice, Magenium. The new brand identity takes effect immediately and will be seen across the magenium.com website and other related properties.
"Our Microsoft consulting practice at Magenium has grown significantly in recent years," says Jeff Stoebner, CEO at AVI Systems. "As the leader in Microsoft Teams Room deployments, we want to ensure that clients get premiere services from Magenium as well as the technology and support they expect from AVI Systems. This new brand solidified our approach in working together to deliver the services and technologies every modern workplace requires."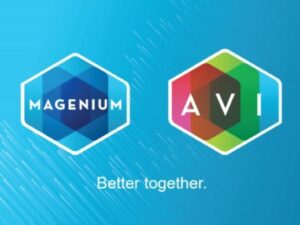 Throughout its 16-year history as a Microsoft consulting firm, Magenium has built and maintained its brand as the business organizations choose when they need to modernize their technology. Magenium has enabled the marketplace to adopt the latest solutions from Microsoft, such as their Modern Workplace suite of applications that include Teams, Viva, SharePoint, OneDrive, Outlook, and much more.
"At Magenium, we pride ourselves on being able to deliver the best Microsoft solutions to our customers. By aligning ourselves more closely with our parent company, we believe the market will understand that our reach has evolved to deliver solutions to our customers globally," says Tom Egan, chief technology officer. "This next evolution of our business is an exciting time for everyone involved, and we can't wait to share this excitement with our customers."
This rebranding is the first in the company's history and reflects both organizations' desires to bring the brands into harmony and eliminate any confusion in the marketplace.
Magenium Experience Center
In addition to the new brand identity, Magenium will relocate to a new office and Experience Center in the Highland Landmark II building at 3025 Highland Parkway, in Downers Grove. Magenium's new office will feature the latest in Microsoft Teams Room solutions and incorporates audiovisual technologies from leading manufacturers. The Experience Center serves as a destination where information technology professionals can see and test the latest in Teams Room, audiovisual, and unified collaboration solutions designed for hybrid work. Magenium will occupy the facility this summer.
AVI Vision, Global Program Management Suite Updates
The company also announced it has expanded its program management offering, AVI Vision. AVI Vision gives clients visibility into their unique programs and projects via an enhanced, real-time program management dashboard and suite of program management tools. The enhanced tools serve customers with consistency, efficiency and transparency, says the global AV/UC systems integrator.
"Our enterprise customers – those with multiple locations in the United States and around the world – expect their partners to provide the best, real-time insights into the projects we manage on their behalf," says Roger Patrick COO at AVI Systems. "AVI Vision delivers a full dashboard into every audiovisual and unified collaboration initiative they have – from all corners of the world. At-a-glance an AVI Vision client can see project status, collaborate efficiently, and access the knowledge of their deliveries that are needed to understand exactly what's happening in their audiovisual estate."
AVI Vision will continue to provide clients with thorough, customized information, says AVI Systems. Through Program Management and AVI Vision, dashboards help guide customers toward achieving their goals and objectives with their audiovisual deliveries anywhere in the world.
"As organizations' needs grow, we're finding the complexity and demand on their AV teams increases. We've seen this create many disparate systems as our customers try to navigate these complexities internally and externally, project-by-project," says Zach Valigura, director of program management at AVI Systems. "We've assembled a single portal managed by our program managers that can be customized to client needs. And it can scale with that client as their program initiatives grow and their need for real-time insights increase."
These program management dashboards have been tested and effectively used by some of AVI's largest customers including those who are deploying hundreds of meeting space technology systems simultaneously across multiple locations, regionally, nationally and globally.
Several pricing models are available to meet AVI client program management needs.
Another version of this article originally appeared on our sister-site Commercial Integrator on April 19, 2023. It has since been updated for My TechDecisions' audience.
If you enjoyed this article and want to receive more valuable industry content like this, click here to sign up for our digital newsletters!