Over the past several months, one of the most compelling technology demonstrations in the commercial AV market is the Sony Pro Sonic Surf VR platform.
Sony Pro explains that Sonic Surf VR is a suite of spatial audio technologies combined with multichannel speakers and specially developed software that together provide an audio experience that "pops, moves and partitions sound" to move freely within a listening space to create enveloping audio.
"Spatial audio is key to enhancing immersive," says Bruce Tanaka, general manager, Sony Imaging Products & Solutions, Inc.
"Currently, a lot of VR technology is focused on visual experience," says Bruce Tanaka, general manager, Sony Imaging Products & Solutions.
"Sonic Surf VR is the first packaged solution offering a new type of virtual reality from an audio perspective. It can produce powerful space of sound and further enhance [the] VR experience by enabling multiple numbers of people to enjoy simultaneously without headphones."
The tech was demonstrated at trade events such as ISE 2018 and the live event brand campaign for "Lost in Music." Sony Pro explains Sonic Surf VR is applicable for use in situations such as theme parks, museums, aquariums and corporate showroom installations.
Sonic Surf VR can be used as a stand-alone audio solution or it combined with digital signage, projection mapping and lighting to create dynamic content for a range of AV applications.
Sony Pro Sonic Surf VR at SXSW 2018
At the famed SXSW 2018 festival of music, art and culture, immersive audio intersected with the proceedings in a memorable way.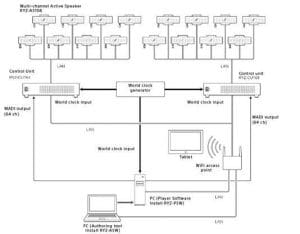 The first demo, "Ghostly Whisper," invited participants to a series of simulated paranormal events that designed to stimulate the senses through mechanisms that include immersive audio.
Sony Pro says it also showed Sonic Surf VR's ability to virtually partition sound.
The second demo "Odyssey" that allowed visitors to immerse themselves in music through the use of 576 speakers controlled by the platform's sound-field synthesis technology.
Sony Pro says that Sonic Surf VR will be made available to integrators in June 2018.