The Center for Public Integrity reports that as 4G begins to overload and slow down due to an increase in data usage, wireless providers are moving towards adopting 5G streaming as soon as possible to provide faster internet to their customers. Wireless companies like Verizon and AT&T are installing small cells throughout communities in order to implement this new 5G internet, but are receiving significant pushback from citizens and local governments.
5G depends on millimeter waves, which are high-frequency, easily blocked signals that don't travel very far, so unlike 4G, for which you need one large cell tower that can reach dense communities from a remote location, the network of small 5G cells needs to be close together and more numerous. Concerned citizens claim these bulky, unattractive cells that are placed within 500 feet of each other will decrease property value and be an eyesore in their communities.
Ajit Pai, FCC chairman and champion of net neutrality's death, claims the concerns stem from an overzealous 'Not In My Backyard' mentality. But the unsightly bulkiness of the cells and their threat to property value is the most basic of people's concerns. The real problem is much bigger, as the small cell debacle highlights telecom providers' disregard for community desires as well as the often unchecked power companies like Verizon and AT&T have over government officials.
Cities are experiencing an exponential increase in the amount of applications that they receive for these cell permits and simply cannot process them fast enough if they are going to be thorough and law-abiding. Wireless companies, frustrated with the slow pace of bureaucracy, want to eliminate the regulations on small cells, claiming that the cells are not intrusive enough to need such a rigorous application process. The FCC is on telecom's side in this fight, as they are considering new rules that would both reduce the time that municipalities have to review applications and limit the input cities would have on the design of small cells.
AT&T and Verizon have both filed numerous complaints regarding the slow approval process, saying that local officials are being excessively restrictive in the process on matters regarding property notification requirements, public safety concerns, radio-frequency exposure, property value influences, and cell designs.  Cities and counties have countered, targeting cell-provider Mobilite, who continually files applications that are incomplete or riddled with blatant safety concerns, and has a record of negatively affecting communities that it becomes involved in.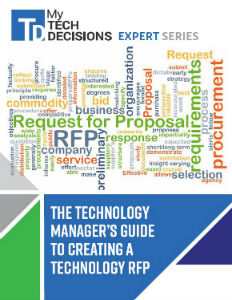 This new guide will show you how to structure your RFP so you get the maximum return on investment for your budget.
The Technology Manager's Guide to Creating a Technology RFP.
In an interview with the Center for Public Integrity, Jason Caliento, senior vice president for network strategy for Mobilite, claimed that the best solution for these issues was for the wireless industry and individual cities to work together to form a more efficient process, but Mobilite's head of government affairs Kirk Jamieson went to FCC headquarters in Washington just days later to advise the FCC to limit application fees and limit cities' abilities to regulate small cell application and implementation.
Pai was an attorney for Verizon before being appointed to the FCC, and created a committee comprised of mostly wireless industry employees to develop ways to speed up the permit process and make the application and implementation process cheaper for small cell providers. Pai claims this committee brings together "a range of perspectives," but former member of the committee and Mayor of San Jose, California Sam Liccardo claims that the committee blatantly favored the interests of telecom corporations, who have "sought to create a set of rules that will provide it with easy access to publicly-funded infrastructure taxpayer-subsidized rates, without any obligation to provide broadband access to underserved residents."
Though telecom providers are seeking to bypass government regulation in pursuit of profit, they claim that cities are being greedy with application charges and rent for publicly owned telephone poles. They are asking the FCC to limit the amount that governments can charge for applications, saying that cost of application should be in correlation with the cost of labor to process permits and maintain the right of way. They also say that they should not have to pay annual rental fees for the poles where they will be setting up small cells.
5G will create enormous profits for the already too-big-to-fail telecom providers, whose many lobbyists are paying top dollar to promote the 5G push in the FCC. The wireless industry's main concern is how the city and county governments' high fees, design requirements, and slow permit processing will hinder their own profits, instead of how these implementations will affect public safety, local communities, and, of course, their customers.