While many of us are returning to the office in various capacities, hybrid work has become our new reality. However, according to a recent IDC report, only 22% of individuals feel that they are reaching their maximum potential within the current hybrid work structures. 
Even though 80% of workers prefer the hybrid work model, a significant 58% often experience a lack of necessary infrastructure to effectively support their hybrid work-life. To successfully transition into a thriving hybrid workforce, IT teams need to thoroughly analyze their entire work communication experience and embrace new technologies that enhance productivity both at home and in the office. 
Here are seven ways organizations can ensure their long-term success in a future that is clearly very different from the past: 
Conduct a technology assessment

: Organizations can conduct a thorough assessment of employees' workstyles, technology needs, and preferences – identifying gaps in technology infrastructure and insights into the types of hardware, software, and peripherals that employees need. If in-office technology isn't providing as optimal of an experience as working from home, it must be addressed.
Offer flexible hardware options

: Provide employees with hardware options that suit their workstyles and workspace, enabling them to work more comfortably and efficiently.
Invest in collaboration tools

: To facilitate effective communication and teamwork, organizations can invest in tools such as video conferencing, instant messaging, and project management platforms. In-office tools should be modernized to leverage recent advancements in technology and enhance the user experience.
Offer training and support

: Boost employees' confidence and productivity by providing training sessions, user guides, and help desk support to troubleshoot common tech issues.
Ensure secure remote access

: To protect sensitive company information as more employees work from different locations, IT teams can implement security measures such as multi-factor authentication, virtual private networks (VPNs), and data encryption, to provide secure remote access to company resources.
Monitor and optimize network performance

: IT teams can monitor network performance and identify any issues that may be impacting employee productivity. This can involve optimizing network settings, updating software and firmware, and troubleshooting network connectivity issues.
Request ongoing feedback

: Finally, organizations should regularly ask for employee feedback on their experiences with their technology and work environments so changes can be made if necessary.
Hybrid work is a game-changer, offering employees flexibility and convenience. But it also requires seamless collaboration for both in-person and remote attendees. Companies that fail to adapt and offer modern technology and dedicated collaboration spaces risk being left behind. 
This shift in work models is the biggest in our lifetime, and companies must find new ways to maintain culture and drive productivity. By adopting robust strategies and learning from experiences, organizations can thrive. 
______________________________________________________________________________________________________________________________________
Andy Rhodes is General Manager and Global Head of HP Hybrid Systems & HyperX.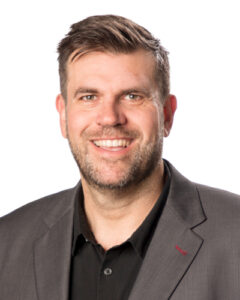 If you enjoyed this article and want to receive more valuable industry content like this, click here to sign up for our digital newsletters!