For Open Mesh, which offers cloud-managed WiFi access points and switches, its new cloud-managed router G200 puts itself in a new category – that of an end-to-end network solution in a cloud-based ecosystem.
The G200, as Open Mesh general manager Ryan Detwiller puts it, "completes the full end-to-end network solution." Customers, he says, have been asking when the cloud-managed router would be added "because they want that full solution to manage the network remotely."
Now they have it.
With the Open Mesh G200 the local network ecosystem now delivers an end-to-end suite of cloud-managed WiFi access points, switches and routers. It comes with an integrated firewall and a quad core networking processor that provides gigabit throughput.
"We're transitioned from a WiFi provider to a full stack provider," Detwiller says.
"We're transitioned from a WiFi provider to a full stack provider," Detwiller says, adding that customers really wanted that "complete end-to-end network solution" or as he calls it, "a single pane of glass with no licensing fees."
In terms of the G20 device itself, "We've done a lot to really optimize it for network management – quality of service, VPN service, it's geared for really solid performance from a really small device," Detwiller says.
Then there is the ease of installation and service.
"It's really nice to have that single point of configuration. [Technician] can quickly hop onto the dashboard and see what they can do to fix anything that pops up before they roll a truck," he says.
"A lot of our customers are not going deep into the certifications. They just want something to plug in and it works. You don't need to sit through a two-day training to learn how to install this."
That, of course, raises the question of whether or not integrators should be involved in network deployment — particularly AV integrators since it's traditionally been the domain of IT integrators. In a recent interview with Commercial Integrator, Detwiller laid out a case for it being vital decision for integration firms.
"Integrators who don't embrace this convergence of signal distribution technology will become obsolete as they face increasing competition on two fronts: Fellow integrators who are expanding their services and embracing networks as an opportunity, as well as traditional IP professionals who view AV as now a part of their domain and an opportunity for larger budgets."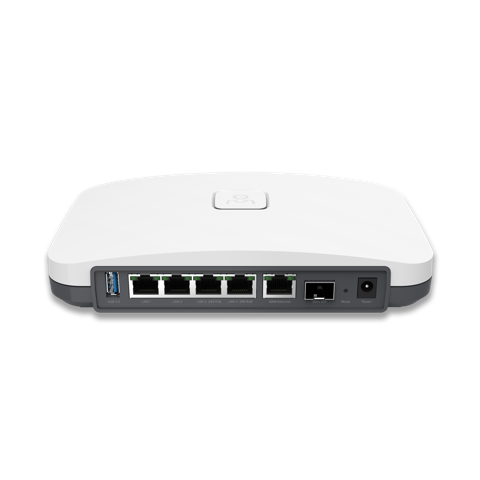 Enhancement to End-to-End Network Solution
In addition to launching the cloud-managed router G200 router, Open Mesh has introduced the A62, calling it its most powerful 802.11 AC Wave 2 access point.
Open Mesh also announces a new and enhanced version of its popular S24 switch.
According to a press release, the A62 incorporates a quad core processor and a second 5 GHz radio to deliver higher data throughout, allow greater client density, and the ability to run more applications on the access point simultaneously. The new S24 adds 10GbE SFP+ connectivity and an increased PoE budget.
"The G200, when combined with any of our access points and switches, creates a seamless, end-end, Open Mesh system that can be easily managed through our CloudTrax platform," Detwiller says in the press release.
"It's a major step forward in achieving our mission of making WiFi easy to install, easy to manage and, because there are no added license fees, extremely affordable."
More on Open Mesh G200 from press release:
According to Detwiller, the G200 is designed to advance the company's mission of making networks smarter and easier to deploy and manage.

When used with Open Mesh's access points, switches and CloudTrax software, the complete system puts a host of powerful features at a network manager's fingertips, including usage statistics, client management, and troubleshooting capabilities, as well as router-specific features, such as NAT routing, DHCP server, VPN client and point-to-point, VLAN tagging, and Quality of Service rules.

This allows users to easily scale up to thousands of locations without on-site controllers or expensive licensing fees, while still delivering gigabit throughput due to the quad core processor's hardware offload and crypto engines.
More on Open Mesh A62 and S24 from press release:
While the new cloud-managed router delivers many new management and performance options, the company's new A62 access point and S24 switch offer even more performance options.

The A62 is a universal 802.11ac Wave 2 cloud-managed WiFi access point with one 2.4 GHz and two 5 GHz radios employing MU-MIMO transmission technology for maximum throughput and greater capacity.

"With its additional 5 GHz radio, the A62 can support up to 150 simultaneously streaming devices, an increase of 50% over the A60 access point is replaces and 30% more than the A42 access point," said Detwiller. The A62 builds on the existing A Series design, which offers universal installation options indoors and out.

Filling out the line, Open Mesh has upgraded its S24 cloud-managed switch, providing 24 Gigabit PoE+ ports and two SFP+ uplink ports to allow 10 Gbps connectivity between switches.

The S24 also offers an increased PoE power budget of 410W; each port can handle as much as 30 Watts, with a total budget of 17 Watts per port across all 24 ports simultaneously
All three products are available from Open Mesh and its distributors worldwide. The G200 cloud-managed router (MSRP $249) and S24 switch (MSRP $749) are available now, and the AP62 (MSRP $225) will begin shipping in May.