Tech giant Google is investing $1 billion for startup companies in Africa over the next five years and putting a subsea fiber optic cable to help the continent undergo digital transformation.
As part of Google's Black Founders Fund, 50 African startups will receive mentoring, funding and Google platform credits. In partnership with Kiva, the duo will provide $10 million in business loans to assist small to medium sized enterprises recover from the pandemic in Africa.
The African Investment Fund will help African startups create useful tools for their communities. Google has also set aside $40 million to support non-profits to improve lives in Africa to support the work of African innovators and leaders.
The company also plans to collaborate with Safaricom, a Kenyan telecommunications company to help first-time users get Android phones.
Read: Lessons On Implementing Digital Transformation
Not only is Google investing in African startups, but the continents infrastructure as well.
Google's private subsea cable, Grace Hopper is positioned to connect Africa with Europe to provide connectivity to African countries.
It will be the first subsea cable to incorporate optical switching at the fiber-pair level, rather than the traditional approach of wavelength-level switching.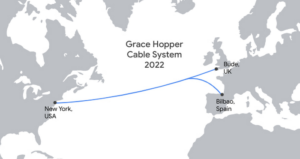 "Grace Hopper represents a new generation of trans-Atlantic cable coming to the U.K. shores and is one of the first new cables to connect the U.S. and the U.K. since 2003," says Jayne Stowell, strategic negotiator of global infrastructure at Google Cloud in a blog post.
It will start in western Europe and run along the West Coast of Africa, between Portugal and South Africa, with branching units along the way.
The 3k+ mile cable will run between the United States, the United Kingdom and Spain. Last month, the fiber cable arrived in the seaside town of Bude in Cornwall, England. The cable is expected to become completely operational in 2022.
"With the ongoing pandemic fostering a new digital normal, Google-funded subsea cables allow us to plan and prepare for the future capacity needs of our customers, no matter where they are in the world. Grace Hopper will connect the U.K. to help meet the rapidly growing demand for high-bandwidth connectivity and services," says Stowell.