Cloud Email, in a business perspective, is a more robust email platform that allows you to manage your team and organization from one platform. You get more than just email – you get integrated email, calendar, contacts, notes and tasks, and the ability to share and access messages and mailboxes.
This differs from traditional email services in a few ways. In fact, many don't even realize that their email service isn't the same thing. The reality is that traditional email is living in someone's cloud, somewhere, and being pulled down to your local computer and being presented to you from a program. The contacts, calendar, etc. likely lives locally to your computer. It's not centrally managed or fully accessible from other devices, such as a separate web browser or your smartphone or tablet.
The Benefits of Cloud Email Services
The big difference between email and cloud email is that, with cloud email services, if you make a change in one place it is reflected everywhere else. If I send out an email on my smartphone, my computer will automatically recognize and reflect the fact that I sent that email. This isn't the case with traditional email services. Cloud email stays in the cloud, lives in the cloud, and is a definitive sync point across devices. The master copy is always accessible.
That's convenient for both the user and the technology manager. The user can work within any device and be assured that their content will be reflected in the next device. The technology manager can access and edit the full suite of emails from a single location – with total management capabilities because it's all centrally managed. That means you can set up new accounts, alter existing accounts, and put accounts on hold for employees that may be involved in litigation or recently let go.
Business cloud email has become relatively commoditized and standardized. Your basic level of service should afford you the ability to share, access email of users, 50 GB storage or more, and so on. As you pay more you'll get more features such as:
eDiscovery to search through emails and easily find what you're looking for
Mail vault to store emails for years for compliance needs
Advanced mail filtering, inbound or externally, to make sure you're only getting messages from the right people
Archiving and Encryption (at rest or in transit) to make sure messages are only being read by the right people
As you can see, cloud email provides much more than management opportunities for the technology manager.
In a traditional email service you're going to have a certain amount of storage space, say 5 GB, for past emails. That means that once you hit 5 GB, you need to start deleting emails. That's not a great solution for businesses. There could be a number of reasons why you need older emails – clarifying past correspondence, use in legal situations, fact checking, and more.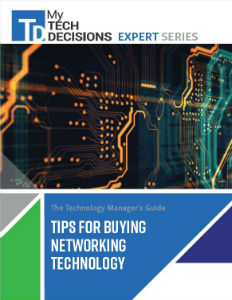 Looking to purchase the perfect networking technology for your organization at the best price? Download our FREE guide to learn how to write a network technology RFP, choose network technology partners, and implement network technology.
Tips for Buying Networking Technology
Cloud Email services don't delete those emails forever. Even when clients hit the storage capacity, a mail vault allows emails to be archived forever, potentially, so that you don't ever lose important information even years down the road. eDiscovery lets you quickly and easily search for phrases or contacts and pull up all of the correspondence surrounding that person. It's a big thing for compliance, to prove that something did or did not happen down the road.
Mail filtering, archiving, and encryption ensure the security of your messaging. Cloud email can filter out spam and other unwanted messages so that you're less likely to be hit by a malware attack through email. It can also ensure that your messages are locked to any but those that you're sending them to. This provides huge benefits in terms of security, and in some industries such as healthcare and banking it's a necessity to encrypt messages with sensitive information.
Writing a Cloud Email RFP
Most of the major IT providers only use one of a few platforms. You'll likely be looking at G-Suite, Microsoft Exchange, or a handful of other cloud email platforms for your business.
When you're writing a cloud email request for proposal (RFP), you're going to want to let the IT provider know what platform you want to go with, and then include the criteria you want from the implementer. Do you want eDiscovery capabilities? Mail vault? Encryption? Archiving? Say so in the RFP so the IT provider can price out the correct model.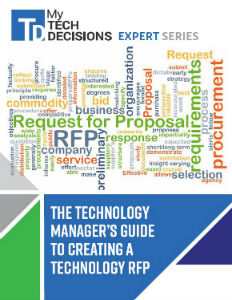 This new guide will show you how to structure your RFP so you get the maximum return on investment for your budget.
The Technology Manager's Guide to Creating a Technology RFP.
If you're opening an office or business from scratch, with no legacy archives or technologies, your RFP can be more out-of-the-box, short and sweet. If you don't know what platform you want, list what capabilities you want, how many users you have, and how many users you plan to get to. Explain how you plan to interface with your mail. How do you want to handle your mail as it grows – creating an archiving strategy is necessary for planning for the future. You may wish to have a consultation with an IT professional before sending this out to get your feet under you.
Typically the IT provider should understand compliance needs for your specific industry. But if you work in a regulated industry like healthcare, it is always helpful to include the compliances you need to follow.
The Implementation Process
The final step is the cutover – moving your organization from a legacy email system to a cloud email system. The question becomes how you want your cutover to look. Can you impact business or is that something you can't do? Do you want a one-time cutover migration, a staged migration, a hybrid, or something in between?
This will depend on how big the company is. How many locations, how needy are the users, etc. Some organizations can't go down at all, and that's fine. Some organization will have the mail cutover at one time – 8:00 on a Thursday for instance – but in doing so the users will be connected to both the old and new webmail. Sometimes automated cutover tools will update and switch profiles so that the cutover time will switch everyone over at once. In this case the IT provider will make sure messages are synchronizing so that the feel is that there is no downtime and no messages are lost.
Learn how to write a cybersecurity RFP, choose cybersecurity partners, and implement cybersecurity technology. Download this free report for all the details.
The Technology Manager's Guide: Tips for Buying Cybersecurity Technology
In complex environments you'll want staged cutovers. Basically taking one of the previous strategies and doing it department by department until the company is switched over. Otherwise, a hybrid cutover will prompt users at a certain time to close the email service. When they reopen, the service will be switched over. In this case the IT provider is keeping copies of the old and new service until migration is complete.
Information provided by Steve Hall of District Computers. To learn more about cloud email technology, listen to Steve Hall's interview on My TechDecisions Podcast.
If you enjoyed this article and want to receive more valuable industry content like this, click here to sign up for our digital newsletters!