According to GeekWire, the first test satellites for SpaceX's global internet constellation were launched on February 18. The primary payload was a 3,000-pound radar observation satellite; the second payload included a prototype, called Microsat 2a and 2b.
SpaceX's business plan calls for putting thousands of communication satellites into orbit in the near future, GeekWire says, which will provide a limited wireless service to consumers starting in 2020. The company's ultimate end goal is to utilize its satellite constellation – known as Starlink – to provide low-cost internet access on a global level.
GeekWire also reports that SpaceX has been deliberately quiet about details concerning Starlink, and speculates that one of the reasons why is that the process to develop such an initiative is both lengthy: it's "'highly proprietary and may take several years to finalize, during which time the operators hold details as highly confidential for obvious competitive reasons,'" Patricia Cooper, SpaceX's vice president for satellite government affairs, said in a 2016 filing to the Federal Communications Commission (FCC).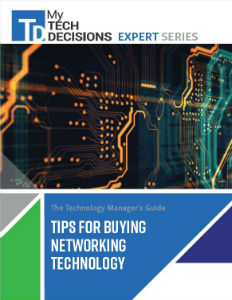 Looking to purchase the perfect networking technology for your organization at the best price? Download our FREE guide to learn how to write a network technology RFP, choose network technology partners, and implement network technology.
Tips for Buying Networking Technology
What decision makers need to know:
While the idea of cheap Wi-Fi descending from the stars may sound attractive, decision makers should keep in mind that, like Cooper previously stated, this service is going to take time. GeekWire reports that Elon Must, CEO of SpaceX, has been talking about this initiative since 2015, and now in 2018, testing is still going on; decision makers shouldn't expect a finalized product any time soon.
Decision makers should also keep in mind that even if and when SpaceX's wireless plan comes into play, regulations have to be put in place by the FCC, especially with the net neutrality battle raging on. However, time will be on decision makers' side – while the service is tested, approved and regulated, decision makers might want to consider planning for this service, evaluating which hardware will be needed, where it will be placed, who will integrate it, how much it will cost the company, and what the company's internal cybersecurity policies and procedures will be. That way, by the time they are ready to invest in SpaceX's solution, the company will be ready to pull the trigger on its new Wi-Fi.