According to a study by Grand View Research, the global DevOps market size is expected to reach $12.85 billion by 2025. The reason why organizations are interested in adopting DevOps is to streamline their software delivery lifecycle and to be able to deliver better software faster.
Despite all the promises that DevOps holds, Gartner also predicts that through 2022, 75% of DevOps initiatives will fail due to reasons other than technological limitations. In this blog, we will discuss what DevOps is, why companies need DevOps and what it takes to get DevOps right.
What is DevOps – Practices to streamline software delivery
DevOps is not a tool, technology or framework. Instead, it is a set of practices that help bridge the gap between development and operations teams in an enterprise. By bridging the gap, DevOps eliminates communication barriers and makes collaboration easier.
As a result of the seamless collaboration across the delivery ecosystem, there is inherent agility in the delivery ecosystem and organizations are successful in delivering better software to their customers faster.
By enabling faster delivery, better collaboration and automation, DevOps makes an enterprise software delivery ecosystem extremely efficient.
Agile and DevOps go hand-in-hand
DevOps cannot be efficient without an agile setup. There is no point optimizing development and accelerating build processes if the new code will not go to the users until the next 'big' release.
Even on the operations side, automating deployment and accelerating the delivery and deployment of code and infrastructure will not make any difference, if the development team will only release builds at huge intervals.
DevOps' true impact can be observed when the biggest two silos of an enterprise ecosystem – development and operations setups – are integrated and optimized. Agile also facilitates early and continuous delivery, which is the key reason organizations adopt DevOps.
Challenges that DevOps helps overcome
An enterprise delivery ecosystem is a complex setup made of multiple teams, systems, end-user devices and other elements.
The complexity sometimes leads to a lack of collaboration, which in turn leads to issues, such as:
Slow test process
Increased costs and overheads
Lack of consistency in the environments across the functions
Significant dependency on a team or an individual
Unnecessary manual interventions
Increased costs and overheads
Ineffective process monitoring
The process of planning, development, testing, release and deployment in DevOps is iterative. Unlike a traditional software development setup where development and operations teams primarily work in silos, DevOps focuses on breaking the silos and creating a unified delivery channel.
It accelerates the feedback cycle, eliminates waste, reduces delays and enhances the efficiency and reliability of the software that goes to production.
Why enterprises should adopt DevOps
By resolving collaboration problems and creating a unified delivery ecosystem, DevOps enables organizations to:
Increase the overall productivity of the delivery process
Bring transparency across teams and communication channels
Accelerate delivery time by eliminating unnecessary processes and operation overheads
Receive and process continuous feedback
Accelerate time-to-resolution for issues
Create a reliable delivery ecosystem, which leads to better software quality
Reduce overall cost by streamlining the end-to-end delivery process
How to get DevOps right
Most organizations fail in getting DevOps right because they treat it like a framework, not a set of processes or practices. DevOps is more than implementing the right tools and technologies. The success of DevOps depends upon driving technical and cultural shifts together.
In order to fuel better collaboration, improve delivery and make a DevOps project successful, three other factors play a crucial role.
Related: 7 Enterprise IT Trends That Show Where IT is Going
These factors are people, tools and processes. People involved in DevOps implementation must be trained together and digitization technologies, cloud infrastructure and modern data management techniques must be leveraged in accelerating the adoption of DevOps in an organization.
Apart from the factors stated above, continuous integration and continuous delivery (CI/CD) are also cited as pillars of successful DevOps implementation.
To establish and optimize the CI/CD model and reap the benefits, organizations need to build an effective pipeline to automate their build, integration and testing processes. Selecting the right tools is critical for building that pipeline.
Choosing the right DevOps tools
There is no one single tool that meets all DevOps requirements. The smartest move is to choose a set of tools that best suit the organization's software delivery environment, team and application.
The right tools enable organizations to create a strong DevOps foundation, achieve a continuous process right from development to deployment, help optimize resources and costs, facilitate seamless execution of the processes and eventually meet organizational goals.
While choosing the right DevOps tools, organizations must consider the following factors:
The tools should have enterprise-class automation capability. It will help scale the organizational workflows and continuously enhance the processes without adding extra work.
DevOps creates a need for integration of the entire delivery ecosystem. Therefore, the tools should have integration capabilities.
In addition to the two factors listed above, tools in the DevOps setup must be agile and cloud friendly.
Example: Some popular tools used for enabling enterprise DevOps setup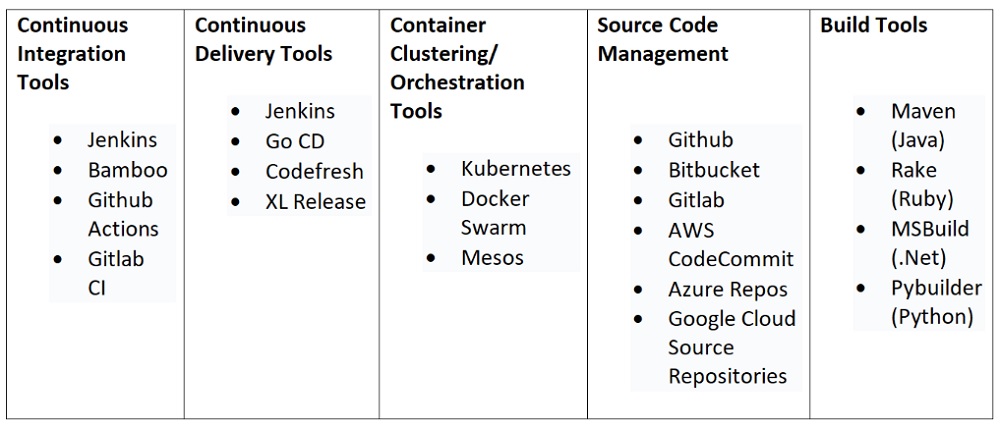 Defining the right processes
Processes in the DevOps setup should be iterated quickly with automation. It is the iterative processes in the DevOps set up that make way for continuous feedback and ensure that teams are always ready to incorporate changes in the working software, continuously test and deliver it.
A couple of points to consider when defining DevOps processes in an enterprise are:
Clearly defined release management and continuous deployment processes from the start help reduce the risk of miscommunication and misalignment with goals.
Agility in the processes makes it easy for the enterprise to absorb, test and deploy changes.
Transparent workflows help create visibility for all teams involved in the delivery process.
Test automation could be a major pitfall if not dealt with correctly – involve external experts, if needed.
Lean practices allow accelerating the feedback cycle, responding to changing business needs and efficiently eliminating software development wastes.
As quality is an integral part of DevOps, establishing a simple and connected mechanism to keep track of the right quality metrics and drive continuous monitoring and validation of operational quality is critical.
Clearly outlined roles and responsibilities help team members have a better understanding of the processes they must follow.
Automating the different stages in the delivery pipeline help in accelerating the overall delivery process.
Training people
While tools and processes are essential, one factor that cannot be ignored is the people involved in the DevOps implementation process. The best way to get DevOps right is to ensure that people across the delivery cycle are more open to change while adopting an innovation mindset.
To make DevOps the culture of the organization, each person involved in the process must be aware of their roles and responsibilities and trained to work together. The faith of the organization's leadership in DevOps and their support in driving the DevOps culture is also vital for DevOps to be a success.
How to measure the success of DevOps implementation
For adopting DevOps to be successful, there are three critical aspects that organizations need to track continuously: quality of software, speed of delivery and performance of the software.
To track these aspects, organizations must measure the following key factors:
Lead time: Reduce the lead time (the time required to deploy the project).
Deployment frequency: Execute smaller deployments as often as possible.
Automated test pass percentage: As DevOps heavily relies on automation, tracking how well-automated tests work is a useful DevOps metric.
Defect escape rate: Check how many defects make it to the production stage.
Availability: Check for outages of all kinds by keeping an eye for the Mean Time to Detection (MTTD) and Mean Time to Recovery (MTTR).
Drive speed & innovation with DevOps
There is a lot of work that goes into delivering good software. DevOps ensures that the end-to-end delivery process is streamlined to the "T". But it is important to understand that DevOps is not the goal point.
It is a means to enable the organization to deliver best-quality software with maximum speed, functionality and innovation.
If you enjoyed this article and want to receive more valuable industry content like this, click here to sign up for our digital newsletters!