Like thousands of other higher education institutions, the University of Nevada, Las Vegas (UNLV) was forced to quickly adopt new hybrid classroom models during the pandemic. The university's AV and IT staff came up with what they call the "Swiss Army Knife" of classrooms that includes all of the technology needed for both synchronous and asynchronous learning, meaning that students can tune into the live lecture, or view a recording outside of class hours.
"It was what I like to call the Swiss Army Knife of classrooms because it's a typical classroom, but we added lecture capture and web conferencing into the rooms," says Frank Alaimo, a the university's Senior AV/IT systems specialist. "Now the room has synchronous and asynchronous capabilities, recording capabilities, live 'in-the-room' capabilities — it has everything."
A standard hybrid classroom
The university created a standard room technology model that was implemented via a pilot program in rooms of different sizes and function, giving professors and students the same experience regardless of classroom.
UNLV's new hybrid classroom model made extensive use of the Sennheiser TeamConnect Ceiling 2 (TCC2) microphones, which were deployed across 58 multi-purpose classroom across the campus.
According to Alaimo, the university already deployed Sennheiser's SpeechLine Digital Wireless and Sennheiser Control Cockpit, so the TCC2 microphones completed the web conferencing features for the hybrid classroom model.
Watch: How One University Made Their Hybrid Learning Vision a Reality with Sennheiser
"Now, the instructor has a mic at the lectern, and the TCC2 is able to capture both the students or the instructor, should he or she choose to lecture while moving around the room," Alaimo says.
The TCC2's beamforming microphone technology came in handy for larger classrooms with a lot of students, as the devices are able to quickly move to wherever a student is talking, says Michael Theil, the university's classroom control systems specialist.
"This also simplifies our lives in IT so we don't have to make microphone adjustments," Theil says. "That is a huge time saver."
UNLV's first hybrid classroom deployments
The first of the hybrid learning rooms, dubbed RebelFlex after the school's mascot, were deployed in the UNLV faculty center, and the IT team provided guidance on how to migrate new and existing classrooms to the flexible learning model.
"The concept was little bit overwhelming for instructors at first, so as part of the RebelFlex pilot program, we included a RebelFlex assistant in each room to provide support, so instructors could remain focused on their agenda during the initial rollout," says Alaimo.
The primary rollout consisted of 58 classrooms, including eight that already had a  recording device that were converted into the RebelFlex rooms. Another 50 classrooms were completely remodeled with new equipment, including the TCC2 microphones.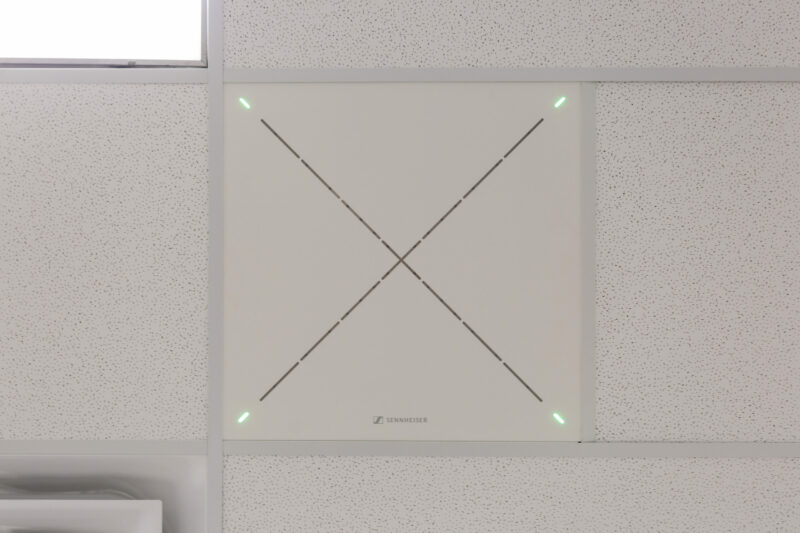 The rooms vary in size from 25 seats to 179 seats, with larger rooms utilizing a pair of TCC2 units.
Other rooms are currently being planned, but the university's team is looking at converting a larger campus auditorium that is already being renovated. According to Alaimo, it already has recording features in place, so deploying the TCC2 would be seamless.
Education equity and ease of use
We've heard a lot about meeting equity in corporate environments, which essentially means providing the same meeting experience for both remote and in-person users. The UNLV team took that same approach to the classroom, with the microphones helping students feel like they are a part of the experience.
"We wanted to be able to offer a similar experience for the student, whether they were in-person or remote," Theil says. "If you are at home and you're getting a subpar lecture or feel that you can't hear the other students, you won't get the same degree of value. Our system was designed so that people at home have the same opportunities that students have on campus."
The network compatibility of the TCC2 made installation easy for the university's in-house tech team, with Dante audio networking technology helping to simplify device routing and merging the conferencing capabilities of two or more rooms.
With the Sennheiser Control Cockpit, the IT team can monitor battery levels, muting functionality and other features, helping to reduce system downtime, Theil says.
The university also made use of the TCC2's exclusion zone feature, which allows staff to eliminate unwanted noise coming from an HVAC register or a door that is often used.
"I don't have time to make a custom DSP program for each room, and that's what makes it really nice, it works wonderfully out of the box," Theil says.
Now, the university's technical staff expects every classroom to eventually become a RebelFlex room, Alaimo says.
"We have projects of all types and sizes, but we feel like every classroom will be RebelFlex by default going forward," he says.
If you enjoyed this article and want to receive more valuable industry content like this, click here to sign up for our digital newsletters!