The retail technology landscape can be confusing at best. Deciding where and how to invest in tech solutions is critical to modern businesses. Understanding what makes for the best investment is often tough.
Business owners and decision-makers have a limited supply of time and expertise. They're not always able to select the right software or tech vendors. Without knowledge or space to research the field, firms can make costly mistakes.
A survey by Brightpearl – in association with OnePoll – has unearthed some critical insights into the US tech landscape. Understanding these insights could make all the difference for a firm in any niche. 
Armed with the right info, you can make the tech decisions to help your firm to succeed in the new decade. Why, though, is getting a grip on the tech landscape so tricky? Put simply, it's because the breadth of choice is overwhelming.
An Overabundance of Choice
When selecting software solutions, US retail businesses have a bewildering range of options. Software exists to help with a diverse array of different issues and perform many tasks. Firms can employ solutions to help with inventory management, CRM, and more. The number of tech vendors selling to retail is also vast and growing. It's tricky for firms to understand their full range of choices, let alone make the right decisions.
A recent report revealed that the total global retail software market is already worth an estimated $55 to $60 billion. The report predicts that the value will exceed $77 billion by 2021. In that size of marketplace, there's an extraordinary level of choice for retailers. Both when it comes to tech vendors and their software solutions. It's little wonder that companies find things confusing.
51% of respondents to Brightpearl's survey report suffering from information overload. They're overwhelmed by the sheer breadth of software choices available to them. That's a real concern. Especially when 68% of the same respondents still expect retail software investment to increase in 2020.
Many firms are investing in new software based on sketchy information at best. Overwhelmed by choice, these businesses often make ill-informed decisions. Many stick with the vendors and solutions that are familiar. Others use price as the sole factor for software decisions. In both cases, firms will likely pass over better options.
From the 200 firms asked, 36% had an in-house professional responsible for IT strategy. In the case of 35% of companies, the responsibility fell to a confused mixture of department heads. Whoever is accountable for IT strategy at your firm has to understand the retail tech stack.
The retail tech stack represents the range of software solutions available to businesses. The solutions are as varied and diverse as the activities they exist to assist. The best way to illustrate the state of IT strategy and software investment is to segment the tech stack. When you segment the stack into major business areas, five of the primary examples are as follows: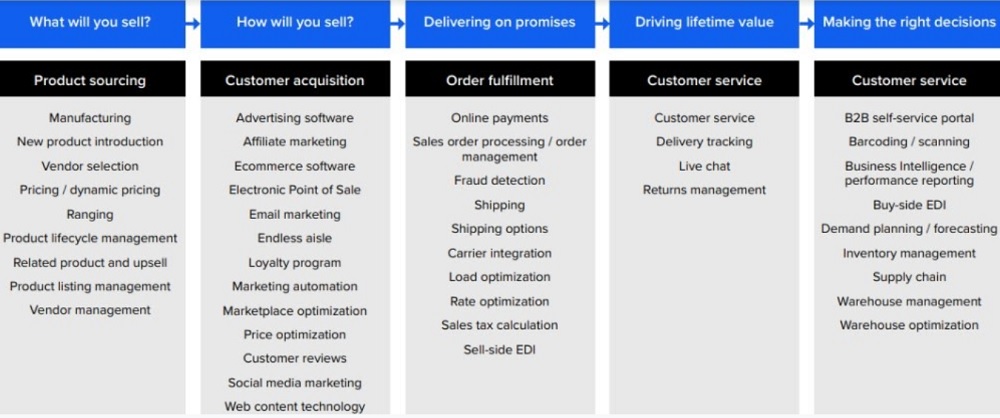 For each of those areas, over 50% of retailers indicated they'd invested in software solutions. It's vital, then, to assess the state of software investment for each segment. 
The Importance of Product Management Analysis
'What will you sell' is the first question many retailers need to ask. Product sourcing and management is an area rich in software solutions. Businesses will each need a different combination of tech to best suit their needs.
Your business model decides the product management solutions most suitable for you. Differing business models mean companies interact with product suppliers in varied ways. That impacts the type of technology they need.
Some retailers produce their own goods for the marketplace. They can invest in software to help with a range of activities. Solutions are widespread that assist with product planning, prototyping, and testing. There's also plenty of software to support market research and consumer demand analysis. 
Other retailers source products from manufacturers or wholesalers. They're likely to invest in software that helps with very different processes. These firms' main concerns are with product sourcing and merchandising. 
For those activities, you need to find both the right product lines and the best suppliers. To make those decisions, you must consider many factors. They include things like product life cycle management (PLM) and upsell opportunities.
There is, as a result, a vast ecosystem of software applications related to that process. Those solutions can carry out product market analyses and identify profitability. 49% of the retailers surveyed reported investing in this type of software in the past 12 months. Solutions in this space may also provide recommendations on who to buy from. 
Vendor Relationship Management Tools
Who you buy from is only the first of a range of important questions related to vendors with which you work. There's also a range of tasks associated with maintaining good vendor relationships. A specific type of software tools can help with the administration of those tasks.
Those are Supplier relationship management (SRM) or vendor relationship management (VRM) software solutions. There's been significant growth in investment in both. The tools often assist in things like categorizing suppliers and recording compliance. Some can also handle more particular tasks, such as auditing and invoicing.
Over half of US retailers reported that they're keen on investing in this area of tech. Global market research firm, Technavio, explains why:
"The global vendor management software market will post a CAGR of close to 13% during the forecast period [2017-2019]. One of the major reasons for this is the increasing need to minimize administrative costs, increase negotiating power with suppliers and customers, and ensure compliance."
The State of Customer Acquisition
Alongside 'what you will sell', 'how you will sell' is another fundamental question for firms. Customer acquisition has always been a priority for businesses. More than 60% of retailers agree that getting new customers is one of their main challenges. For that reason, 55% of those surveyed invested in solutions for customer acquisition.
The process of customer acquisition is best considered as a four-step one:

Attraction is about ensuring potential customers find and visit a retailer's website. Options for software investment in this area are varied. Firms reported investing most in social media marketing (63%). Advertising software (55%) and affiliate marketing (47%) were close behind.
When investing in these areas, you must measure the effectiveness of each channel. That's how to assess the ROI you get. There are a few metrics that are critical to judging ROI. They include click-through rates and the quality of the traffic from each source. You can assess quality by factors like conversions and average spend.
Conversion is the act of convincing a site visitor to buy from you. The best way to achieve this is by building trust. Reviews are a type of content proven to build that trust with potential customers. 53% of retailers invested in customer review solutions in the past 12 months. 
64%, meanwhile, put cash into web personalization software. These types of solutions help retailers deliver relevant, personalized experiences. It's those kinds of experiences that customers are increasingly coming to expect. 
When a customer has bought from you, it's vital to persuade them to return and make further purchases. That's the re-engagement element of customer acquisition. Re-engagement is even more critical now that the cost of gaining new traffic is so high. The primacy that major firms now put on customer service drills home how vital re-engagement is. 
The popularity of investment in the area in the last year also shows how important re-engagement is across the board. Email marketing and marketing automation were two of the most popular areas for investment. 62% and 59% of retailers respectively invested in those kinds of solutions.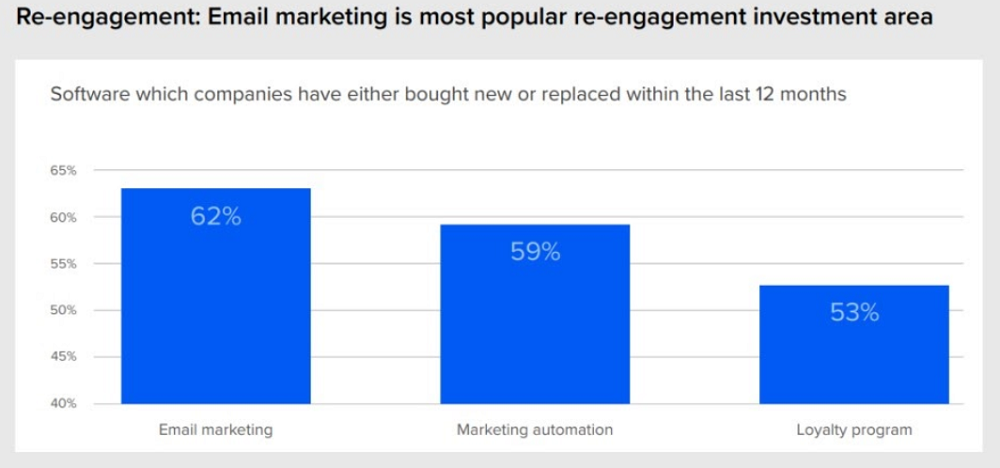 Loyalty is the final step of the customer acquisition process. It's a step that's intrinsically linked to re-engagement. More loyal customers are more likely to make repeat purchases. 53% of respondents invested in loyalty program software in the past 12 months. 
Such software isn't all that inspires loyalty. Firms are also wising up to the difference good order fulfillment makes to customers.
Development of Order Fulfillment
Customer experience is something more firms are focusing on to build brand loyalty. To enhance that experience, companies must avoid errors in order fulfillment. Retailers are increasingly seeking to achieve more efficient pick, pack, and ship capabilities. 
Order management software is vital in that drive toward greater efficiency. Those types of solutions offer an integrated process to cover the full extent of each order. They can check order details, inventory levels, and shipping information. By using them, firms can avoid critical errors. Those errors might otherwise cause late deliveries or cancellations of orders.
Well over half of retailers (57%) invested in this variety of sales processing software in 2019. It was one of the top investment priorities for order fulfillment. The single most popular area of investment, though, was in online payment solutions.
More than 60% of respondents financed online payment software. Almost as many (59%) also put cash into fraud detection and prevention. Put together, that shows the importance of an effective checkout process. 
Failures at the checkout can cost businesses a great deal. Fraud experts, Riskified, report that 30% to 70% of declined orders are in fact legitimate. That's a lot of revenue to miss out on.   
Customer Service as a Differentiator
More focus on customer experience leads to a related push for better customer service. Of all the main areas of software investment, it's the most popular with merchants.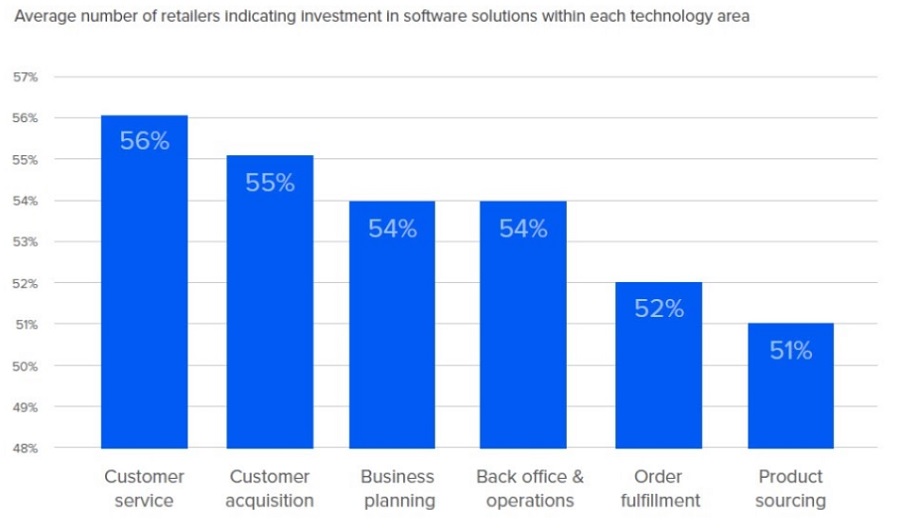 Close to 60% of retailers invested in customer service software in 2019. Two types of tools stood out amongst customer service solutions. Those were software for delivery tracking and returns management.
59% of merchants put finance behind delivery tracking software. Those types of solutions deliver benefits that are two-fold. First, they improve experience in the latter part of the customer journey.
Customers can follow the location and status of deliveries for better peace of mind. Second, firms can also engage customers with personalized communications during the delivery process. 
Returns management is also an increased area of focus for businesses. 56% of merchants revealed they'd invested in returns management software.
Much of the focus on that software is to combat the increasing 'try before you buy' problem of retail. Businesses must have robust returns policies. Without them, customers that buy many items and return most of them cost firms a vast amount of money.    
The enhanced focus of retailers on customer service software is highly informative. It shows that businesses are starting to see customer service as a differentiator. Tech solutions in this area are being used by firms to set themselves apart from their rivals. 
Where to Go From Here
Retailers across the USA and the world are investing in diverse software solutions. The vital insights above should help you grasp the main trends of tech investment. That's essential if you're going to make the right investment decisions for your firm.
By understanding where and how you can direct investment, it's easier to find the best solutions.
That way, you can make the best use of your invaluable resources. These insights, though, only scratch the surface. To get the full picture, you can download Brightpearl's Retail Tech Stack Report in its entirety.
If you enjoyed this article and want to receive more valuable industry content like this, click here to sign up for our digital newsletters!