At the recent Red Hat Summit Virtual Experience, Red Hat's President and CEO Paul Cormier interviewed representatives from three recognizable technology (and automotive) brands which have used technology to assist in COVID-19 relief efforts.
Let's examine each of those conversations more thoroughly to learn more about these efforts.
Microsoft Coronavirus relief efforts
Scott Guthrie, Executive Vice President, Microsoft Cloud + AI Group, told Red Hat about a Microsoft-led collaboration of over 700,000 people across the world.
"Citizen scientists, researchers at universities, came together via GetUP to open these open-source data models and distributed computing that provide a platform for more simulations and research."
It was a case of good timing for the company: in January, they'd announced an initiative called AI for Health, an initiative focused on providing nonprofits and health researchers with AI tools to expedite their studies.
But as millions started becoming infected with COVID-19, Microsoft redirected AI for Health towards first responders and backed the program with an additional $20 million.
That money went to the COVID-19 High Performance Computing Consortium, The Institute for Health Metrics and Evaluation (IHME), The Washington State Department of Health, Folding@home, The Sepsis Center of Research Excellence (SCORE-UW),  and Brazilian chatbot company Take.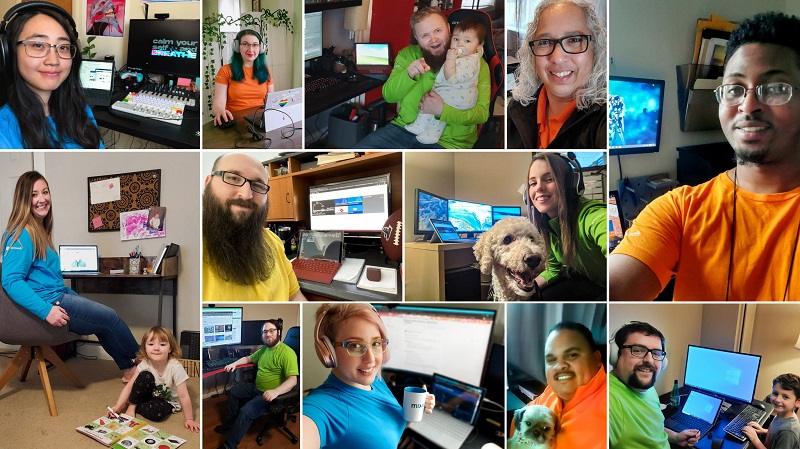 Those organizations worked with Microsoft to develop diagnostics, analyze hospital spaces to provide better recommendations for allocation, disseminate accurate information, and further study the spread of the virus.
Because Microsoft is also a retailer, they had to close their doors to the public in mid-March.
But employees responded to the challenge of working from home in new ways.
"Nearly 80% [of employees] chose to work from home in a new Emergency Remote Operations model covering five areas: serving small and medium-sized businesses and education customers; training enterprise customers; selling Surface, Cloud and Microsoft 365; supporting customers of all types; and delivering virtual community workshops."
These employees virtually trained 65,000 people in government, health care, education and finance on using Microsoft Teams within one month, the company says.
Verizon's response
"We used to look at Mother's Day calling as 'the peak'," Srini Kalapala, VP of Technology and Supplier Strategy at Verizon, told Cormier. "Now, we've surpassed that by many times, which indicates what's happened in the world."
The communications company announced in March that it would offer reduced Fios broadband plans for qualified new low-income customers and two months waived service charges for current Verizon customers that are part of the Lifeline discount program.
They also automatically added an additional 15GB of data to all wireless consumer and small business customers' plans.
Related: A Security Company Claims It Can Detect COVID-19
Even the way Verizon field workers completed connections changed, as Kalapala told Cormier.
"Our employees, when they have to go to a home to keep up connectivity, were under risk. Now, they can come to your home but stay outside while a virtual connection process takes place inside."
Verizon has also donated $48 million dollars to COVID-19 relief and other organizations like the American Red Cross and No Kid Hungry.
The company's webinar series has many archived titles which may be of use to IT department and technology leaders. Check those out here.
Ford's COVID-19 relief initiatives
In March, Ford manufacturing, purchasing and supply chain experts were embedded at 3M manufacturing facilities to produce urgently needed products such as PAPRs and N95 respirators.
Then earlier this month, the auto manufacturer announced it would produce face masks, reusable gowns from airbag materials, and COVID-19 collection kits at its factories across the country.
"We've been able to use flexible manufacturing processes to respond to the crisis, it's really amazing we've been able to leverage this to help," says Eric Karsten, Director of Enterprise Architecture & Emerging Technologies at Ford Motor Company.
Critically, Karsten emphasizes that Ford has done all this while completely suspending vehicle production for an undetermined amount of time. That means that its factories are only focusing on the manufacturing of COVID-19 relief resources instead of cranking out cars.
"We're hoping to restore production as soon as possible, but of course we want to do so in the safest possible manner," Karsten says. "We're researching cameras to monitor employee temperatures and groupings to avoid large groups of individuals."
Cormier asked Karsten if Ford was reassessing their technical needs during the crisis.
"Our IT org is busier now than before the crisis; the dependency on them when our employees were starting to work from home was heavy. We haven't had the time to reassess our technical debt."
If you enjoyed this article and want to receive more valuable industry content like this, click here to sign up for our digital newsletters!