In 2015, incomplete or unsubmitted Free Application for Federal Student Aid (FAFSA) forms contributed to $2.7 billion in unclaimed free federal grant money. What's behind this surprising trend? The Journal of Student Financial Aid recently surveyed 4,000 students and identified the following roadblocks to on-time FAFSA completion: students felt that too much information was demanded from them, found the application process too confusing, and experienced difficulty acquiring the proper financial information from parents. FAFSA forms are meant to supply students with the monetary resources needed to fund a college education; instead, they are creating additional complications for students that need the most help.
Can anything be done to alleviate these complications? As a matter of fact, yes! The answer is simple: meet students where they already are. Small, bite-sized text reminders break down the cumbersome FAFSA process that prevents students from getting what they need. In one recent success story, the Louisiana Office of Student Financial Assistance (LOSFA) created a texting program that reached 16,000 students across Louisiana with reminders about FAFSA and scholarship opportunities. As a result, 76 percent of high school seniors in the program texted back at least once, and the program ultimately contributed to a 7 percent increase in FAFSA submissions in the state of Louisiana.
No doubt about it – students today rely heavily on their phones. Texting students with reminders about upcoming FAFSA deadlines can be a highly effective way to nudge students to claim available federal grant money. If you're on board with giving a texting program a try, we've pulled together a few best practices for setting up a student texting campaign that will yield heightened responses:
Student Texting Basics
First things first: there are certain things students want to hear from you. They want to benefit from text communication with you just as much as you do. With this in mind, make sure to adhere to a few do's and don'ts when planning out your texting strategy:
Do:
Send the right answer – students don't want to have to dig around for information
Hone in on specifics – make sure to only include relevant information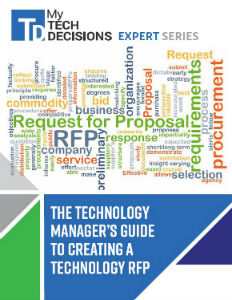 This new guide will show you how to structure your RFP so you get the maximum return on investment for your budget.
The Technology Manager's Guide to Creating a Technology RFP.
Don't
Try to be "cool" in your texts with students – no "dis" for "this" or "u" for "you"
Delay in your response back to students – it only takes 90 seconds to answer a text
Building the Right Strategy
Students spend a lot of time multitasking on their phones, so you'll want to build a text campaign that stands out by being purposeful and efficient. First, identify the goal you want to achieve by texting students. For example, if the goal is increased FAFSA submission, identify the specific roadblocks in place and ways you can overcome each through text reminders. Then, set deadlines related to each of these goals. Lastly, make sure to set aside time to respond once your text reminders have gone out to students. Responding in a timely manner is key. Students will be counting on you for answers to their questions about FAFSA deadlines, financial information requested, how to submit the forms once they are ready, and more.
The best way to eliminate worries about unresponsive students is to include a personal touch in each text. Students want to know that you care enough to send them an individualized message rather than blast out a mass text. If your text to students comes across as templated or canned, it can feel like you're spamming them. Text reminders are proven to work because they connect you directly to students – but don't forget the importance of customization.
Today's students are constantly overstimulated, creating the need for an extra nudge about college-related processes. Rather than let this overwhelm you, take comfort in the fact that there's an easy and effective fix. Become an expert in best practices for reaching students via text and you'll be able to assist them with confusing processes like financial aid; before you know it you'll be nudging students to success one text at a time.