Net neutrality has been a hot button issue across the internet for over a year now, while many non-tech-savvy American citizens have no idea of the logistics or impact that net neutrality has on their lives. A controversial vote from the FCC is taking place December 14th that could alter how internet service providers (ISPs) price the internet forever. Ultimately, the FCC will vote on whether to rid the Title II distinction from the internet.
Here is the laymen's description of what is happening, which strips away all of the intricacies and nuances and much of the explanation to give you a 30,000-foot view of what everyone on Reddit is getting so worked up about:
What is it?
Currently the internet is classified as a public utility based on Title II of the Communications Act, since February of 2015. This means that service providers must adhere to certain rules and regulations when it comes to customers, similar to what an electricity provider would have to adhere to. For ISPs, it means they can't offer faster or slower internet speeds to certain customers, companies, or websites, and they must allow for an open and equal internet. They legally cannot slow, block or throttle access to certain websites under the current ruling.
The Washington Post explains what exactly the current FCC is trying to change when it comes to ISPs and net neutrality:
In a news release, Pai said his proposal would prevent the government from "micromanaging the Internet." Under the new rules, he said, the FCC would "simply require Internet service providers to be transparent about their practices."

The proposal would also shift some enforcement responsibility to the Federal Trade Commission, which can sue companies for violating the commitments or statements they have made to the public.

Relying more heavily on Internet providers' own promises on net neutrality is a departure from the current rules, which lay out clear, federal bans against selectively blocking or slowing websites, as well as speeding up websites that agree to pay the providers a fee.

Lifting the rules will allow Internet providers to experiment with new ways of making money. In recent years, some broadband companies, such as AT&T, have tried offering discounts on Internet service to Americans so long as they agree to let the company monitor their Web browsing history, for example. Other companies, such as Verizon, have exempted their own proprietary apps from mobile data caps in a bid to drive user engagement. The practice, known as zero-rating, was criticized by the previous FCC as a potential violation of net neutrality principles, but Pai rescinded his predecessor's findings upon taking office.
Under the new plan, ISPs could package the internet the way they package cable. They can offer a basic package with access to basic sites like Google, Amazon, etc. Then for an added monthly payment, you can get the social media package with Facebook, Twitter, etc. For an additional price, you can get the sports and entertainment package with ESPN, Barstool Sports, cable sites like Comedy Central, etc. So on and so forth, with packages determining what sites you can visit, and adding to your monthly bill.
Why should it change?
Those critical of Title II distinction argue that ISPs should be allowed to offer different levels of service. As it stands, an ISP isn't allowed to push more bandwidth and resources to deliver certain information over other information. So, from the ISPs perspective, a customer that wants to access a local blog that averages 100 visitors per month should receive the same service as an FBI agent trying to access a government website, for example.
In addition, they say that the internet should be free of government regulation, and that things worked fine before February 2015 even without the Title II distinction. They claim that this government oversight has deterred the industry from investing in broadband technology, mainly because government jurisdiction could eventually set a base price for ISPs to provide their service. ISPs are wary that a set price will hinder their ability to put money into research of new technology.
Finally, the new proposal promises transparency in all practices. ISPs must inform their customers of how they block or throttle speeds, and what customers are paying for.
Why should it not?
Those for Title II distinction say that killing the distinction will allow ISPs to run wild. They will be able to block or slow connection to specific sites – competitors for example. A company like AT&T that is being hurt by a cord-cutting company like Netflix could slow Netflix streaming down to the point that it is unusable. They could also package the internet the way they package cable, where only those willing to pay can access the full breadth of the world wide web. As the internet is crucial to society, they argue, these laws could allow ISPs to favor certain communities or companies.
In the worst case scenario, opponents claim that this could lead to an internet where information is controlled by ISPs. As they would be able to set prices and broadband speed for customers to reach certain websites, they could therefore make it financially or practically impossible for consumers to reach certain websites the ISP deems unfit for political, moral, or business reasons. An ISP could control what information consumers can access simply by making websites they don't want consumers to see too expensive or too slow to access.
As for transparency, opponents essentially say there is no help in having a company tell you it will screw you over before it screws you over. Many parts of the country have only a single ISP in their service area, so transparency will do nothing for them – if they want the internet they need to pay their region's ISP.
Ajit Pai and the FCC
There has also been a fair amount of controversy around the FCC chairman and some of the organization's practices.
At the center of this controversy is Ajit Pai, the FCC Chairman trying to get rid of the Title II distinction. Appointed in 2017 by President Trump, opponents pointed immediately to his history with Verizon as a clear conflict of interest for the position. The Chairman was a lawyer for Verizon from 2001-2003 before moving to the public sector at the Senate Judiciary Committee and staying there over the past 14 years. It gives opponents easy fodder to suggest Pai is in bed with ISPs and looking out for their interests over those of the American public.
Pai and his supporters claim that the internet has no right to be micro-managed by the government. They claim the distinction of Title II is unconstitutional.
Then there was the comment search back in May of 2017. The FCC sought comments from the general public on their plan to rid Title II distinction, and many suspect the FCC or some other organization of skewing the results. According to Slate:
… there have been allegations that most of the comments came from bots, or some even from dead people. Most of those fraudulent comments were suspiciously against net neutrality, while data analysts found the overwhelming majority of organic comments to be in favor of the internet regulations. In May, the FCC said that its comment system went down due to "deliberate attempts by external actors to bombard the FCC's comment system with a high amount of traffic," an attack often referred to as a DDoS attack. Rosenworcel noted that the Government Accountability Office is now investigating that DDoS attack because the FCC's description of what happened raised some red flags, including questions as to whether or not the attack actually happened, since, according to a letter from two congress members who called for the investigation, the FCC hasn't "released any records or documentation that would allow for confirmation that an attack occurred."
There are also current and former members of the FCC that are blasting the proposed reversal. According to WIRED:
The FCC's two Democratic members blasted the proposal. "Following actions earlier this year to erase consumer privacy protections, the Commission now wants to wipe out court-tested rules and a decade's work in order to favor cable and telephone companies," Commissioner Jessica Rosenworcel said in a statement. "This is ridiculous and offensive to the millions of Americans who use the Internet every day."
Meanwhile the former Chairman of the FCC, Tom Wheeler, the man that first passed the Title II distinction, spoke with Bloomberg to give his extremely critical point of view:
There are also those that are fighting against  the FCC, regardless of their ruling. Congress has plans to combat the decision through other means, according to WIRED:
Before it is even approved, consumer groups are already preparing to challenge the new order in court. The Administrative Procedure Act act bars federal agencies from making "arbitrary and capricious" decisions, in part to prevent federal regulations from yo-yoing every time a new administration is in court. Given that the agency just defended the original net neutrality order in court last year, consumer groups may have a case that Pai's new order is capricious.

Congress also could intervene. Despite earlier lawsuits by Comcast and Verizon, the broadband industry now says it would welcome laws banning blocking and throttling content so long as providers aren't classified as common carriers. Whether Congress would or could actually draft a robust net neutrality order is another question entirely.
Local government is deciding to explore alternatives to the large internet service providers that many of us across the country are beholden to. As the Huffington Post reported:
Last week, 19 towns across Colorado voted to allow the exploration of creating a local, public alternative to expensive private providers.

Fort Collins voters went the furthest, passing a measure to finance an assessment of starting a city-owned broadband utility, which would aim to provide faster service at a cheaper price. That means residents could have a say in whether a new public network maintains the principle of net neutrality, whatever the FCC decides in the future.

"People who don't normally get excited or vote actually turned out this time and actually got energized," said one resident who had campaigned for the measure.

Not everyone was excited. Industry groups spent more than $450,000 campaigning against the measure. In fact, the very reason Colorado towns had to vote "yes" before even exploring public broadband is because of an industry-backed state law requiring municipalities to jump through hoops to take control of their internet infrastructure. (The industry has successfully pushed similar legislation in over 20 states.)

Comcast and the like are quaking in their boots about a public option, and they should be. Cities like Chattanooga, Tennessee, which became the first U.S. city to offer gigabit internet speed after going public, are outperforming private providers and even forcing them to innovate to play catch up.
As you can see, the FCC may in fact hurt ISPs by overturning the vote. Upset citizens are already showing that they will fight for alternatives and create a more balanced landscape when it comes to who gets to offer internet services. If there are local, public providers that are given laws to maintain net neutrality, Verizon, Comcast, etc. will need to lower prices in order to compete, and won't be able to.
My Take
I am very much for net neutrality and very much against this upcoming vote. I believe that when it comes to business, if a company with shareholders that must continue to increase profit is given in inch, that company will take a mile. If they can legally squeeze profit out of their customer base without  losing said customers, they will do so.
The argument may be that ISPs didn't rip off customers or slow down traffic lanes before the Title II distinction, so they won't do it after it is overturned. That's flawed logic, though. Just because someone hasn't done something bad doesn't mean they never will.
If you give an inmate a key to their cell and they don't use it, that's great. But they may not have used it because they were up for parole. When parole comes and isn't granted, they might decide to use the key. And if stocks fall, profit is hurt, and an ISP needs to find a way to make more money, they very well may decide to alter the way they provide the internet.
In fact, ISPs use this argument for themselves, saying that the government could eventually set prices under Title II distinction, even though they haven't yet. So it becomes a game of who to trust.
The internet is an essential need in today's society. True, if the internet fell down tomorrow we would not all perish (though some of us may). But, in a world with the internet, if I am not given the same accesses as someone else, I am at a disadvantage. Today, a significantly poor teenager can use the internet to access academic journals, online courses, reading material, and more. They can access the same content as an affluent teenager. If they don't have internet at home they can go to the library.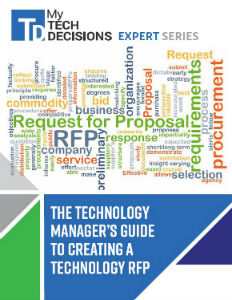 This new guide will show you how to structure your RFP so you get the maximum return on investment for your budget.
The Technology Manager's Guide to Creating a Technology RFP.
But what if that teen can't afford access to all of the same sites that the affluent teen can? What if the local library can't afford the bill to access all of the sites across the internet? We'll be creating an intelligence gap that will favor the already rich and discriminate against the already poor. Which will allow the rich more education, which will likely bring them more riches, and the opposite will occur for the poor. I'm not saying this will happen if the Title II distinction occurs, but it might, it would be legally possible. We should make laws to prevent it from "maybe" happening rather than let it occur and try to fight it down the line. We already have made those laws, in fact – the FCC is trying to overturn them.
A competitive business landscape. If I'm Verizon and Netflix is eating into my bottom line, why wouldn't I charge the company so much that they go bankrupt? Why wouldn't I charge their customers more for them to access Netflix, so they turn to the cheaper alternative – my cable service. The entire existence of Netflix and other recent disruptors is often based on free use of the internet. And we could give power over them to the very companies, or subsidiaries of companies, they are disrupting. Not to mention future disruptors that may not be able to afford traffic and bandwidth costs at an early stage, which would have otherwise succeeded.
Freedom of press. What's to stop an ISP run by a republican board to block access to democratic sites? Or vice versa? Staying in that vein, stating that the contitution doesn't give the right for the government to oversee internet services is ridiculous. The contitution doesn't mention governmental rights in colonizing Mars either, because the technology to do so was so far beyond the scope of the time that it wasn't a thought. Of course the constitution doesn't concern the Internet – that's why we set up a government with a set of checks and balances to figure out how to handle future problems.
I won't take a business on good faith. That's why fair practice laws and distinctions like Title II were created. That's why things like water and electricity are public utilities. Some things we can't leave up to the free market. Net neutrality is one of them.
That's my opinion, and you can take it for what it is, argue against it, or reach out to me and give me information that changes my opinion. Leave your comments below.
If you enjoyed this article and want to receive more valuable industry content like this, click here to sign up for our digital newsletters!