One BILLION dollars. It's a revenue level few ever expected we'd see in the AV industry, but it's coming faster than you might realize, with a couple of companies poised to earn the honors as the first $1 billion systems integrator.
That elusive—and exclusive—revenue level is becoming a reality now thanks to major acquisitions and an infusion of piles of cash from private equity firms and venture capitalists over the past couple of years.
Even those integrators that still have a way to go before reaching the 10-figure mark have solidified their spots at the top of the systems integrator food chain, with one joining the conversation this year thanks to—what else?—a majoacquisition, and another building primarily organically and strategically.
This year, rather than singling out one integration firm to join the Integrator of the Year Club, we award the honor to that mythical leviathan we've dubbed The Mega-Integrator.
Let's take a closer look at how the Mega-Integrator became Integrator of the Year by impacting the AV industry, one-upping the competition, and meeting its customers' needs more effectively.
The Mega-Integrator Club
AVI-SPL has long been the AV industry standard, earning CI's first Integrator of the Year nod in our initial year in publication, 2011, and closing out 2017 with revenue in the $725 million range.
Diversified, former Integrator of the Year, has made several major acquisitions in the past couple of years and seems to be closing fast on AVI-SPL as the space's top money-earner at about $650 million.
What's interesting is AVI-SPL CEO John Zettel seems to embrace the idea of his company reaching the billion-dollar mark, saying it's part of the company's plan for the next three to five years, while Diversified chairman and CEO Fred D'Alessandro continues to focus on the company he started in 1993 being the best in the AV industry, whether it's the biggest, second-biggest or 100th-biggest.
"Our growth strategy is predicated on customer demand," says Zettel. "What's changed dramatically is what we can offer our customers."
Through unified communications, managed services and geographic expansion around the world thanks to capital investment by H.I.G. Capital, AVI-SPL has placed "an extreme value on consistency," says Zettel.
"Our size represents the experience we have and what we do every day," he says, noting AVI-SPL works on about 6,000 projects every year. "That absolutely lends credibility to our customers. Our size has also allowed us to expand our platform for our customers with design, integration and managed services.
"The dollar amount of revenue isn't the story. It's what it took to get there," says Zettel, who's been with the company for 17 years and been involved in mergers and acquisitions for most of that time, including most notably when AVI and SPL merged in 2008 to forge somewhat of a mega-integrator in the first place so to speak.
"We adopted M&A as a strategy long before it became popular in our industry," Zettel continues.
"The board has been very agreeable to our growth strategy. We're seeing a form of stratification where companies are being more accepting of being acquired."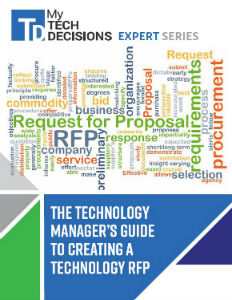 This new guide will show you how to structure your RFP so you get the maximum return on investment for your budget.
The Technology Manager's Guide to Creating a Technology RFP.
Under D'Alessandro, Diversified made a few acquisitions through 2015, which he called "a good way to learn the process," but the primary focus was reinvesting the profits into the company and its employees, including one division with $10 million in reinvestment.
"Our customers always had a lot of respect for Diversified," says D'Alessandro. "We were always the go-to guys for the challenging projects with tight deadlines." Eventually, company leadership decided they needed to find outside investors to help them deliver the full-scale solutions their customers wanted.
"We needed more capital to move the needle," says D'Alessandro. "It would've been easy for us to go to $250 million, but the demand was for more than that. We had to find a way to quickly fulfill the needs of our customers. It's something I saw coming about three or four years earlier [before Tailwind Capital invested in Diversified]."
That led Diversified to acquire Technical Innovation (TI) in February 2016, The Systems Group the next month, Media Management in November 2016, CompView in June 2017 and MCW in October.
It's pushed the company from about $220 million in revenue to a projected $650 million in less than two years. The flurry of deals represents an effort to allow Diversified to deliver "what customers expect from us."
TI, for example, added AV and mission-critical capabilities to a company that was primarily known for its expertise in the broadcast space, while The Systems Group bolstered its media capabilities and MCW was about managed services in the security space.
The other deals gave Diversified stronger presences in new markets.
"It's been about delivering more solutions to more customers," says D'Alessandro, who's gone from the top salesman at Diversified two years ago to not selling at all today.
"I expect us to deliver the best solutions. A lot of responsibility comes with that."
Other Systems Integrator Contenders Ramp Up
While former Integrator of the Year winners AVI-SPL and Diversified seem to be the most likely integrators to first crack the billion-dollar revenue milestone, there are other companies that have hit the accelerator in recent years.
That means expanding their business around the world (like Whitlock) or securing a long-awaited final piece of the puzzle (like Carousel Industries acquiring fellow IT systems integrator Atrion in 2016).
AVI-SPL and Diversified have used strategic acquisitions to boost their bottom lines and help their companies move closer to the billion-dollar revenue level, while Whitlock has approached its growth a little differently over the years.
Earlier this year, Whitlock executive VP Julian Phillips told CI editor Tom LeBlanc, "we're going to acquire AVI-SPL… one customer at a time. That's basically our acquisition strategy." Carousel Industries CEO Jeff Gardner told CI the addition of Atrion was a natural fit.
"I can see this move help both companies reduce the number of vendors and simplify operations for both of us.""The more we talked about both business and what we each bring, the more excited I got about the prospect of bringing the two companies together," says Gardner.
Meanwhile, Convergint Technologies represents the greatest threat to reach $1 billion in the commercial integration industry's adjacent life-safety and security space, with more than 2,000 employees and a penchant for strategic acquisitions.
"Convergint's meteoric growth and success is no accident. In a relatively short period of time, it has become of one of the most successful and reputable companies in our industry," Bill Keller, president of SigNet Technologies, said after his company was scooped up by Convergint in July.
The Systems Integrator Headed for $1 Billion
Zettel isn't surprised to see AVI-SPL nearing $1 billion in revenue, but he doesn't want it to be a hollow achievement.
"We talk a lot about what it would mean to us as a company," he says.
"It's driven by what our company would look like if we get there. It's a little bit of a longer-term goal, maybe three to five years."
Having a company hit the $1 billion revenue mark "brings credibility to our industry, which has mainly existed on a local or regional basis.
"This is proof there's a national and global model that can succeed on a scalable, consistent basis. Where we are today is a reflection of the hard work all of us have put in," says Zettel.
The push toward $1 billion "is happening for us because we're able to provide more solutions to our customers than we did before," says D'Alessandro."If we could deliver a $2 million solution a couple of years ago, now we can deliver a $10 million solution.