It takes a robust, reliable sound system to handle the temperature swings and dusty air of a desert music festival like Gold Rush in Chandler, Ariz. Add eight hours of continuous play and consistently loud volume levels, and the need for a system with amazing staying power is crucial to maintaining a dynamic, high-energy environment for festival attendees. Production company Sound Image found this magic music festival formula with loudspeaker solutions from VUE Audiotechnik.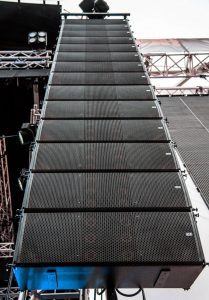 The main PA consisted of left and right VUE al-12 line arrays comprised of 14 elements each. Four stacks of two of two medium format al-8 elements were positioned in front of the stage. For the low frequency, a total of 28 VUE hs-221 ACM subwoofers were deployed in 14 stacks across the front of the main stage.
"With this type of music (EDM), it's all about the bass," says Sound Image production manager Chris White. "There is a lot of energy below 50Hz and it's important to keep it tight and impactful across the entire outdoor dance area without falling apart six hours in."
Because Gold Rush goes well into the early morning hours, it was important that the system adjust along with the size of the crowd. Using the SystemVUE software, the subwoofer's onboard VUEDrive electronics were programmed to delay output by a few milliseconds from the center subs outward. The delayed arc configuration ensured ideal coverage as the crowd expanded from hundreds to thousands throughout the course of the event.
"I generally don't comment on PA systems. I've heard them all and then some," says stage manager Josh Mierly. "But the al-12 really stands out in terms of sound quality and ease of use. Their reputation is clearly well deserved and I predict we'll see VUE rigs like this popping up on many more tours in the future."