In a good news/bad news scenario, consulting group Futuresource's latest study says pro microphone sales will increase by 50 percent by 2021, but the margins on these products will fall.
In its findings, the U.K. company estimates professional microphone sales to increase from 4.6 million units in 2016 to just over 7 million units in 2021.
The problem for vendors is that falling prices will impact margins, and Futuresource says this will force vendors to focus on key market segments and technologies to ensure profitability.
"It's clear from our research that pro mics unit sales and revenues will continue to grow out to 2021 and beyond, but the rates of growth are declining," says Chris McIntyre-Brown, associate director, Futuresource Consulting.
Pro Microphones Boost in Four Markets
In its research, Futuresource discovered that microphone replacements and upgrades currently bolster sales in four market segments: consumer, install, live and broadcast.
Futuresource says that technical innovation in North America creates sales opportunities within the consumer and install market segments.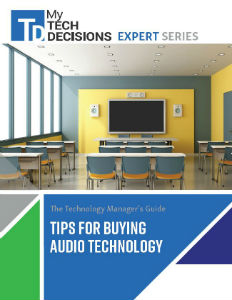 You need the most expensive audio technology in your office, right? Wrong! Learn how to purchase the perfect audio technology, not the most expensive, for your organizationin in this FREE report.
The Technology Manager's Guide: Tips for Buying Audio Technology
"Watch out for solid growth coming from the use of pro mics in network environments," notes McIntyre-Brown.
"This is one of the most important trends in today's pro microphone market and one worthy of exploration. With the worlds of AV and IT converging, microphones are connected to networks in a way similar to computers, allowing them to operate over longer distances."
Effect of Wireless on Pro Microphone Sales
Some of the other areas of technology fostering microphone sales is wireless technologies, which he says have improved over time by offering better security provisions.
"Digital wireless technologies are also doing their bit to drive market growth with a range of benefits that include low noise, low distortion, the opportunity for encryption and enhanced transmission reliability,"  McIntyre-Brown comments.
"The market is moving rapidly to the point where microphone buyers can enjoy the convenience of wireless technology without noise or distortion at an affordable price."
According to its research, Futuresource says Shure "dominates" the market with a "substantial" lead over its competitors, which includes Sennheiser, Audio Technica, and other brands such as Sony, Beyerdynamic, AKG and Audix.
"Brands with global pro mics revenues less than $35 million accounted for almost half of the market in 2016," asserts McIntyre-Brown.
"Chinese manufacturers are also a significant competitive force. They own the low-end of the market, they make it easier for new competitors to enter and they are expanding their presence. More significantly, these rumblings in the basement could lead to upheavals for manufacturers within the mid tier."
If you enjoyed this article and want to receive more valuable industry content like this, click here to sign up for our digital newsletters!