In public speaking, a worst case scenario is not being heard. Therefore, it is always important to have some sort of voice amplification option ready if speech intelligibility ever becomes an issue. But, what about situations when a mic is needed and there is not one present?
App developers have found a way around not having a microphone on hand with mobile utilities specifically designed to turn your smart device into a functional microphone.
Mic to speaker routing apps offer you the ability to control your device's built-in mic as a impromptu microphone, giving you the option to create line-level signals with a device that is not necessarily created for that purpose. Great microphone apps offer full control over the sample rate, the EQ levels and other mission critical settings already found in the make up of conventional microphones.
Great for presentations and speeches, these apps have uses across markets. Whether you are giving a presentation in a board room or reading at your local house of worship, microphone apps are powerful enough to take care of any environment in need of speech amplification.
This collection of apps focuses on the utilities that help you be heard, but I have also included some apps that offer both speech amplification and voice recording simultaneously. Ultimately, speech amplification and intelligibility are a priority, but the ability to record is great for podcasts and other live broadcast products. Being able to record and broadcast spoken content is important for a variety of different tasks, specifically presentations, lectures and worship services. While recording a basic announcement may not be necessary, the versatile features of these microphone apps make it essential to offer just as many options for interacting with the content you create.
While every app here might not be for you, the convenience of having at least one microphone app is advantageous. For professionals who are in need of vocal amplification regularly, these apps position themselves as a great fail-safe if ever the need arises.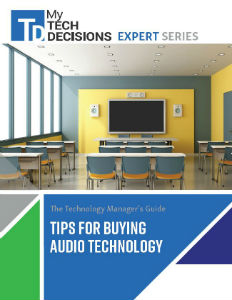 You need the most expensive audio technology in your office, right? Wrong! Learn how to purchase the perfect audio technology, not the most expensive, for your organizationin in this FREE report.
The Technology Manager's Guide: Tips for Buying Audio Technology