Colleges and universities bring in guest speakers for freshman orientation, class presentations and graduation. They feature these speakers in university theaters, cavernous auditoriums and sports stadiums, and face acoustical challenges in each. Before hosting a guest speaker, colleges should update their knowledge about the spaces they use and stock those spaces with equipment that will project pristine audio.
This guide provides insight from audio experts on how to best manage a venue, which products will sup- port various speaking styles, and maintenance tips to keeping audio technology in long-lasting shape.
The challenges with a university's audio setup for a guest speaker should be few, but still exist.
If equipment fails, the guest speaker might miss an unpleasant spottiness in their voice. A microphone may shriek with feedback, or a battery failure within a microphone might cut off a speech altogether.
Audio solutions are key to an event that features speaking, and proper audio is much more than putting a wireless microphone in a person's hand. While executing a prime audio system setup, colleges should have expertise on their venue locations and equipment management.
Know the Space
Staff members that work with guest speakers must understand what equipment is built into the campus's venue, says Michael Granek, a management consultant who has previous experience as the academic director of the Art Institute of Vancouver.
"Faculty need to be trained properly on what's available, or there should be an audio technician available when there is a guest speaker," he says.
However, Granek says that audio technicians may not always be available when needed. This means that sound boards, speaker systems and other audio equipment should be clearly labeled for non-tech staff to handle their needs.
Some facilities are not designed with acoustical needs in mind, but offer the size for a speaking event. To enhance a room's acoustics, panels can be placed to cut off parts of a larger area, making it easier to fill the remaining space with sound, says North Sioux City, S.D-based consultant Paul Engel, a former economist who has spoken at universities and Toastmaster events.
Engel also says mobile speaker systems can help fill dead spaces in a facility.
"Adding [solutions like] television monitors with good audio can further enhance the audience's experience," he says.
If a college is making long-term changes to a venue or setting up for a major event like a graduation, Granek says colleges should foster a strong relationship with vendors. He says being tight with vendors increases a college's chances of getting good executional tips and product recommendations.
"Trust your AV supplier," he says. "They need to work with you to provide different options. If they don't, then find another supplier. They can make the space and make different recommendations."
Granek says this is particularly true when working with outdoor venues, especially since outdoor locations provide unique challenges, such as wind.
"You can't plan unless you've done an event there before or you have inspected the space," Granek says.
Richard Bugg, the audio control sound manager for Meyer Sound Labs, Berkley, Calif. says that the materials which make up a room can also have an effect on sound.
He says some spaces, like an armory, have concrete floors and walls that produce a lot of reverberation. He says this is good for music, but tough for the spoken word.
As a result, he says that colleges should install equipment in the best spaces of each active venue to enable the highest sound quality for an audience
"It's important to put the sound where it is needed, not on the floor or on the walls," Bugg says. "The way to do that is to use directionally focused speakers to focus the sound on the audience, limiting the sound that is wasted and could echo. Directional microphones also help control the audio in a poor acoustical venue."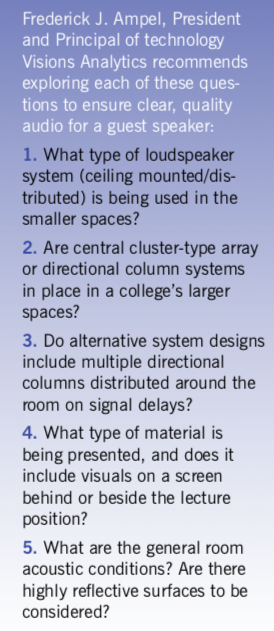 Pick the Right Equipment
When investing in audio solutions, colleges should consider a range
of equipment, from products "that will do the job," to medium-range options to high-end options. Investing in these options assists the educational institution with selecting the products that best balance the equipment quality and available budget.
Engel says that while colleges should consider a vast spectrum of audio technologies, they should only invest in products that are necessary for their needs.
"Don't use equipment you don't need," Engel explains. "We once used a router for an Internet broadcast from New York University to Tokyo that caused problems, and it was totally unnecessary."
Engel also says that once a college has its audio equipment stacked and loaded, it needs to start maintaining these products. He says required maintenance for all solutions include testing the speakers, mics and other equipment, especially before a speech.
"Test, test, test – test the design of setup the day before, test before speaker arrives, test with the speaker," Engel says. "Give yourself time to make fixes."
Granek recommends providing a short tip sheet of what equipment is available to guest speakers before they speak.
He says one item that is a must-have on those tip sheets includes lectern microphones, which tend to be the easiest to set up and use.
However, colleges should be wary of the voice types and speaking styles that step up to the mic.
For example, if the gain is set high for a soft-speaking guest, a microphone may be too high for those with a louder voice. Adjusting the position of the mic or including a windscreen will take care of various volumes, but some guest speakers may be unfamiliar with how to make these adjustments. Still, other speakers will reject the lectern and stationary microphone because they want the option to move around.
Granek recommends having both lavaliere and handheld mics avail- able to provide backup options, and to fit the speaker's style. For example, motivational speakers might prefer lavaliere or headset microphones to free up their hands for a more physical presentation, while other speakers might prefer handheld mics that move and adapt to the level of the speaker's voice.
"Some speakers have audio built into theirpresentations," Granek says. "They don't think about hooking up to an internal system."
Quick Tips to Managing Audio Solutions
During a speech, make sure signal bandwidth is controlled for clean sound.
For tight budgets, cheap solutions like windscreens can help filter extraneous noise.
Make sure that mics that aren't in use are turned off for energy conservation.
Use fresh batteries when possible.
Have spare batteries handy in case the fresh batteries fail.
Record guest speakers' presentations so that any problems can be corrected for the next event.
This article was originally posted in 2015.
If you enjoyed this article and want to receive more valuable industry content like this, click here to sign up for our digital newsletters!