Microphone considerations are an often overlooked but integral part of many AV projects. Whether video conferencing, presenting, training, or giving a speech, microphones allow us to be heard. But just how to make sure we're heard correctly is a skill that many technology decision makers haven't learned.
When it comes to choosing the right microphone, the microphone itself is only a fraction of the problem. Where the microphone will be, what the room looks like, how many people will be near the microphone, and who will be using it are all integral parts of the formula. To understand how to determine that, you need to understand how microphones work in the first place.
Ask for Directions
One of the very first options to consider is the directionality of the microphone. Directionality refers the location(s) that the microphone will pick up or 'hear'. There are several different types used to pick up and block specific areas.
The map of coverage for a microphone is called the Polar Pattern as it looks similar to a globe as seen from above look at the pole. While most units provide just the pickup area indicated by the pattern it is important to remember that some will allow selectable options. It is safe to suggest that a tech should never presume that the default pattern is what the mic is set to.
There are a number of different directionality options available, from the very wide and open to pinpoint area focused. The degrees of coverage can vary but in general there are three types of directionality patterns.
OMNIDIRECTIONAL has a polar pattern that is a complete circle. As the pictogram would indicate this microphone will pick up sounds, depending on proximity, from anywhere in the room. This includes the audience, side stage and any speakers in the area. Omni mics have the greatest potential for creating feedback but can provide a one mic solution for recording two or three folks gathered around a small table.
BIDIRECTIONAL will pick up two sides, for sake of example we can call this the back and front. Often called a "figure eight" pattern, this type of microphone rejects any signals from the sides. The figure eight pattern is generally two fat cardioid, or heart shaped circles which meet at the mic center. This provides fairly wide coverage areas on opposite sides and is perfect for face to face interviews.
UNIDIRECTIONAL OR CARDIOID heart-shaped microphones pick up sound from one location or direction – with some exceptions. Unidirectional actually describes a range of patterns that vary in coverage from the very wide to the very narrow. The standard cardioid is just that, the classic heart shaped pattern which picks up the front and a bit from the mic sides. These are your standard vocal or speaker mic that are forgiving to some head shift while speaking.
In addition there are a range of Hyper-Cardioid patterns that narrow the focus to smaller and smaller areas. These are excellent for when you need to isolate a single speaker or sound source. There is a caveat with these microphones. Due to the physical nature of mic diaphragms, the creation of narrow cardioid patterns result in a thin area of pick up where one would expect rear rejection. When using this type it is important to think of what possible sounds could be picked.
Good Vibrations
Knowing where and what the microphone will pick up is important, but the way a microphone captures the sound can have dramatic effect.
The heart of a mic is the transducer or diaphragm. This is the membrane which vibrates back and forth as sound waves push against it. The thing is, there are different types of membranes. They can affect the type of sound and present problems when used improperly.
For our purposes there are two types of microphone diaphragms, Dynamic and Condenser.
DYNAMIC transducers move under the sole influence of the sound waves coming in. These mics are good work horses which can withstand high SPL (Sound Pressure Levels). While dynamics tend to have some considerable roll off at high frequencies they serve well as general purpose.
The units are also renowned for their durability. They can be dropped numerous times without much concern for performance. A manufacturer of well know mics even created a series of videos demonstrating a flagship mic being crushed under things like a bus wheel and still being 'useable".
CONDENSER uses a far more sensitive diaphragm that requires power. The power can be from a battery, external power supply or a mixer supplied "phantom power" via the XLR cable.
Also known as Electret Condenser, the mic has the advantage of overall superior frequency response with the ability to pick up finer sounds. The design also allows for a slimmer more compact device; helping prevent its profile from blocking a presenter's face.
While many of the modern Condenser microphones are much sturdier than their predecessors, they are inherently more susceptible to damage than dynamic versions. Electret mics also are less durable in high SPL applications.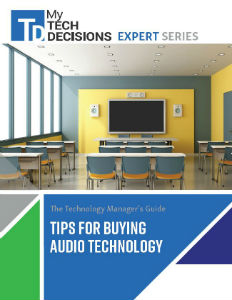 You need the most expensive audio technology in your office, right? Wrong! Learn how to purchase the perfect audio technology, not the most expensive, for your organizationin in this FREE report.
The Technology Manager's Guide: Tips for Buying Audio Technology
Proximity Paradox
When setting up microphones there are two key problems to solve: clarity of sound and avoiding feedback. These may sound simple, almost too simple, but they at the heart of all other decisions and considerations.
In the same manner that there is a goldilocks zone for talking in person, there is an ideal zone for microphones. Being too far results in one being barely heard. Too close- well no one likes the boominess, or proximity, of a close talker.
So, just what is the best location for a microphone in most spoken word applications?
In the following descriptions we will be concerned with the typical lecture, boardroom, and single speaker on a stage applications. There are, of course, many other applications that can use modified versions of our examples but these are outside the scope of this article.
FIND YOUR MARK Where you place a mic depends on where it is mounted, what the purpose is and what is around it. Three straight- forward factors that can be the source of frustrations and fits if not attended to with care.
AT THE LECTERN Typically when a speaker, such as a professor, keynote, or a person delivering a speech at a lectern they will not move much. In this set up we are looking for a general utility microphone that can effectively pick up the speaker and minimize surrounding noise.
PRESUMED POSITION Because the presumption is that a speaker at this position will not move from their spot it is best to choose a standard cardioid microphone. This polar pattern allows for direct placement and provides just a bit of overlap coverage in the case where a speaker tends to turn their head a bit.
Some might consider a Hyper-Cardioid to help eliminate feedback and extraneous noise. Unfortunately, in the tight pattern the speaker's voice could be lost if they turn their head or move to the side. In addition, HC mics have some pick up at the rear, meaning audience noise could be added to the signal.
Position the mic about 6 inches from the lectern desk and 6 to 12 inches from the speaker's mouth. Move the mic just slightly to one side and below the bottom lip. Distance and placement provides optimal space to capture the voice while helping to reduce the effect of breathiness and people who pop their P's. The height helps to prevent reflections from the desk face causing acoustic interference, and can therefore help reduce potential cause of feedback.
SUBCONSCIOUS ALTERATIONS Many times a speaker will step up to a lectern and automatically move the mic to face directly at mouth level and dead center. This is akin to folks who add salt to a dish laid down in front of them before taking even a single taste.
The logic for this is based on a misunderstanding of what actually sounds good and too many movies which use this act is used as a cinematic device. It can help to explain to the speaker during rehearsal why the mic is where it is. This chat can also prevent 'Mic Stoop'- where a person feels the need to bend toward the mic when speaking. See awards show presenters.
GET OUT OF THE SHOT Many facilities have a standard set of microphones they use for multiple purposes – the short stocky body with round mesh mic head. While these common units are fairly slim, often there are concerns about blocking the view from an audience based camera.
When setting up microphones there are two key problems to solve: clarity of sound and avoiding feedback. Everything the Technology Decision Maker Needs to Know About Microphones
GOOSENECK MICS that is a very slim tube with a small mic head attached to a bendable neck – are one solution. As these are condenser types and therefore more sensitive, care must be taken to minimize the popping P's and boominess of strong voices.
Sometimes even the slim profile of a gooseneck is too much for the camera or there is no place to reasonably mount other microphones. In this scenario, a PZM or Boundary Mic placed on a table may be of benefit.
PZM MICS are flat panels with a small diaphragm mounted on top. The sound is captured by the waves bouncing off the mic plate and into the transducer. While effective and having decent frequency range, these are subject to picking up noise in close proximity. Someone tapping on the desk or turning pages on the same surface will be quite loud.
The Mobile Speaker
There are those presentations where the speaker will not be tied down to specific place on the stage. These folks will roam the space like an arena rock singer. Think your tech startup CEO.
A standard stand-your-ground mic setup will not suffice. A roaming mic also increases the complexity of avoiding feedback and other interference. Care must be taken in setup and pre-show testing over the entire stage.
In both solutions detailed below it is often best to use wireless units over wired. Each setup comes with inherent issues. Wireless needs a coordinated set up and wired can easily get tangled and underfoot when moving about.
HAND HELD: In keeping with the rock star theme using a handheld is the simplest solutions. Just hand the mic to the speaker and go.
Unless there is a specific need to do otherwise, use a Cardioid microphone with a wind screen / pop filter placed over the mic head. As with the reasoning on a lectern, using too narrow a pattern could lead to the speaker's voice wavering in and out of intelligibility.
If at all possible the presenter should be coached on holding the mic 6 to 12 inches from their mouth.
Unfortunately, most folks are not naturally familiar with the units, which can lead to inconsistent sound. Common issues range from the speaker waving arms about while talking, holding the mic too close or too far away, cupping the transducer and speaking into the wrong end.
Unless the speaker is well acquainted with using a handheld it may be best to wire them up with a Lavalier.
LAVALIER MICROPHONES provide hands free sound reinforcement while not obscuring the speaker's face or encumbering their hands. Lavalier units are small and unobtrusive but do require some physical preparation to make them neat and prevent tangles when the speaker is moving about.
In general you want the mic exposed and place about 6 inches below the chin. When the mic is used on stage or in a meeting room setting it is, again, best to use a cardioid head. Using an omnihead, commonly included with most lavalier systems, can increase the chance of feedback and picking up clothing noise.
Lavaliers are a very personal mic, and require some personal precautions in setting up. In quick and dirty needs where the talent is in a rush, simply clipping the mic on and putting the transmitter in a coat pocket can work. This may leave wires exposed which are unsightly on camera.
When it comes to a longer presentation with a high level client hiding the wires or the mic itself may be required. This can be a delicate proposition as the wires are often run under the shirt and looped out a gap between buttons. There are numerous methods for hiding and running cables. Whichever is used, staff should be trained in doing this with patience and professionalism.
Squeal Not
Acoustic feedback is the single most feared issue for the technical staff, talent and audience. Unless the squeals are the result of intentional guitar to stack playing, feedback is ruinous to a presentation.
Feedback is created when the sound from the speakers, with the presenters mic included, is picked up by the mic and re-amplified. The result is a loop that eventually generates a high pitched squeal. Not very pleasant or beneficial to a speech.
It is generally accepted practice to insure that all sound reinforcement speakers are placed out in front of the presenter and mic. If feedback is still persistent it may be helpful to lower the output level of the speakers nearest to the presenter microphone while compensating with higher outputs at other sets.
Choosing the right placement and directional mic types can go a long way toward helping minimize the chances for feedback. In general, unless absolutely necessary, avoid using omni directional microphones during a live presentation with speaker support.
Moving the mic closer to the speaker's lips may help. Reducing the amount of acoustic space and providing some physical blocking of the sound waves may help in some situations.
With wireless units it is of the utmost importance to have an audio tech walk the entire presentation area with the mic. Freedom of movement means that at some point the talent will inadvertently walk in front of some speakers. Knowing where problems will occur will give the audio mixer the ability to compensate and anticipate solutions.
Happy and Heard
Getting maximum sound reinforcement and intelligibility requires understanding the form and function of microphones and the relation to their environments.
Putting these together in a consistent manner takes practice and patience. With the information presented here you are well on the road to keeping your talent happy and heard.