Few industries have been impacted as greatly by the advent of technology as pro audio and live sound.
People happily lived with vinyl for decades before the CD was introduced in 1983. Since the introduction of the CD, however, the pro audio market has quickly cycled through playback mechanisms that include niche formats, like the digital audio tape, mini disc, DVD-Audio and Super Audio CD (SACD).
More recently, the market has blown through the transition of physical media by briefly adopting downloaded music via platforms such as iTunes before settling on the current preference of streaming services, such as Pandora, Spotify and Apple Music.
Interestingly, as quickly as the consumer side of the audio industry has evolved through audio formats, the production and performance side of the audio industry has also evolved rapidly.
Looking back at the 1960s and the Beatles, the Fab Four rode a technology wave in the studio when the technologies of that era moved quickly from two tracks, to four tracks, and more.
The Who, and their guitar player, Pete Townsend, pushed the limits of live music when he convinced what was then a new amplifier company—Marshall—to develop amplifiers that would allow him to be heard over the band's famously loud drummer, Keith Moon.
From the 1960s to the 1990s, music production and live performance technologies improved or evolved incrementally. Some of these improvements include better production tools, such as reverb, delays and modulation effects for studio applications, and louder, more user-friendly amplifiers that featured more gain stages and master volume options.
Once the 1990s hit, the introduction of digital audio workstations, along with the introduction of in-ear monitors for live sound, the pro audio market accelerated its adoption of technology to shape the way recordings are made today, and how bands perform in live settings.
Here are five examples of the evolution of pro audio technologies.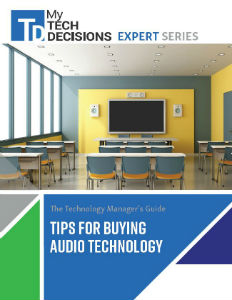 You need the most expensive audio technology in your office, right? Wrong! Learn how to purchase the perfect audio technology, not the most expensive, for your organizationin in this FREE report.
The Technology Manager's Guide: Tips for Buying Audio Technology