For technology managers that are interested in creating custom content for their digital signage networks, Mvix, a leading provider of content-rich digital signage software and solutions, has created a set of custom content widgets for their digital signage products.
The widgets offer content options specific to a number of industries and use cases. Let's take a look at 5 custom content widgets for digital signage that Mvix has rolled out thus far:
1.  Public Transit Digital Signage Displays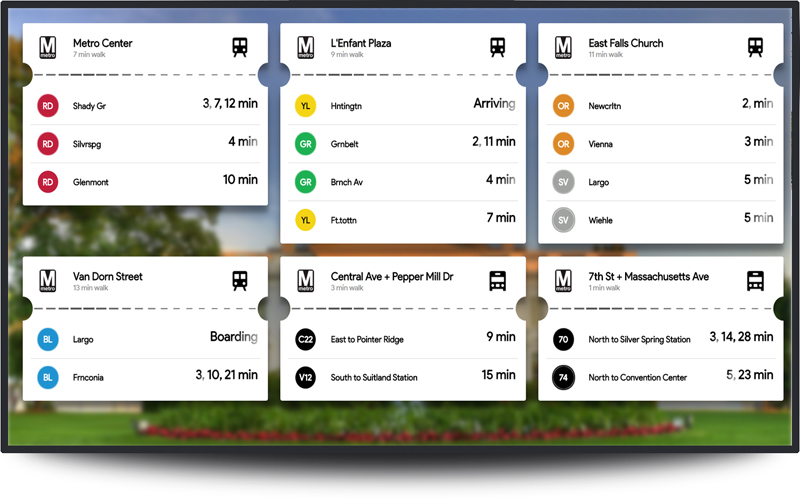 The Public Transit widget displays local transit information for subways, metros, shuttles and buses. When coupled with the Uber and Lyft content widgets, the use case for these widgets expands beyond transportation hubs like airports, subway stations and bus stops. They're also effective in office buildings, schools, hospitals and retail centers which are in high-traffic urban areas.
2.  Interactive Directories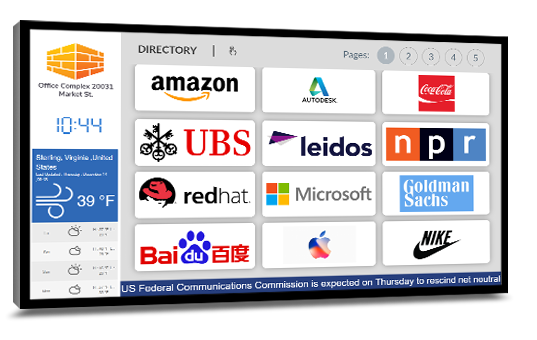 The redesigned Interactive Directory provides visitors with convenient access to what's going on at their location through an engaging new user interface. The redesigned Interactive Directory is the first release of the company's next-generation content apps. Mvix engineers are developing a new wave of digital signage content apps, with a broader rollout planned for next year.
3.  Slack App for Digital Signage

The popular workplace collaboration and messaging app can now be displayed on digital signs. The user chooses a specific Slack channel to display and the most recent message in that channel appears on the screen. This app is particularly useful for displaying general announcements or quickly communicating messages with large teams. The most popular use of this app is in the office, but together with digital signage, it can be implemented wherever there is a need for quick communication across spaces.
4.  Uber and Lyft Digital Signage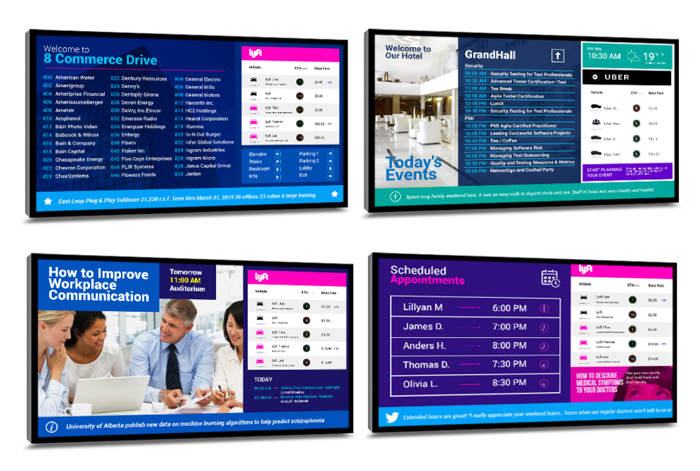 The Rideshare app uses the customer's address as the pickup location and displays custom, localized information. The app expands the Uber and Lyft experience to large digital signs and displays, where customers, patients, visitors, and employees can quickly glance at available options then hail rides from their phones. It fulfills the needs of hotels, hospitals, offices, apartment buildings and transit centers that want to improve the travel experience for their guests.
5.  Automated In/Out Board
The digital In/Out Board easily syncs with the employee's calendar to display their status – available, busy or out. The board also includes touchscreen capability, allowing employees to easily sign in and out of the office as they come and go. Essentially, the entire office can quickly see who is in and who is out without leaving their desk or picking up the phone.
If you enjoyed this article and want to receive more valuable industry content like this, click here to sign up for our digital newsletters!