Competing in an Ironman is a test of willpower, stamina, endurance and strength. It would take an equally powerful communications network to deliver multiple camera streams of the recent 2018 SubaruIRONMAN Mont-Tremblant contest to Facebook Live. Up for the challenge was CP Communications. The fully IP and mobile architecture deployed brought together Mobile Viewpoint contribution and transmission systems from CP Communications' recently launched Red House Streaming division to process and deliver live camera signals from six events.
CP provided specialized motorcycles and other gear to follow racers through the Mont-Tremblant, Quebec, Ironman course which included a 2.4 mile swim in Lac Tremblant, a 112-mile bike through forests and low-lying mountains, and a 26.2 mile run through LeP'titTrain du Nord, the longest linear park in Canada. Five Mobile Viewpoint Agile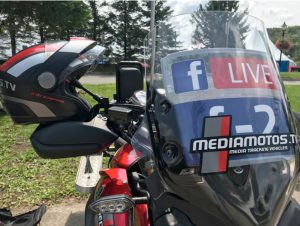 Airlink solutions were deployed across four motorcycles, and one roaming technician operating a handheld camera. A miniature Mobile Viewpoint NEO system was also added to a drone for overhead shots. All six cameras were added to a Mobile Viewpoint LinkMatrix web portal. From the portal the video feeds could be easily managed, data rates adjusted and signals monitored.
Mobile Viewpoint Agile Airlink and NEO devices combine H.265 (HEVC) video encoding with patented bonding technology to reliably transmit video over bonded IP connections at the highest possible quality, while using the lowest bandwidth. For the Mont-Tremblant event, each Mobile Viewpoint device accepted and encoded a single camera feed that covered the races from different vantage points. All acquired content was live-streamed to playout servers at production company Carr-Hughes' studios in Saratoga, N.Y., then onto to IRONMAN's headquarters in Boulder, Colorado. The high-efficiency H.265 compression and minimal bandwidth consumption across the end-to-end architecture ensured a robust and reliable live signal for Facebook Live viewers.
The networked architecture of the video allowed Carr-Hughes to produce "an at-home production" at one-third of the cost of a more traditional networking infrastructure," says CP Communications CEO Kurt Heitmann.