At Commercial Integrator and MyTechDecisions, we don't do a lot of product reviews. We support the integration industry so most of the solutions we cover for our audiences require expert integration. Enter the BenQ InstaShow plug-and-play wireless presentation solution — which touts itself as easy-to-set-up without help from IT and completely intuitive to use — and the review was on.
Frankly, we were excited to review a wireless presentation device. These solutions are everywhere and the traditional content presentation dynamic in the conference room (read: switchers and touchpanels) is being challenged. We were curious about how the solutions work in real-world workflow.
So a small group of CI and TD employees took on the task of unboxing the BenQ InstaShow and setting it up. On our calendars we scheduled this as a 60-minute meeting, but we were done in just a few minutes. During those few minutes we tested it, taking turns wirelessly presenting content from our laptops via our conference room projector. We were off and running. Here's how it went:
BenQ InstaShow Setup
Despite the industries we cover, CI and TD employees don't consider ourselves a techie crew and we thought we could put BenQ's "plug and play" claims about InstaShow to the test. It passed with high marks.
"It was very easy. The instructions were straightforward. It took us about two minutes to get everything plugged and we were going very quickly," says Marsha Ann Marsh, director of demand generation, CI and TD.
As for actually using it, it was remarkably easy. The group that initially did the setup expected others to have a lot of questions as they attempted to use the meeting room wireless presentation solution, but there really weren't many. "It's really easy to use it once you walk into a meeting. It's pretty much plug-and-play," emphasizes Daniel Wilkins, sales admin and marketing coordinator, TD and CI. "You can just plug right in and be showing your screen up on the projector."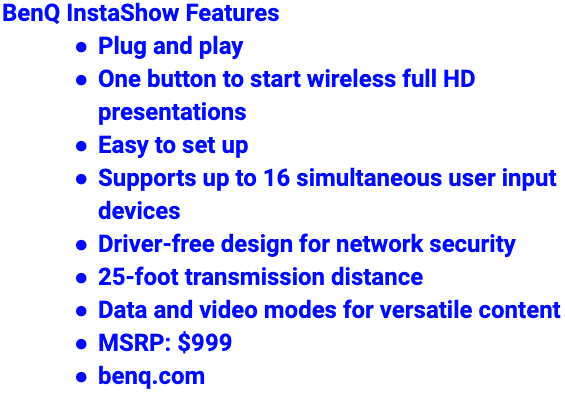 Multiple Users with Multiple Devices
One of the benefits of the BenQ InstaShow is that many participants in the meeting can be equipped to wirelessly share content from their devices. Consider a meeting in which somebody is going over budget numbers, presenting wirelessly via the InstaShow. When it's time to move on to marketing results the next presenter hits a can't-miss button to take over presentation duty.
Being able to have up to 16 people connected at once is a great feature "because you can seamlessly transition" and "avoid the uncomfortableness in a meeting of switching seats, changing cords; there's no sort of disruption," Wilkins says.
It also doesn't matter where a presenter is situated in the room, which comes in handy for us because we are often sprawled around our meeting room with some people not sitting at a table.
Data Mode and Video Mode
The BenQ InstaShow can switch from clear presentation mode to "InstaVideo" mode for transmitting smooth video streams from the device to the display. That's a big deal, according to Marsh, who in her marketing role is often switching from a presentation slide with lots of numbers to one in which we're discussing a video promo. "It's very easy with the BenQ InstaShow to move from PowerPoint to video content seamlessly."
IT Independent, Network Secure
One of our favorite features was how easy it is to connect. Like most organizations we're very concerned about cybersecurity and our IT departments flat-out don't want us installing applications or software without a green light from them. BenQ InstaShow doesn't require the installation of any software or apps. "The driver-free design allows for quick and easily accessible use. You don't need to get IT involved with the setup of this," Wilkins says.
Meanwhile, it is network secure. AES 128-bit security encryption and WPA2 authentication protocol ensure peace-of-mind when it comes to intellectual property and network security.
The Bottom Line
With its easy setup, user-friendly one-button presentation switching for up to 16 simultaneous users and impressive network security, BenQ InstaShow plug-and-play, full HD wireless presentation and collaboration solution is a big hit in Commercial Integrator's and MyTechDecisions' office. Come visit us. We'll make you a presenter.
If you enjoyed this article and want to receive more valuable industry content like this, click here to sign up for our digital newsletters!