With the new One:Quick product line from LG, organizations can now leverage an All-in-One solution that introduces unprecedented flexibility into the modern office, helps collaboration, reduces the burden on IT, and streamlines meetings.
Many organizations have adapted to working remotely, and employees have also adapted to the new ways of working, turning their homes into offices, and embracing technology such as video conferencing and collaboration.
As organizations transition back to the office, employees will demand the same level of functionality they experienced at home while working from their laptops during the pandemic. However, they want a simple, easy-to-deploy solution that doesn't involve elaborate cabling needs, additional equipment and infrastructure that is tied to just one meeting platform.
Fortunately, LG has taken the opportunity amid these changes to develop the optimal solution for working in any setting.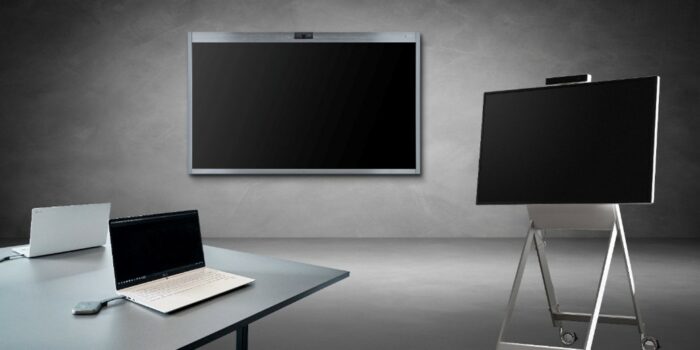 The One:Quick Series: A new communication solution from LG
Featuring the 55-inch One:Quick Works, the 43-inch One:Quick Flex, and the One:Quick Share wireless screen sharing device, LG's newest collaboration product line provides an innovative communication solution for a new era of hybrid work.
The One:Quick Series provides an intuitive experience that enhances productivity and collaboration, taking office communications to a whole new level of convenience and ease, while reducing the need for expensive and complicated meeting room systems.
Thanks to the last two years of remote work, the collaboration software industry is ultra-competitive, with major players constantly releasing new features and interfaces to gain a competitive advantage over other providers. That can lead to a difficult decision when choosing which platform to standardize on, but LG's One:Quick Series provides users with the ultimate flexibility to switch from platform to platform.
LG's advanced One:Quick Series displays are optimized for maximum productivity
The One:Quick Series helps keep video conferencing and collaboration easy and seamless while delivering an effective conferencing solution that simplifies the installations for an online meeting. These displays include everything you need for video conferencing: a built-in camera, microphone, speaker, in-cell touch screen and Windows PC—all in one package.
Both LG One:Quick Works and One:Quick Flex displays feature:
LG's 4K UHD Display
A built-in Windows 10 IoT Enterprise PC for a familiar, easy-to-use and intuitive user experience
Embedded audio and visual tools to ensure participants are both seen and heard
A 10-point multi-touch screen for simultaneous annotation
Support for 802.11ac Wi-Fi, RJ45, Bluetooth, and multiple HDMI and USB ports
The displays also take the hassle out of selecting which video conferencing platform to use, as both the One:Quick Works and One:Quick Flex feature the ability to download and install a range of popular video conferencing and collaboration apps thanks to the embedded Windows 10 operating system.
Which of these two products would be a benefit to your meeting room needs?
The One:Quick Works is a 55-inch, All-in-One video conferencing display optimized for a meeting room for 5-6 people. Users can expect to upgrade their work productivity and enhance their workspace aesthetics. As a 2021 Red Dot Design Award winner, the One:Quick Works' sleek and modern design blends seamlessly into the meeting environment.
The One:Quick Works features:
A 3,840 x 2,160 resolution camera with a 120-degree field of view that automatically tracks and focuses on the person speaking
A high-gain microphone that can capture voices up to 20 feet away
AMD Ryzen Embedded V1605B CPU
Desk stand/wall mount (VESA)
For smaller groups or individuals looking for a more flexible solution that can be installed on a movable stand or placed on a desk, LG offers the winner of CES 2022 Innovation Awards, the One:Quick Flex, a 43-inch All-in-One video conferencing display optimized for private offices or collaboration spaces. Mounted on the floor stand, it can be relocated to any indoor space.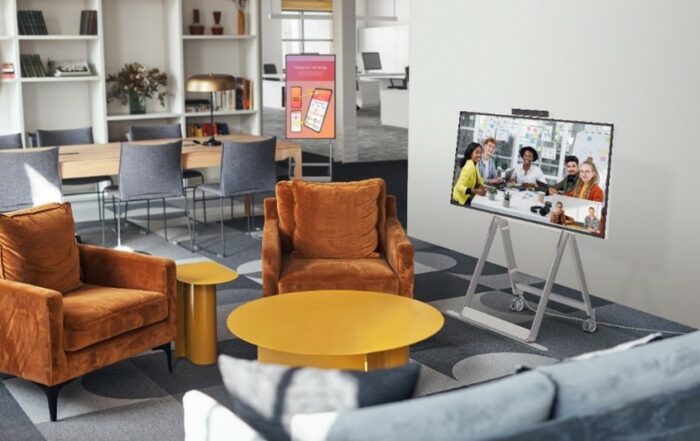 The One:Quick Flex features:
A 2K FHD camera that captures a wide 88-degree field of view
A microphone capable of capturing voices up to 10 feet away
Floor stand, desk stand or wall mount (VESA)
The ability to move, adjust the height and rotate the display when mounted on the floor stand
As an All-in-One video conferencing display designed for maximum productivity and effective collaboration, both the One:Quick Works and One:Quick Flex are welcome additions to any workspace that is sure to delight employees and IT with its powerful conferencing features, ease of use, and flexibility.
The One:Quick Share provides a professional, easy-to-use screen sharing solution for in-room meetings
The One:Quick Series also includes the One:Quick Share, a plug-and-play wireless screen-sharing solution that allows users to seamlessly share their screens with compatible LG digital signage models.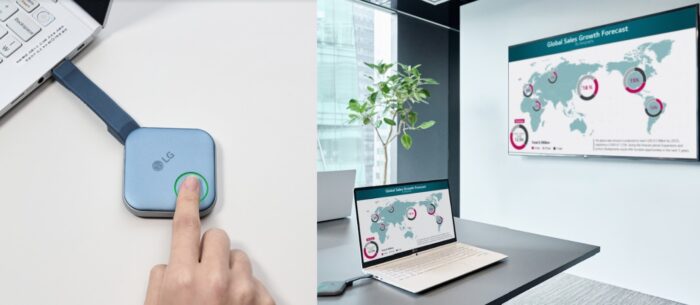 The One:Quick share features:
Embedded Wi-Fi and a simple connection process for users to share their PC screen
Seamless screen sharing with compatible LG signage (up to 4 screens can be shared simultaneously, and up to 10 sources can be switched and connected)
The ability to control display settings such as volume, picture mode, brightness and more
The One:Quick Share may be small, but it can bring your work/meeting environment to a whole new level of functionality and ease-of-use.
Meeting the demands of the hybrid workforce
The hybrid workforce demands solutions that are intuitive, versatile and enhance productivity, and the One:Quick series checks all those boxes.
According to the Microsoft Work Trends Index, extreme flexibility and hybrid work will define the post-pandemic office. The survey found that 70% of workers want flexible remote work options to continue, while over 65% want more in-person time with their teams.
To prepare, 66% of business decision-makers are considering an overhaul of physical spaces to better accommodate hybrid work environments.
Organizations can optimize their workplace, meeting spaces, and home offices with the innovative collaboration technologies provided by the LG One:Quick Series.
These products make business more productive and convenient, taking the hassle out of connecting different devices to a complicated conference room installation, while providing a seamless collaboration experience designed for a new way of working.
The One:Quick Series integrates the tools needed for successful meetings, including video conferencing, screen-sharing, collaboration and more—in one complete solution.