Jabra, the Copenhagen, Denmark-headquartered provider of personal sound, video and office solutions, launched a new Software-as-a-Service (SaaS) solution, Engage AI and two new Engage headsets designed for contact centers.
Engage AI utilizes artificial intelligence (AI) technology to provide real-time insights to improve customer calls and support employee wellbeing. The launch comes on the back of Jabra's findings on how 76% of customers who contact customer service do so over the phone and how voice interaction remains the preferred channel for customers. With customer experience being a key performance indicator for businesses, Engage AI is built for agents to improve customer satisfaction through monitoring elements like tone of voice.
Real-time Insights with Engage AI
Engage AI assesses both the caller and agents' conversation and levels of engagement. The solution, which works with most contact center systems, provides an instant measurement of the customer experience and live coaching on how to manage given situations. When agents deliver a friendly and energetic voice, it demonstrably improves customer satisfaction and conversion rates, and reduces call length, thereby saving costs.
Such real-time insights allow agents to adjust their approach during calls immediately to better suit the caller's needs as well as post-call in the form of engagement scores to understand areas of improvement. The engagement score and data can also be integrated into existing analytics platforms via API.
Tools for Development

The SaaS solution comes with tools to support skill development and improve team management. Contact center agents can get access to self-coaching assessments and performance evaluations which are strength-based, inclusive and personalized for each agent and team.
Contact center supervisors can also get insights into their team's performance to further improve customer experience on an individual and team level. On top of receiving real-time updates on praiseworthy and coachable moments, supervisors can use the platform to monitor employee wellbeing based on real-time event updates and dashboards with call analytics and data.
The AI model is based on over 20 years of research and millions of analyzed conversations by the world's most prolific voice AI scientists at audEERING, a Munich-based technology operation.
Engage AI works across all dialects and languages.
Jabra Engage Headsets
To improve contact center customer experiences, Jabra has added two new Engage headsets: Engage 50 II and 40. The company says the Jabra Engage 50 II headset ensures that no calls will ever be missed with its SmartRinger feature. Meanwhile, the Jabra Engage 40 delivers speech optimization and background noise cancellation, enabling agents to focus on conversations with customers.
Jabra Engage 50 II
The Jabra Engage 50 II uses advanced algorithms to create a beamforming pickup of users' voices and analyses the noises in the background. Its 3-microphone system surpasses the standards of Microsoft's Premium Microphone for the Open Office, according to the company. Jabra attributes this to its ability to remove up to 36 decibels of noise, enabling the clearest call experience and spot-on call transcriptions.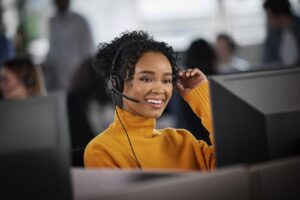 The Engage 50 II headset also features an adjustable, audible SmartRinger feature that alerts the user of incoming calls even when they are not wearing the headset. It is on a detachable link controller with a volume wheel designed to sit on the desk next to the keyboard to give a no-look access to all controls.
Jabra Engage 40

With contact center agents having their headsets on all-day, comfort is key. The Jabra Engage 40 headset is lightweight with angled ear cushions and in a maze-shaped pattern inside each ear cup to relieve pressure. Its built-in hearing protection, two microphones, noise-isolating earcups and advanced speaker technology helps to optimize every spoken word. The Jabra Engage 40 also has an inline control unit so agents can handle calls with speed with the programmable buttons.
Bringing transparency to call center operations

With hybrid work, it can be difficult for contact center operations and agents to understand if they are delivering great audio quality and conversations. Data is available through Jabra's SDK and can be accessed through pre-built integrations with, amongst others, Nectar, Operata and Virsae. Or it can be accessed with Jabra's free Engage+ desktop app that provides real-time call insights to improve conversation quality.
The Engage+ desktop app assesses whether the background noise, microphone position and voice quality are good prior to a call. During the call, it helps to correct any issues and provide conversation guidance and wraps up every session with a post-call report. According to Jabra, the app is non-intrusive, easy to use and can be easily deployed via the Microsoft Windows Installer (MSI) file.
Both headsets work with contact centers platforms and are Microsoft Teams certified.
This story originally appeared on MyTechDecisions' sister-site Commercial Integrator.com.