Humly, the Stockholm, Sweden-based, workplace experience company will introduce its range of Humly Software Solutions to North American audiences at InfoComm 2023 where the company will exhibit for the first time. Humly will show its interactive software solutions in combination with its two hardware solutions, demonstrating its value proposition of providing flexible and sustainable workplace solutions that businesses can tailor to serve their business environments. Humly will be at booth 3988.
Humly Software Solutions Suite
The Humly Software Solutions suite includes four distinct workplace offerings:
Humly Floor Plan
Humly Reservations
Humly Visitor
Humly Wayfinding
Each software solution is deployable separately or in any combination throughout an office building, corporate campus, or multi-site enterprise business. All are compatible with Humly's two hardware solutions: the Humly Booking Device, a slim, small-form-factor device with flexible mounting options and a touchscreen to reserve bookable spaces on campus; and the Humly Room Display, a tablet-sized booking solution with an interactive display for mounting outside meeting rooms.
According to Humly, the seamless interoperability of all it's workplace solutions eliminates integration chaos and security concerns, while a flexible API ensures freedom and interoperability with a customer's broader technology ecosystem, including third-party calendaring systems and conferencing software solutions.
Humly Visitor 
Humly Visitor is "check-in to check-out" solution that tracks the visitor's journey for security and optimization, while reducing frustration for visitors as they navigate unfamiliar territory. Visitors can check-in, approve terms and conditions, and automatically register parking spaces, while hosts are alerted of arrivals to greet guests with friendly messages and trigger visitor badges.
Humly Floor Plan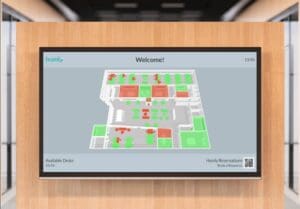 Humly Floor Plan addresses the challenge of booking workspaces in hybrid business environments with flexible, dynamic worker schedules. The product provides a comprehensive 3D overview of meeting room, desk, and parking space availability on each floor, in each building, and in every garage. Workers can check availability for new bookings en route to the office, and remotely manage existing bookings to reduce frustration on arrival. Inside the office, Humly Floor Plan's3D visualization tool provides a view of available (green) and unavailable (red) spaces on passive displays, and can be used to book spaces on a touchscreen kiosk when deployed in interactive mode.
Humly Wayfinding & Humly Reservations
Humly Wayfinding and Humly Reservations respectively exist to guide workers to available meeting rooms, and book meeting rooms, desks, parking spaces and more on a touchscreen.
Humly Wayfinding is ideal when deployed on larger displays and kiosks, with a detailed list of meetings, times, and destinations similar to airport arrival/departure screens that are absorbable on quick glance.
Humly Reservations provides users with an overview of their personal bookings, with the ability to make adjust schedules, add guest users, and initiate bookings directly from Microsoft Teams.
"We have gradually developed our suite of Humly Software Solutions for the workplace over the past ten years, with an emphasis on keeping our portfolio streamlined and perfecting each product over time," says Anders Karlsson, CEO, Humly. "Our focus on developing responsive software solutions that are easy to use, visually attractive, interoperable with third-party systems, and infinitely scalable through our Humly Cloud service ensure that our customers have long-lasting, valuable and customizable solutions to book, manage and optimize office spaces of any scale over many years."
InfoComm 2023 takes place June 14 to 16 at the Orange County Convention Center in Orlando, Fla. Humly's North American channel partners will join Humly representatives at their InfoComm booth to demonstrate the full range of Humly Workplace Solutions in various deployment examples.
Another version of this article originally appeared on our sister-site Commercial Integrator on June 8, 2023. It has since been updated for My TechDecisions' audience.
If you enjoyed this article and want to receive more valuable industry content like this, click here to sign up for our digital newsletters!