As the pandemic began, HealthStream, based in Nashville, decided to rework its new 67,000 square foot headquarters to accommodate a hybrid and remote environment for its employees.
HealthStream, a software developer that helps healthcare organizations improve workforce development, talent management, credentialing, and performance assessment, stated it played a crucial role in training healthcare workers to safely handle patients with COVID-19.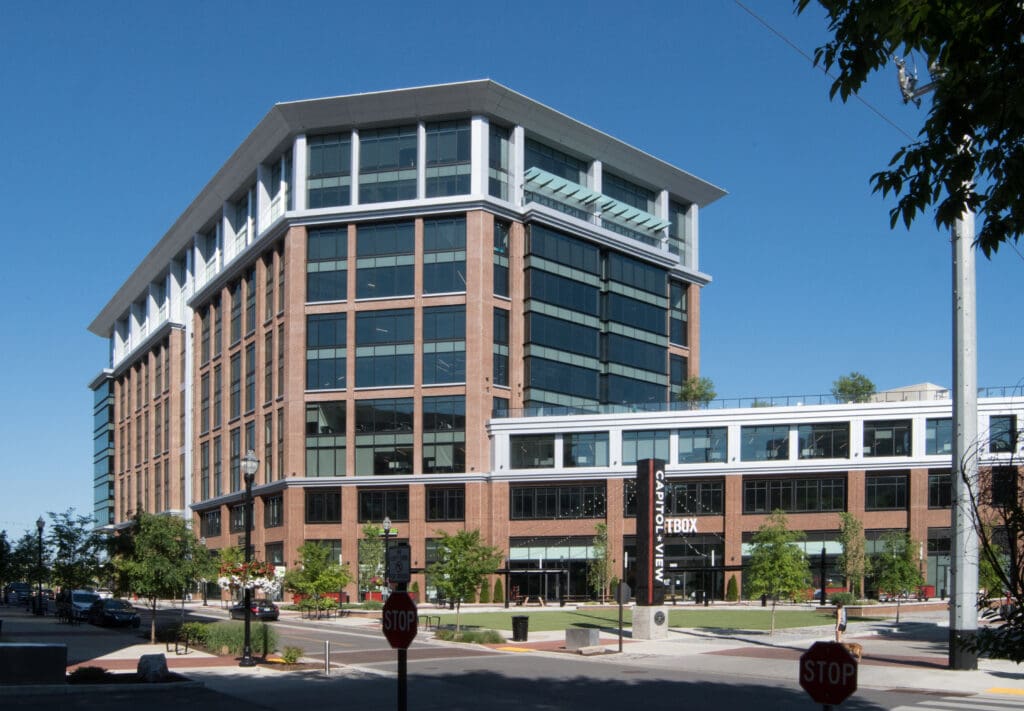 At this time, they also revamped its headquarters using technology designed by Fort Lauderdale-based Think Simple, to allow for hybrid workgroups where some members could report in person while others worked from home.
Setting up the Hybrid Space
While no one at HealthStream foresaw the pandemic, the company revealed that working remotely was already an important part of the company culture when it opened its headquarters in 2019.
Speaking about the redesign, Mollie Condra, vice president of Communications and Investor Relations, said, "It was an opportunity to design the offices we really wanted from scratch."
She noted that although they were based in Nashville, the company had seven additional offices and several employees were already working from home. On any given day, prior to the lockdowns, around 300 people might have been present in the headquarters, with 600 or more in other locations.
"It was a given that if you scheduled a meeting, at least one person would join remotely," explained Condra.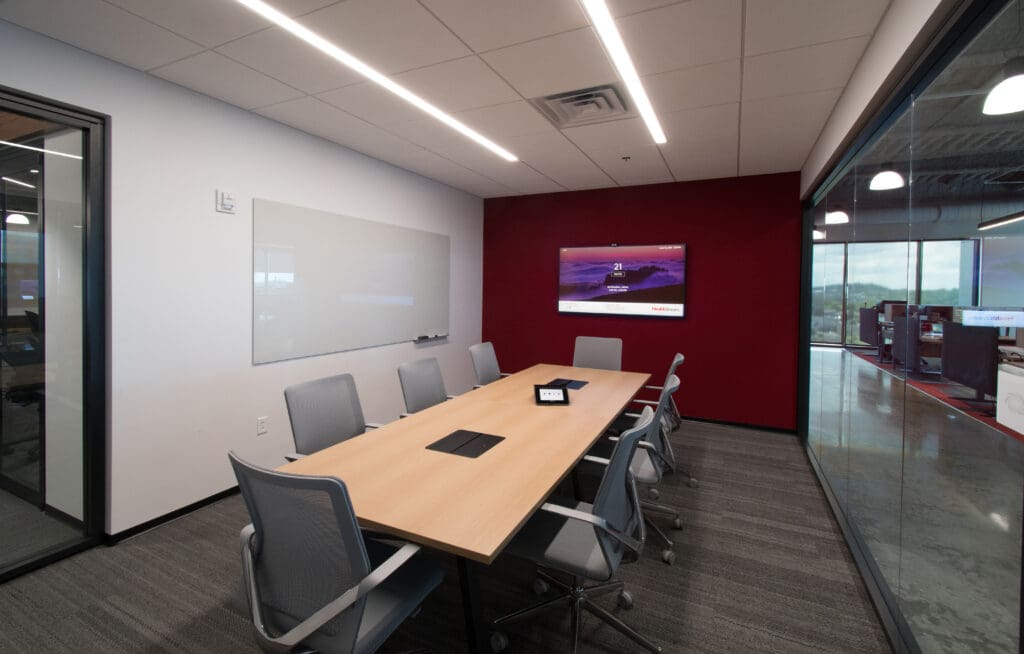 According to HealthStream, the new setup consisted of three floors in the new Capitol View business development in Nashville, and is equipped with 71 conference rooms, 51 of which include video conferencing. There were also 43 small huddle rooms, each with seating for two to six people, five larger meeting rooms with seating for 12 to 24 people, 20 rooms intended for local meetings, and an all-hands space (including two employee lounges) with seating for at least 300 plus the ability to bring in another 500 – 600 via video conferencing.
For HealthStream, one of the biggest questions in planning the move was choosing technology that could power the communications between those working in the headquarters and team members in other locations. While they were already using a popular unified communications platform, they were also heavy users of Office 365, and it now could include Microsoft Teams.
Jeff Adams, assistant vice president of Business Operations, said that they approached their IT integrator, Jason Ware at United Data Technologies who suggested they talk to Will Gilbert, a partner at Think Simple, about the issue.
Installation of the Technology
"It was obvious to me that HealthStream would benefit from a switch to Microsoft Teams, so in our initial meeting, I showed them Mercury, part of the Crestron Flex product line," says Gilbert. "Mercury works better with Teams than any other AV device.
"With Mercury," he further expanded, "you just walk into a meeting room, plug in your laptop and start Teams. That's it. Now instead of the camera and microphone built into your laptop, you're using the camera and microphone we installed in the room. The room's flat-panel display mirrors your laptop screen."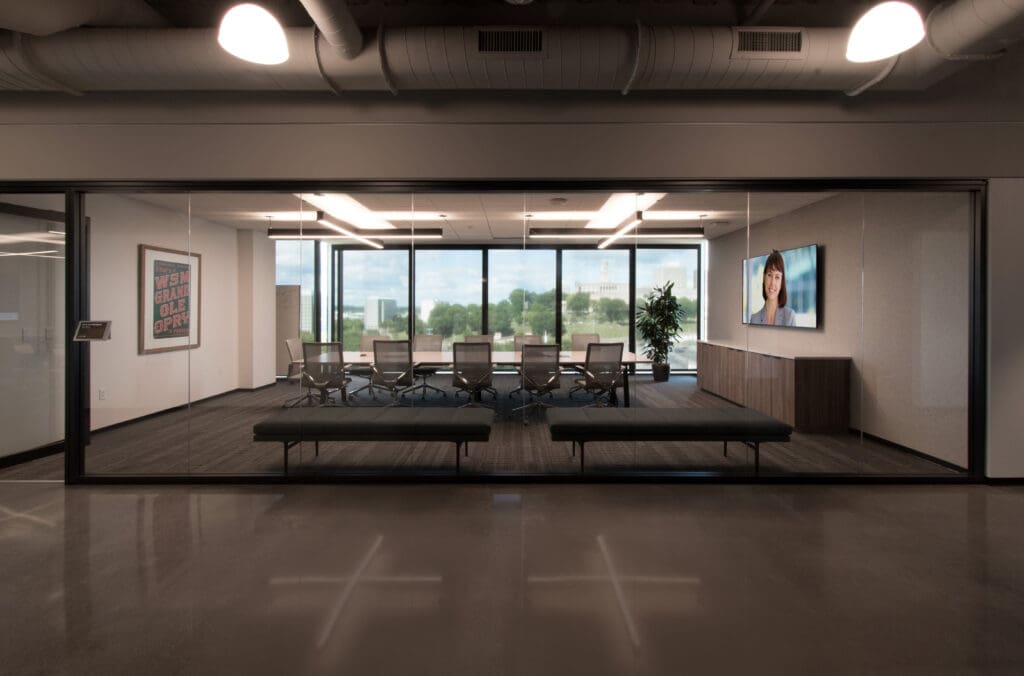 Gilbert felt that Mercury would be a natural in the huddle rooms, where from one to four employees could meet comfortably with multiple team members joining from other locations. By pairing Mercury with Teams, HealthStream would be also able to save hundreds of thousands of dollars on licensing fees. "They were already using Office 365, of which Teams is now a part, so licensing an additional communications platform was no longer necessary," said Gilbert.
Though Think Simple built a custom Creston interface, HealthStream revealed that they preferred Mercury and ended up using it in all but two rooms of the headquarters, called the Forum and the Strategy Room.
Designing the Forum and Strategy Room
According to the company, the Forum was an all-hands meeting space used for large company gatherings and events, attended by everyone mostly via video but also had the capacity to host 300 or more people.
HealthStream highlighted the room's features including the focal point of the space, a large open area where staff can set up a podium, an 82" display, temporary seating and tables for a speaker panel. Opposite this 'stage' area, is a stairway up to the top floor with tiered seating and two more wall-mounted 82" displays. Additionally, on the left and right facing the stage, there are lounges with sound and video systems that combine with the central areas to create a larger forum.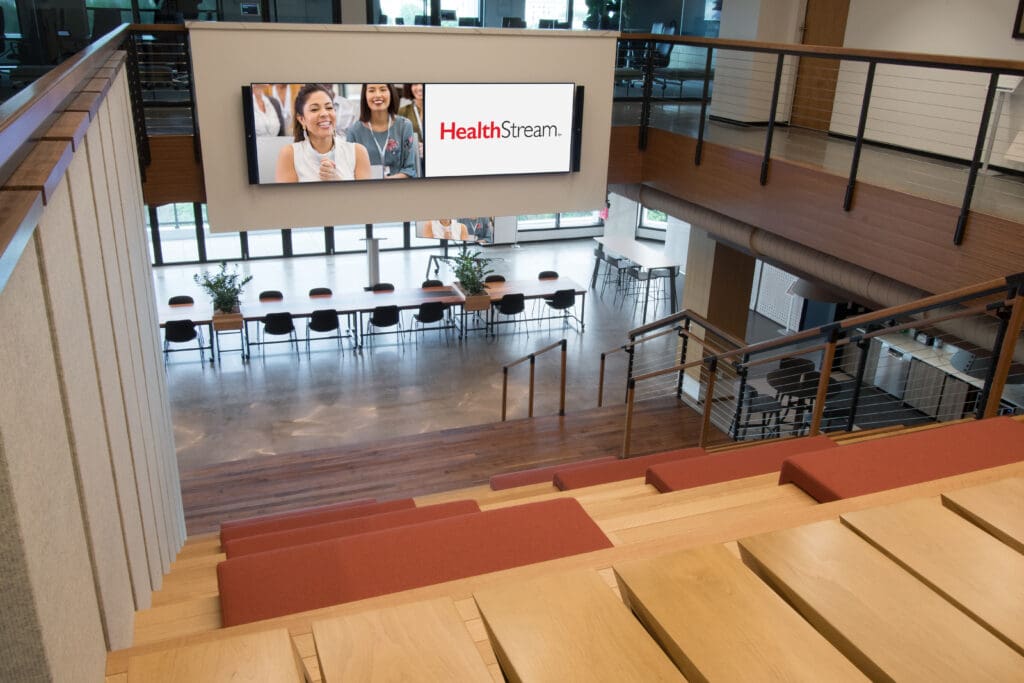 "This space was definitely the most challenging of any we worked on at HealthStream," says Geoffry Ranson, an engineer and programmer for Think Simple. For Ransom, there were two important factors for consideration. First, the outside walls were all glass, making reverb control a high priority for the sound system design. Secondly, they had to map and program the sound system so that presenters could move around freely without causing feedback.
To address this, Ransom said that they included two K-Array line arrays in the tiered seating areas plus 24 QSC ceiling speakers in the lower portions that filled out the rest of the space. The central area also included a Vaddio PTZ camera to capture the speakers.
Talking about the Strategy Room, HealthStream mentioned that it could seat more than 30 people and include remote participants via Microsoft Teams. "The main purpose of this room is to support planning for our Performance Incentive Program, in which every department sets three goals each quarter," said Condra.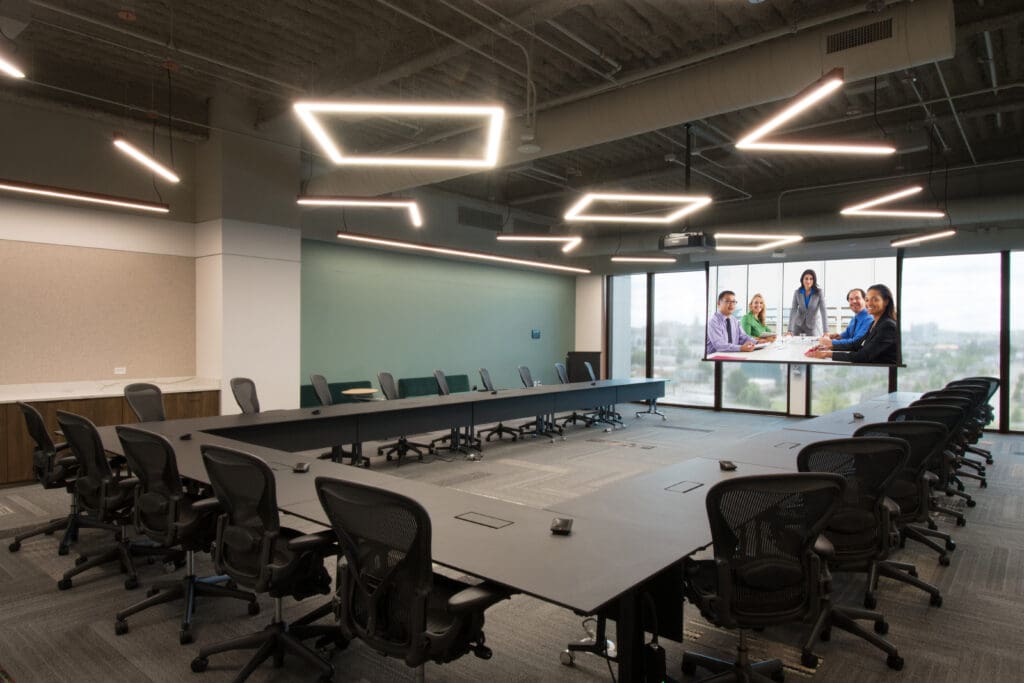 To optimize these meetings, the company disclosed that the Strategy Room included a variety of computer resources such as an Epson Pro-L laser projector with a 164" Da-Lite screen; a Crestron presentation system with a matrix switcher, mic mixer, and audio amplifier; Biamp DSP; Revolabs wireless mics; and a Vaddio PTZ camera.
Additionally, every meeting room in the headquarters contained a Crestron AirMedia so users could connect their laptops wirelessly instead of plugging in a USB cable. HealthStream added that every room except the Forum had a 10.1" Crestron scheduling panel as well.
The company also highlighted other features of the headquarters such as a 12-screen digital signage system used internally and for welcome messages, two divisible conference rooms with air walls that retract into its ceilings, and ten more presentation rooms in which Think Simple repurposed Crestron systems from the old HealthStream headquarters.
"The thing our users like the most is that the AV systems are transparent," says Andral Johnson, who is responsible for the day-to-day operations of the new conference center. "They plug in their laptops or type in an address for AirMedia, and they just work. There's nothing to think about, nothing to mess with."
"The systems are robust and up to date. In our old headquarters, we never knew when we'd get a call and have to drop everything to run and help. That's no longer an issue," said Johnson.
Looking to the Future
With all of this flexibility, HealthStream said that it was able to adapt easily to the lockdowns, with employees meeting via Teams as usual, though now 100% from their homes.
The company were also confident that management would remain committed to a hybrid work model. According to HealthStream, every employee can be productive every day, whether they prefer to work from home or the office.
Think Simple also acknowledged that it was fully on board for services for the hybrid model, including a support package with remote monitoring of the AV systems. Adams further praised Think Simple for offering a solution for the HealthStream headquarters.
"Will obviously knew his stuff, and we realized we needed someone with his knowledge and expertise to make this work." He concluded, "At the end of the day, their expertise and ability to solve problems was fantastic."
A version of this article was originally featured on our sister site Commercial Integrator.