If you're a member of the IT staff for almost any organization, you've run into the problem of poor connection to display technology in meeting rooms.
Faulty connections in meeting rooms can cause a real headache for the IT staff. A majority of employees are not technologically savvy, and when they can't figure out how to connect their laptop to a display they call on IT to help. You're forced to drop everything and assist because somewhere along the line the AV in the office became your responsibility. You are the tech person after all.
Then there's training employees to connect to complicated technology systems. Like Sisyphus, you roll the stone up the hill, training and informing, writing up instructions and even making videos. At the end of the day, the stone rolls back down, and the staff you trained on connecting to the system inevitably runs into a problem.
We install complicated systems with many moving parts, and Murphy's Law states that at least one of those parts isn't going to work. In today's dynamic workplace we need systems that can account for multiple presenters on multiple screens simultaneously. We need to be able to moderate, annotate, share, and stay secure. We pay all this money for unique systems that end up breaking down in one facet or another, and the blame falls again on the IT department.
There is an easier way. Sometimes the simplest answer is the right one, and an easy, one-click, wireless solution can solve all of the IT department's problems.
The Faulty Connection Headache

Tell me if this sounds familiar:
You've just dug into writing a plan when a call comes to your desk. It's Walter from finance, yet again, and he can't connect his laptop to the display in Conference Room B. You've trained Walter on which cables to connect and which input to switch to, but the Baby Boomer refuses (or is unable) to retain the information.
So you break away from your actual work, head upstairs to Conference Room B, and find Walter. His meeting was supposed to start 5 minutes ago but they can't start without displaying the info on his laptop. You plug in the HDMI cord but it's still not working – someone messed with the wires.
Now you're behind the display figuring out which cables are plugged in where. You figure out the right connections and plug in Walter's laptop, but the image still doesn't translate to the screen. You fiddle around with his computer settings for a moment and then realize that the problem lies somewhere in the display or the cable.
Meanwhile the Executive Suite is staring bullets at you because they just want to get this meeting over with. They've got important things to do. You're trying to troubleshoot the problem but it takes time, and you don't want to seem incapable in front of the most important people in the company. All you wanted to do was work on your plan and now you're in a situation as stressful as diffusing a bomb all because the connection technology you purchased isn't up to par.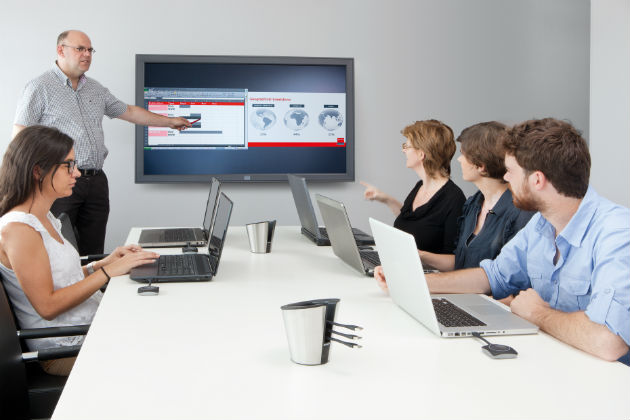 It's a worst-case scenario, but aspects of this horror story have been seen by every IT employee in the country. It's not just Baby Boomers either – If you think millennials are any better, replace Walter with Chester or Ashton and you'll find that they actually require more IT support because they expect everything to work and won't trouble-shoot.
Training the Layman on Connectivity
If you've been in IT for long enough then that headline should send a shiver down your spine.
You've been called down to Conference Room B three times this week and you're fed up. You're going to end this problem of employee error once and for all. So you clear your entire day and work on a training seminar for connecting devices to technology in training rooms. You create a PowerPoint presentation. You craft an instruction manual to hand out at the end of the training session. You even work with the video department to create a 3-minute tutorial video available to all employees for a follow-up.
Then nothing changes.
You're still getting called down to the meeting rooms to assist in connectivity. You see the same faces that attended your seminar, now confused or angry. You troubleshoot and find that they skipped a crucial step that you went over in the seminar, wrote down in the instruction manual, and expanded upon in the video. You realize that they weren't paying attention and forgot everything as soon as they left the room.
Now you're holding seminars twice a month to try to get the staff to retain the information. Also, when guests visit the building to pitch a product or service, you're in charge of teaching them how to connect to the system. You did such a good job with your seminar, who else would be the one to teach them?
Suddenly you've wasted a full day creating the materials, you're wasting two days a month giving the seminar, and you're wasting two hours a week training visitors on connecting. And you're still getting random calls to help troubleshoot before meetings!
A Simple Way to Connect to Technology
You don't need to be Sisyphus pushing the stone up the hill to watch it tumble back down every day. There's a better way to connect.
You thought the solution was educating the staff on how to connect to a complex system. You've discovered that is a fool's errand. Instead of creating a complicated system and trying to make it simple for non-technical staff, why not just install a simple system that even non-technical staff can use?
Take Barco's ClickShare for example. It's a one-click device that hits every capability you need in the conference room. You simply plug the ClickShare button into a laptop via USB port, click the button to share your screen to the display, and start the meeting.
Let's take a closer look at those capabilities:
No Installation – No need to have folks install a program on their laptop to use it. That means you don't run into guests (and some employees) that have to wait fifteen minutes to download the software before being able to connect in a meeting that is already running late.
Wireless – Say goodbye to the days where employees fiddle with cables or can't figure out which one to use.
iOS and Android Apps – A free app for mobile devices allows them to connect as well.
Up to 8 Users on Four Screen – That solves the multiple presenters problem.
Moderation – Control who is showing what intuitively.
Blackboarding and Annotation – Ability to collaborate by interacting with the screen (provided you have a touchscreen display of course).
Image Quality – Two 4K screens can be driven by the same Base Unit
Security – Enterprise-class, configurable security means protection against malware, hackers, and digital eavesdroppers
Wireless connection, ease of use, security and simplicity. That's what your employees need to be able to connect to a display – and stop bothering you every day.
We all know that those complicated technology systems are exciting. A bunch of gizmos and gadgets programmed to work together succinctly and offering a wide range of capabilities. The problem is that, in practice, these systems break down. Employees can't understand them. They're too complex.
Remove the headache. Find a wireless solution like Barco's ClickShare that offers the same capabilities that the complex system does with none of the hassle. All you're doing with the complex system is creating more work for yourself – which is the exact opposite of what you set out to do.
Any employee can pick up a device and plug it into their laptop. Any employee can push a button. Any employee can open an app on their mobile device. Any five-year-old could do those things! Make your connections to technology simple, intuitive, and easy to use. It will make your life a lot easier, and free up time to get your actual work done.