Cornerstone Technologies Co-Founder and Executive Producer Chad Fraughton worked with a Nashville-based production provider to develop a unique video experience at the 2018 Young Living International Convention
The Tech Decision
A worldwide marketer of life-changing products infused with the benefits of essential oils, Young Living in 2018 brought together more than 30,000 passionate members from around the world for what has become its annual high-energy and dynamic celebration filled with inspirational speakers and live entertainment. Needing a show foundation that could deliver a one-of-a-kind attendee experience, Young Living's events team once again collaborated with the design specialists at Cornerstone Technologies, who created a custom LED stage floor, with video supplied by Elite Multimedia Productions.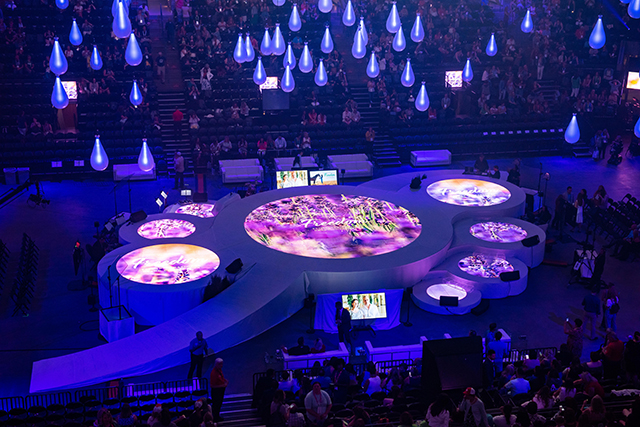 The Solution
Previous iterations of the Young Living event relied on projection mapping with LED accents to bring an arena stage to life. In 2018, its production company ditched the projectors in favor of a custom, visually stunning and all-LED build out – to incredible results. Knowing they wanted to take the event design in a new direction for the 2018 convention, Fraughton and the team at Cornerstone began to conceptualize how this could be done. In a production with a multitude of different video elements, providing a unique system to display crisp and clear imagery was a high priority.
With the idea of placing LED video directly onto the stage floor now moving forward, the physical layout of the video surfaces needed to be finalized. Remaining dedicated to providing a design that was truly one-of-a-kind, Cornerstone developed a series of circular video surfaces which would be placed across the stage.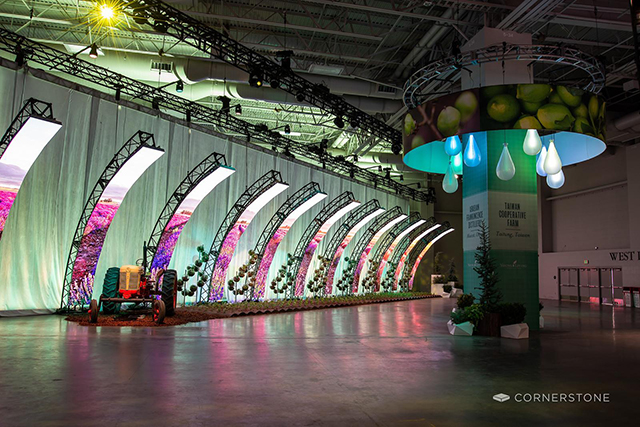 The Impact
"The comments that were most overwhelming from the attendees and the technical support staff were that this was one of the most elegant stage designs they'd ever seen," concluded Fraughton. "It was beautiful and polished, and almost looked like it was on an acrylic extrusion with beautiful lines. When you look at big shows like this, and you understand the dynamic of what all is involved, having reliable products and technicians like those at Elite Multimedia Productions is critical to the demands of the show, and the final product was truly beautiful and refined."