Weston School District, in Wisconsin, is a small school district serving three rural communities with a population of 300 students. While the school district doesn't face the problems a very large school does, it does face its own set of unique challenges. In 2018, the school struggled with keeping families updated with printed, physical newsletters.
"It was frustrating to put so much time into communication we knew would be outdated before it reached our families and community,' says Amanda Keller, Weston's public relations director. "It was also time-consuming to create bulletin boards that were very limited in how we could use them. These bulletin boards also had to be recreated often to keep the images current."
The Digital Signage Solution
The search for an in-school solution to communication led Weston Schools to Rise Vision. The process of adoption was relatively simple, says Keller, with a short learning period. Pre-made templates made it easy to create new messages and routinely update each program on the different monitors within the building quickly.
To experiment with Rise Vision, without making significant investments in hardware, the school district utilized TVs that had been previously used in classrooms. After several months, however, the TV monitors the Weston School District were using began suffering from resolution issues, reaching the end of its life, and the district decided to invest in new larger TVs.
This reflected the increasing need of digital signage in Weston's in-school communications strategy, based on early successes with their initial hardware.
"The two monitors near our main entrances can be seen without entering the building and the systems rarely need resetting," says Keller.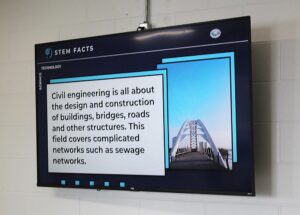 Keller uses Canva to create images and animate them, increasing the attention students give the Rise Vision boards around the school. Keller also creates custom videos that mirror promotional materials for upcoming events in the school and community.
Scheduling Digital Signage  
Weston displays a weekly lunch menu, along with content-oriented to students' needs and interests at the school: student reminders, event details and a fact/trivia template. The school displays a "this day in history" sign with easily-digestible facts. Weston also shows more complex STEM fact boards.
Keller is able to make changes quickly and get new information on the monitors within a half-hour.
Tips for Implementing Digital Signage 
"Don't be paralyzed by what you do not know," says Keller. A digital signage solution should offer immediate value, meaning basic tools (like lunch menus and greetings) should be at your fingertips. Signage should be quick to schedule and change.
For school media teams (overwhelmingly composed of just one or two people), Keller's advice is, "do not try to spread yourself too thin, get to a certain level of understanding with one form of communication before adding or learning another."
If you enjoyed this article and want to receive more valuable industry content like this, click here to sign up for our digital newsletters!