W.L. Gore & Associates (Gore), a global materials science company with over 2,200 Salesforce users across three distinct business divisions struggled to embrace the full capabilities of Salesforce and Tableau. Gore partnered with WalkMe to increase users' confidence and adoption, streamline departments and end-user training and to help drive better business decisions. 
"With frequent process changes and new features being added all the time, it was difficult to not only communicate these updates, but also train the end users on how best to use the tool for their specific role or division," says Christi Lopez, WalkMe administrator at W.L. Gore & Associates.  
"Communications were a struggle. Email blasts were not resulting in the desired outcome, because users wouldn't log into Salesforce to see the changes. We needed something to help us with effective, segmented, internal communications," says Lopez.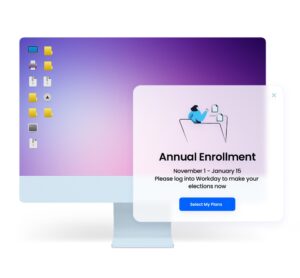 Live trainings proved to be difficult, time consuming and ineffective. As a global company, scheduling live trainings for each time zone was not easy, and as per company policy, Lopez could not force people to attend. Even those end users who did attend the trainings would later contact the trainers with questions that were covered in the trainings.  
Training materials were also very difficult to manage and maintain. When users tried searching for help guides on their own, they found outdated content. The tools were changing faster than the training team could keep up.  
Lastly, it was hard for Lopez's' team to determine next steps for different features, because it was difficult to know if Salesforce was being used, and equally important, how it was being used across the organization.  
Addressing Training Challenges at W.L. Gore & Associates with WalkMe
Gore has switched to an entire digital adoption strategy with WalkMe. Communications are now done with a clear in-app messaging strategy. New feature releases and changes are all completed in-app with on-screen prompts and ShoutOuts that link to various resources. Users have the information they need when they need it.  
Related: Pro Tips for Conducting End User Training
Using WalkMe, Lopez was able to setup announcement for Gore Associates to complete trainings by a certain day— and she could track it all with WalkMe's Insights tracking feature. Each digital rollout is tracked so Lopez knows exactly who did not complete the training. She then uses behavior-based segmentation to send targeted follow-ups to those users.   
Live trainings have been eliminated completely. Rollouts are now 100% through WalkMe, consisting of "tour" style Walk-Thrus showcasing new features, as well as key SmartTips and Launchers that help users get the answers they need quickly.   
Gathering feedback is now easier than ever, says Lopez. Users now have a channel to the development team through buttons that link to Smartsheets.  
The Impacts of a Digital Adoption Strategy
"It's been an amazing transformation to watch," says Lopez. Gore has many associates who have been with the company for 20+ years and are set in their ways. "The speed at which they adopted this new strategy is staggering," she says.  
Users have come to expect the in-tool messages and enjoy being able to train when it fits best into their schedules.  
Previously, Gore Associates would have attended a 60–90-minute live training session, but now it takes about 15 minutes to go through the content, which leaves them a lot more time to get back out and keep selling.  
If you enjoyed this article and want to receive more valuable industry content like this, click here to sign up for our digital newsletters!