To support knowledge sharing goals and improve patient care, leaders at University of North Carolina's School of Medicine, Department of Surgery, were looking for a state-of-the-art AV systems in a comprehensive renovation of the fourth floor of the Burnett Womack Building on the Chapel Hill campus.
The Tech Decision
Central to the project was creation of a 140-seat Surgical Education Center to connect UNC surgeons with their peers during weekly surgical grand rounds. The project also included new AV-enabled office spaces and conference rooms.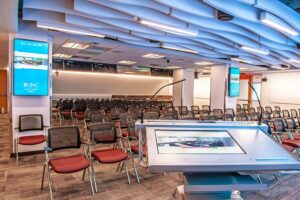 The Education Center AV system helps UNC surgeons cut to the core of concepts as deftly as they handle a scalpel. Positioned in front of a 24′ x 5′ videowall, a smart lectern feeds presentation video and audio into the AV system from the lectern's PC or a guest laptop. An Extron Quantum Ultra 305 videowall processor allows wide latitude for windowing the video images in mixed resolutions, formats, and orientations for simultaneous display of information like patient charts, photos, and live video, all in crisp detail.
The direct-view LED videowall is comprised of left, center and right screens driven by up to six 4K HDMI sources via an Extron Quantum Ultra 305 videowall processor. The videowall processor allows wide latitude for windowing the video images on the screens in mixed resolutions, formats and orientations.
During videoconferences, the processor allows the monitors to display local content, shared content and far-end participants simultaneously as three separate images. Six flat panel displays above the audience reinforce views for the back rows. To interact with remote audiences, there are AV feeds to a Cisco videoconferencing system, to soft codecs for unified communications platforms such as Zoom, and to an Extron SMP 351 streaming media processor for livestreaming, storage, and archiving to the Panopto platform for lecture capture.
Other AV content sources include media players and a wireless access point for mobile devices. There are also inputs from a PC in the Control Room and from multiple PTZ cameras around the venue.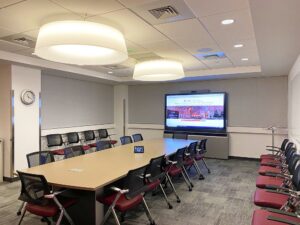 Extron NAV Pro AV over IP Encoders and Decoders, along with the NAVigator System Manager, link every AV source to every AV destination over UNC's enterprise data network.
The NAV system provides ultra-low latency video and audio transmission, and allows easy, economical scalability, making it uniquely qualified for UNC's application of transporting real-time video and patient vital sign telemetry among a large and growing array of endpoints.
New conference rooms use DTP switchers containing integrated audio amplifiers to operate as stand-alone meeting spaces or as overflow rooms for the Education Center. Controlling all AV functions are IPCP Pro control processors and a variety of wall-mounted and tabletop TouchLink Pro touchpanels.
The Result
"The Surgical Education Center, its videowall, and NAV AVoIP network tying all meeting spaces on the fourth floor together surpassed everyone's expectations," said Christopher Ferrer, CTS-D / CTS-I, AV Engineer at University of North Carolina School of Medicine, in a statement. "We couldn't have done it without the aid of a company that was willing to embrace our design goals, train us, and support us, as Extron did throughout this project."