San Diego's vibrant new Portside Pier offers residents four distinct waterfront restaurant concepts in a unique architectural setting that redefines the city's bayside dining experience. In doing so, the owners at The Brigantine, Inc. completely reimagined how restaurants and workers operate, with automation technologies providing powerful control and scheduling of daily operations, freeing staff to provide the best possible customer experience.
The Tech Decision
According to AV-ators President Jared Magoon, who designed and integrated the Control4 restaurant automation system, most of the building runs automatically every day, including the lights, climate controls, outdoor firepits, audio system, video displays and even the security system and surveillance cameras.
"Occupying one of the most desirable restaurant locations in San Diego, Portside Pier lives up to the promise of 21st century dining, complete with technologies that improve the atmosphere and comfort for guests while eliminating countless tasks from staff's daily workload," Magoon says.
Related: How Knowledge Management Automation Is Key to Post-Pandemic Success
"Besides the cooking and direct customer service, the whole building can essentially run on autopilot."
At the start of each day, a cleaning crew disarms the building's alarm system, initiating a bright "clean-up" lighting scene that foreshadows the day's scheduled automations. Next, before the kitchen crew arrives, the climate control systems ensure the entire space has a comfortable working temperature.
sHalf an hour before Portside Pier opens for business, the Control4 system kicks into high gear: the lighting scene in each restaurant automatically changes to daytime settings, all four venues begin playing music specific to their style and clientele, and all the TVs turn on and set to various sports channels. All of this occurs automatically without any human interaction.
As the day progresses, 17 ambient light sensors keep track of sunlight and allow Control4 to intelligently adjust lighting levels on more than 140 lighting loads to ensure excellent ambiance no matter the conditions outside.
Later, a "twilight hour" lighting scene slowly dims the lights to nighttime levels without any harsh adjustments, making it unnoticeable to guests. While the lighting is fully scheduled, other considerations such as TV programming are left to staff, but with dramatically easier operations than traditional display networks.
The Restaurant Automation System Solution
"The scheduling and programming we provided removed or simplified dozens of daily staff actions, including changing channels on the building's 20 TVs all at once or individually through the Control4 app through five connected iPads," Magoon says. "If there's a Padres or Chargers game, for instance, each restaurant can choose which TVs to broadcast the game on in seconds, without ever having to step out from behind the bar."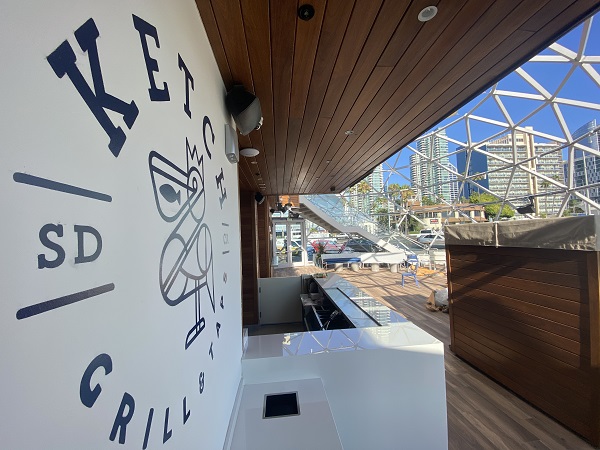 The bayfront destination has 1,100 seats, including nearly 600 outdoor seats accompanied by fire pits and heaters that staff can control remotely through the Control4 app.
Throughout the 40,000-square-foot building's indoor and outdoor spaces, 130 in-ceiling and surface mount speakers provide professional level audio performance and ensure every seat receives the desired experience.
The property's 20 TVs and five digital signage menu boards, meanwhile, utilize various Strong mounts to enable placement wherever they are needed, including ceiling pole and double TV mounts.
Distribution of audio and video signals is orchestrated through a Binary MoIP restaurant automation system that delivers content through affordable Cat6 cable instead of requiring long, expensive HDMI runs.
The AV network, combined with climate sensors, security panels and an enterprise-grade Araknis networking solution, required installation of more than 20 miles of low voltage cabling.
As for automation, the day ends with a procedure that could not be simpler: once the manager arms the security system, all the HVAC units, AV components, heaters, fireplaces and lights turn off, while a lighting path to the parking lot remains illuminated for one minute to ensure safety.
As Magoon explains it, integrating all the subsystems through Control4 and programming automations was one of the simplest parts of the entire project.
"The programming was honestly the easiest part," he says.
"We encountered no major roadblocks or challenges to getting everything up and running once the wires were all connected. The hardest part, in my opinion, was complying with new CA Title 24 Energy Compliance requirements, which include nation-leading regulations governing daylight harvesting, demand response energy reduction and more. We actually exceeded the requirements through careful planning and decision making, with the help of automations and the energy monitoring capabilities of Control4."
In addition to the improvements of the guest experience and staff workload, the system also provides enhanced security with 71 integrated surveillance cameras that record to three 12TB 32-channel NVRs and can be viewed remotely through the Control4 app.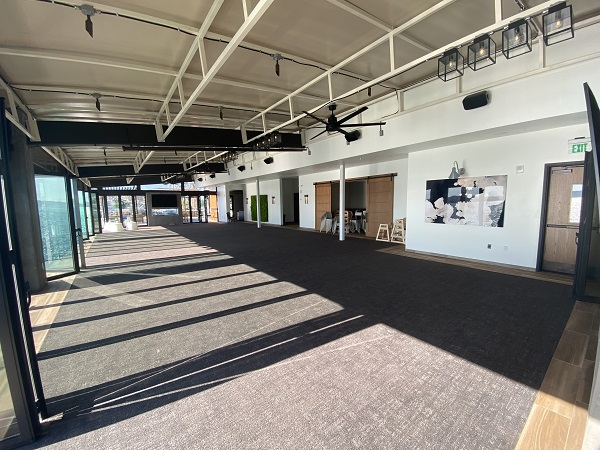 While most restaurant automation system control is operated through the iPads found kept behind the bar in each restaurant, 10 Control4 configurable keypads offer hardwired lighting control.
The Impact
As for system maintenance and ongoing support, AV-ators made the process as simple as it can be by installing Wattbox power strips and OvrC-capable power conditioners to enable remote resets and diagnoses of physical equipment in the Strong rack housing the building's automation gear.
To make the space as useful as possible for all types of events, two Shure SM58 microphones and a single body/lavalier mic are also integrated into the sound system with the ability to be used in any or all audio zones.
"I won't be surprised at all if this is how all restaurants, and especially multi-venue destinations, are designed and operated in the future," Magoon said. "As long as the will and budget exists to create a more functional, easier-to-operate business, we will be here to deliver on owners' dreams."
If you enjoyed this article and want to receive more valuable industry content like this, click here to sign up for our digital newsletters!