Knotel, one of the world's leading purveyors of custom-designed office spaces, opted to standardize the implementation huddle rooms in every office space they design – weaving collaboration technology into their traditional design process.
For Knotel, it's important to deliver a product that meets 100 percent of each client's needs, 100 percent of the time.
Since today's workers are as likely to communicate with the other side of the planet as the other side of the office, that drive for perfection led Knotel — through their systems integrator Thom Digital — to integrate video conferencing equipment into every office space that they design, along with their own corporate office spaces.
Huddle rooms at Knotel are generally seat 6-8 people around one table, with a digital display mounted on a wall.
They serve as major communications centers for any business working with remote partners, and Knotel knew that providing a simple, effective, crystal-clear microphone and camera solution was crucial t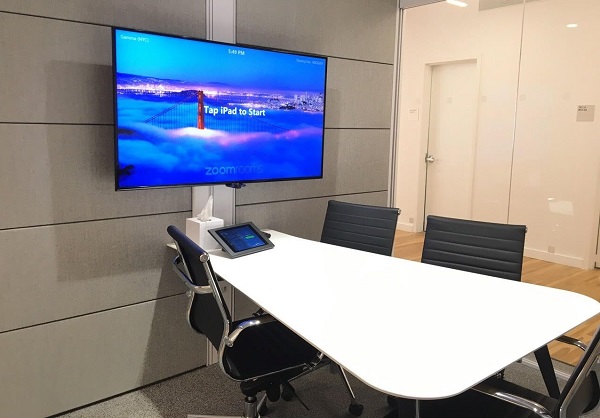 o attracting clients.
They did not want a conferencing camera that would make one person in a huddle room seem like they were all alone in a stadium.
The Tech Decision
The PanaCast video conferencing camera offered Knotel a ultra-wide angle view, superior clarity and true plug-and-play operation – guaranteeing every client spectacular ease of use and powerful performance.
Armed with its intelligent zoom feature, it was simply the best solution available to satisfy Knotel's huddle room needs.
It's essentially a no-touch-operation device," says Thom.
"The entire organization uses the Zoom platform for video conferencing, and we help train people on that. For the camera itself, we don't have to do any training at all. We're always looking at other options, but I haven't found any other product that does what PanaCast does."
PanaCast uses three camera lenses and artificial intelligence software to produce a 180-degree view, while a high-quality microphone offers audio capture. The Intelligent Zoom feature was a major factor when Knotel originally began working with Thom Digital.
Related: Where Your Office Needs Sound Absorption (and Where Other Techniques Work Better!)
With it, one person never feels like they are on an island in their huddle room. Every meeting participant is accurately heard and seen.
The Solution
Ultimately, Jabra provided Knotel with a solution that weaves collaboration technology into their traditional design process, better preparing them for an increasingly more global collaboration landscape.
"PanaCast has been an amazing product for Knotel," says Ben Koevary, Network Engineer at Knotel. "The wide-angle field of view combined with the intelligent zoom has allowed us to deploy in hundreds of conference rooms of varying sizes without thinking twice, and the video quality makes it feel like you're right there in the room."