iPhone users can now use their device like they would a security key to protect their Google account, the company announced this week.
In a blog post, Google said the functionality for iPhones follows a similar function in Android phones announced last April.
However, the feature is built-in to Android phones. On iPhones, the security key has to be activated using Google's Smart Lock app. It uses Bluetooth to verify your sign-in on Chrome OS, iOS, macOS and Windows 10 devices, but devices don't have to be paired.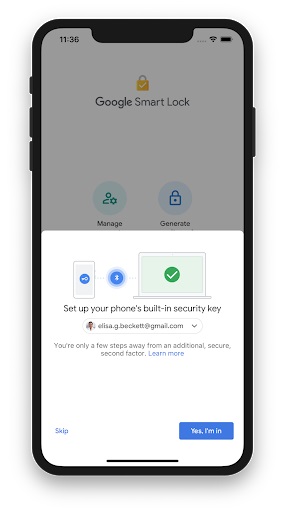 "This helps protect your Google Account on virtually any device with the convenience of your phone," the company wrote.
With the security key activated on a phone users will be prompted to open the Smart Lock app on their phone to confirm it's them trying to sign in. If it's not, there's an option to cancel the log in.
According to 9to5 Google, this only works when singing in to Google with Chrome, while Bluetooth on the desktop computer and phone needs to be enabled as the devices are locally communicating to confirm and verify the sign in.
Google suggests following these steps to turn your smartphone into a security key:
Activate your phone's security key (Android 7+ or iOS 10+)
Enroll in the Advanced Protection Program
Make sure Bluetooth is turned on on your phone and the device you're signing in on.
The company also suggested users register a backup security key for your account in the event the phone is lost or damaged.
Using your phone as a security key — or security keys themselves — can help protect you and your company from phishing attacks.
Even if an attacker gets your username and password, they need your security key to log in
Security keys are much more secure than most other forms of two-factor authentication, like phone calls or text message codes which can be easily intercepted.